Large cardamom prices rebound on higher export demand
The price of the spice reached a one-year high of Rs1,000 per kg in Birtamod, as per local traders.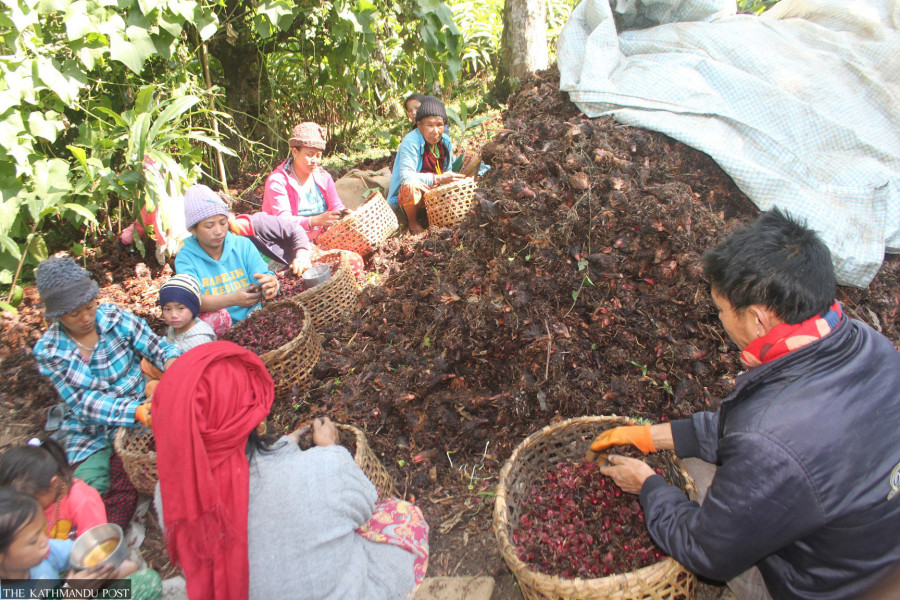 Large cardamom is a high-value cash crop which is the main source of income for farmers in the mountains and hills of eastern Nepal. POST FILE PHOTO
bookmark
Published at : September 25, 2021
Updated at : September 25, 2021 18:08
Taplejung
Large cardamom prices have rebounded over the past few weeks, supported by higher export demand following a drop in output in neighbouring India, Nepali traders said.

The price of the spice reached a one-year high of Rs1,000 per kg on Wednesday in the eastern commercial hub of Birtamod, said local trader Om Bimali.
Large cardamom is grown mainly in the eastern hills of Nepal, and Birtamod, Jhapa is a key trading town for the region's agricultural products.
In 2014, large cardamom hit an all-time high of Rs2,500 per kg. Since then, prices have been going steadily downhill, sinking to a low of Rs700 per kg in mid-July.
Large cardamom is a high-value cash crop which is the main source of income for farmers in the mountains and hills of eastern Nepal.
The farm gate price, according to traders in Phungling, the district headquarters of Taplejung, is Rs625 per kg.
Trader Sujit Bansal of Birtamod said large cardamom prices had been fluctuating hourly. "Some traders in Birtamod are even selling the spice for Rs700 per kg."
Raj Kumar Karki, president of the Large Cardamom Traders Federation, said the approaching festive season had raised hopes of a further rise in prices.
"Nepal's large cardamom crops are in high demand, particularly among big traders in Siliguri, a city in the Indian state of West Bengal," Karki said.
"Traders in Assam, India are also eyeing Nepal's large cardamom this year as they saw a decline in their production this year," said Karki.
Bansal said that since Covid-19 restrictions persisted in India, prices could remain uncertain despite increased demand.
India is the biggest buyer of Nepal's large cardamom, absorbing 99 percent of its exports. The spice is re-exported to Pakistan and the Middle East where it fetches high prices because of local preference for the Nepali product.
Pakistan is the largest importer of large cardamom, purchasing roughly 60 percent of India's large cardamom exports. Cardamom pods are used by the local Muslim community in biryani, a popular Pakistani dish, as a symbol of prosperity and wealth.
Karki said that Nepali traders were also making efforts to export large cardamom to Bangladesh directly over the Kakarbhitta-Panitanki-Phulbari route. The three points are located in Nepal, India and the India-Bangladesh border respectively.
The 44-km route provides the shortest access to the Bangladeshi border point of Banglabandha for Nepal's trade with and through Bangladesh.
Many farmers in the eastern highlands have harvested their large cardamom, and stored the crops at home to sell when prices rise. The harvest season starts in mid-July and ends in mid-November.
According to traders, farmers who need spending money for the approaching Dashain and Tihar festivals sell their products while those who are not in great need of money store the spice until prices go up.
Nepal produces 5,000 tonnes of large cardamom annually. It is the largest producer of large cardamom, accounting for 68 percent of the global production, followed by India and Bhutan.
Elsewhere in the region, the spice is grown in Sikkim, Darjeeling and Bhutan. Large cardamom was introduced in Ilam from Sikkim in 1865.
Nepali cardamom is sought after in Pakistan and the Gulf countries, and traders dispatch their shipments through the Indian capital of New Delhi.
Ilam, Panchthar, Taplejung, Sankhuwasabha, Tehrathum, Bhojpur and Dhankuta districts are the major large cardamom producing districts in Nepal.
Cultivation of the spice has now spread to more than 40 districts.
Large cardamom makes a sizeable contribution to Nepal's foreign exchange earnings.
According to the Department of Customs, the country exported large cardamom worth Rs7 billion in the last fiscal year ended mid-July, a steep 74.7 percent jump year-on-year. In the previous fiscal year, shipments were valued at Rs4 billion.
---
---