Potato prices hit new highs as rain disrupts harvests
Palung potato, the most sought after variety, costs Rs110 per kg, up from Rs90 two weeks ago.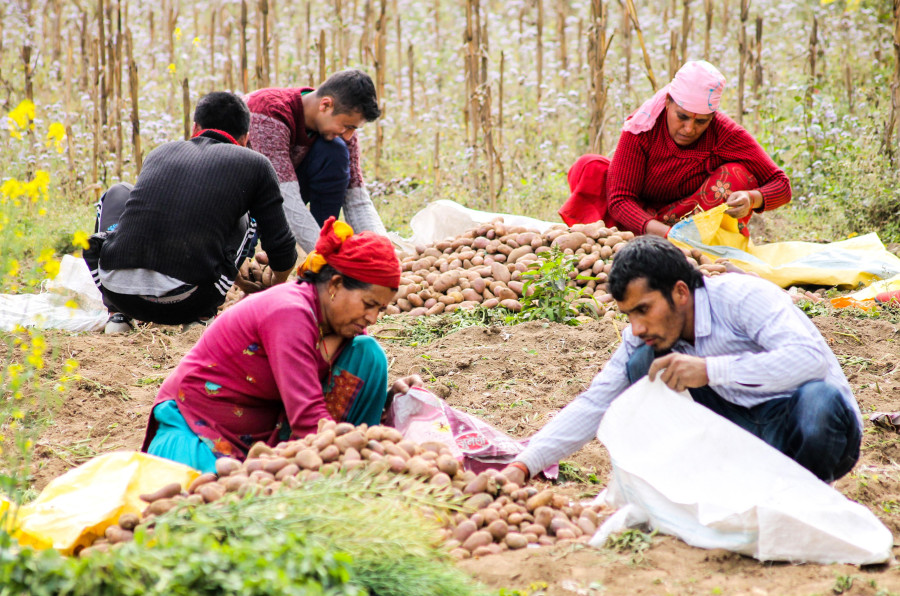 Traders said that domestic stocks had sold out and fresh potato harvests won't arrive for nearly two months. SHUTTERSTOCK
bookmark
Published at : September 16, 2020
Updated at : September 17, 2020 08:43
Kathmandu
Potato prices are hitting new highs on slowed supply as non-stop rain disrupts harvests in India and key producing areas in Nepal. The indispensable tuber was selling for as much as Rs150 per kg in the retail market this week in the Kathmandu Valley.

Traders said that potato imports had dropped because of lowered output in India, the second largest producer of potato in the world, causing prices to spike in the domestic market.
Bhanu Bhakta Upreti, a potato and onion trader at the Kalimati Fruits and Vegetable Market, said he had never seen potato prices reaching this high in his 20 years in the business.
Palung potato, the most sought after variety, costs Rs110 per kg retail. Potato grown in Mude is available for Rs100 per kg while Indian potato costs Rs140 per kg, he said.
Until two weeks ago, Indian potato was selling for Rs60 per kg, Palung potato Rs90 per kg, Mude potato Rs80 per kg and Panauti potato Rs80 per kg, Upreti said. "In the last two weeks, prices have jumped steeply," he said. Traders are saying that farm gate prices have also increased sharply.
"As prices in India have soared, domestic traders also started charging more for their inventory," he said.
Traders said that domestic stocks had sold out and fresh shipments were yet to arrive. They explained that heavy and non-stop monsoon rains had affected harvests. The monsoon normally ends on September 23.
Binaya Shrestha, deputy director of the Kalimati Fruits and Vegetable Market Development Board, said that potato prices had reached record levels this year. As Nepali kitchens cannot do without potato, there is good demand for the vegetable round the year.
He added that traditionally the consumption of potatoes increases during the two-week-long 'sohra shraddha' season when Hindus perform services to honour their ancestors.
Meat is shunned during this sacred period, pushing up demand and consequently prices for vegetables like potato.
But consumer rights activists accuse retailers of jacking up prices on the pretext of higher transportation and labour charges because of the lockdown.
Prem Lal Maharjan, president of the National Consumer Forum, said that prices should not have increased so steeply as there was adequate supply, and blamed retailers for taking advantage of the situation.
According to Shrestha, 75 percent of the potatoes sold at the Kalimati vegetable market are imported.
Officials at the Kalimati and Balkhu vegetable markets cited increased prices in India for the higher cost in the local market.
Fresh potato harvests will not get here for nearly two months, and price trends cannot be predicted till then, said Shrestha.
During the nearly five-month-long off season, Nepal depends on the southern neighbour for its potato needs. Domestic produce start arriving from mid-November and continue till mid-May.
Anjan Bhatta, a vegetable shopper from Sukedhara, said he was stunned when he asked the price of potato early this week. He brought a kilo for Rs110, which he said was the highest price he had paid till date.
Potato is a staple crop in the high hills of Nepal. It is one of the important crops for addressing food insecurity in the country. Nepal produced 3.11 million tonnes of potato in 2018-19, according to the statistics of the Ministry of Agriculture and Livestock Development. Import trends show that the country's output is unable to meet the requirement.
According to agro experts, Nepal was self-sufficient in potato until a few years ago but imports have been swelling of late.
Nepal imported potatoes worth Rs7.8 billion in the last fiscal year compared to Rs4 billion five years ago, as per the statistics of the Customs Department.
The Kalimati market said it received 4,000 tonnes of potato between August 17 and September 13. Of the total shipments, 2,886 tonnes came from India and 192 tonnes from Bangladesh.
The rest were procured domestically from Ramechhap, Kabhre, Dolakha, Sindhupalchok, Makwanpur, Dhading, Panchkhal and Panauti. "This year, there have not been large shipments from Mude and Palung," Shrestha said.
---
---