Nepal Airlines seeks Rs 4 billion to buy new planes to boost domestic services
The state-owned carrier wants to focus on the home front while waiting for international air travel to rebound.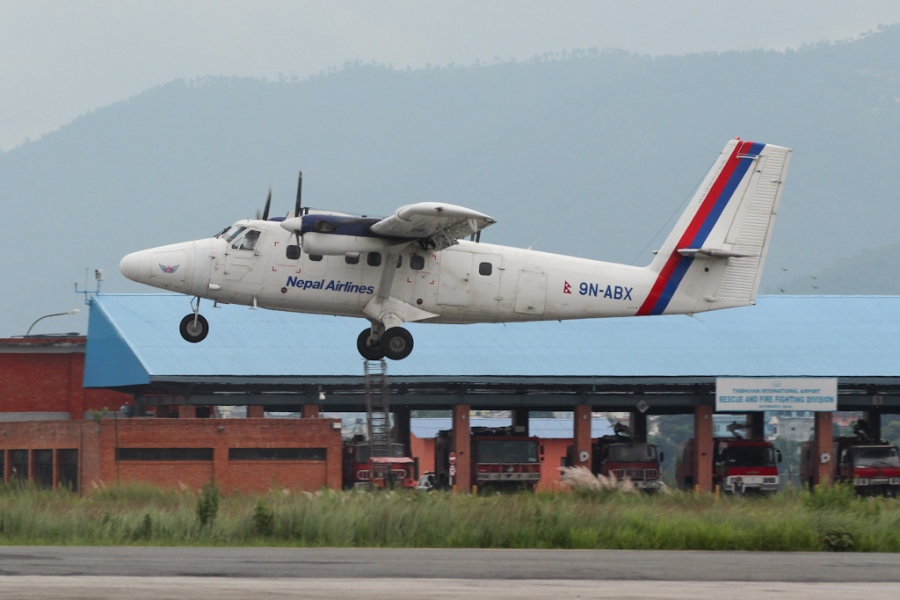 Nepal Airlines used to operate 18 aircraft on its domestic routes during its heyday—12 Twin Otters, three Avros and three Pilatus Porters. PHOTO COURTESY: PLANESPOTTERS.NET
bookmark
Published at : May 4, 2020
Updated at : May 5, 2020 07:33
Kathmandu
Nepal Airlines Corporation has asked the government for Rs4 billion to buy new aircraft to serve remote mountain airfields, as the Chinese planes in its domestic fleet are proving more hassle than they are worth.

The state-owned carrier wants to procure five planes suitable for the Nepali skies, and put itself in a position to be able to compete with private operators which always seem to be a jump ahead.
Newly-appointed executive chairman Sushil Ghimire said they had asked the Finance Ministry to arrange the funds through the upcoming budget slated to be presented on May 29.
"We know it's a time of crisis and the government may be pressed for cash due to the Covid-19 pandemic, but it has a social obligation to serve the vast numbers of mountain people who still depend on air transportation," he said.
"As global tourism has been shattered by the coronavirus and it could take years for the industry to recover, we don't have immediate plans to buy planes for the international sector."
Ghimire said they would focus on the home front in the meantime, and would require roughly Rs4 billion to boost the domestic fleet by adding five new planes.
"We have not decided on the modality. We have assigned a team to prepare a report on the appropriate procedure," Ghimire said.
The national flag carrier's domestic fleet consists of nine planes—two 56-seater MA60s and four 17-seater Y12es, both Chinese-made, and three Canadian-made 19-seater vintage Twin Otters.
Nepal Airlines has been racking up millions in losses as the Chinese aircraft have been sitting idle in their hangars for years.
Among the four Y12e aircraft, only one is currently in operation as there are just two trained captains capable of flying them. And out of the two MA60s, one has been grounded for the last two years for lack of spare parts.
"We do have six Chinese-made planes, but they are not appropriate to fly in the Nepali skies. We cannot compete with the private sector in the market," Ghimire said, adding that the corporation had formed another committee to prepare a report on how the Chinese planes should be managed or replaced.
Since two of the six Chinese planes came as gifts from China, the corporation cannot directly sell them, said a Tourism Ministry official.
Nepal Airlines has asked the government to find a permanent solution for the Chinese planes on different occasions, but no one wants to be involved in the process, the official said. A complete revamp of Nepal Airlines is not possible by keeping the Chinese planes, he added.
In November 2012, Nepal Airlines signed a commercial agreement with Aviation Industry Corporation of China, a Chinese government undertaking, to procure six aircraft—two MA60s and four Y12es.
As part of the deal, China provided one MA60 and one Y12e, worth a combined Rs2.94 billion, as gifts in 2014. The other aircraft were bought for Rs3.72 billion with a soft loan provided by China's EXIM Bank.
In 2018, Nepal Airlines sent a proposal to the Finance Ministry to arrange funds to buy five Twin Otters at an expected cost of $7 million each.
The Twin Otter made its first appearance in Nepal in 1971 as a replacement for the DC-3 Dakota, the workhorse of the then Royal Nepal Airlines Corporation. The sturdy Twin Otter was instrumental in opening up Nepal's roadless hinterlands, and provided a vital transportation lifeline to remote communities.
The de Havilland Canada DHC-6 Twin Otter, currently marketed as the Viking Air DHC-6 Twin Otter, is a Canadian STOL utility aircraft developed by de Havilland Canada and is currently produced by Viking Air.
In 2005, Viking purchased the Type Certificates for all of the out-of-production de Havilland aircraft, including the Twin Otter.
Nepal Airlines used to operate 18 aircraft on its domestic routes during its heyday—12 Twin Otters, three Avros and three Pilatus Porters. Between 1972 and 1979, the Canadian International Development Agency donated seven Twin Otters to the national flag carrier.
---
---