Wedding season brings little cheer to jewellery dealers
Sales plunged 50 percent as bridal customers stayed away due to the high prices.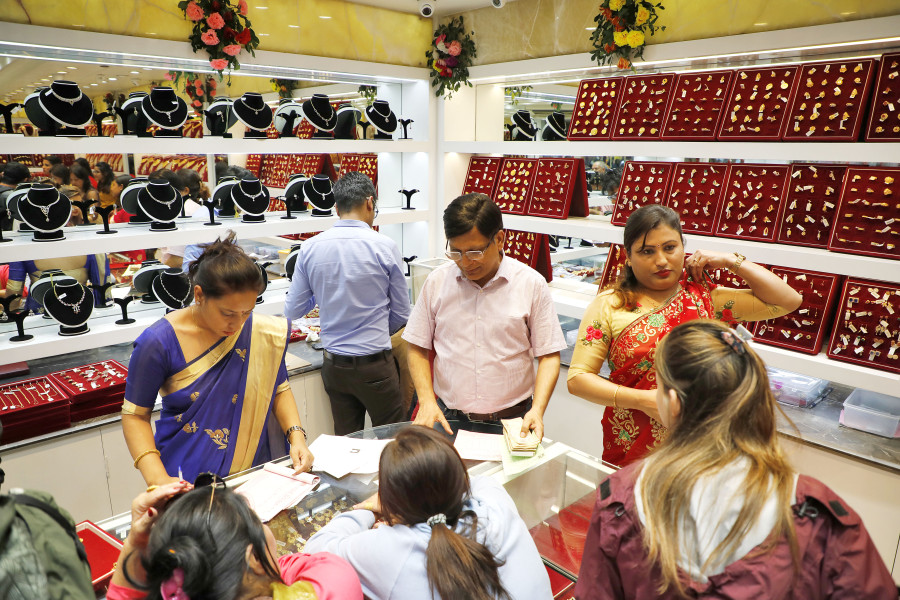 People shop for jewellery at a gold store in New Road, Kathmandu. POST FILE PHOTO
bookmark
Published at : December 17, 2019
Updated at : December 18, 2019 07:37
Kathmandu
Jewellers had expected better business during the ongoing wedding season after a disastrous Tihar festival, but buyers are still staying away.
Sales are down 50 percent this wedding season compared to the same period last year, gold jewellery traders told the Post. "It's because of the price," said Tej Ratna Shakya, former president of the Federation of Nepal Gold and Silver Dealers Association.
The peak wedding season that lasts from mid-November to mid-December ended on a lacklustre note as bridal customers fled high prices.
The price of gold increased by Rs11,300 per tola in six months. According to the domestic bullion market, the yellow metal traded at Rs71,300 per tola on Monday.
Tara Rajbhandari, 50, a housewife from Godavari, has had to settle for fewer pieces of jewellery for her daughter's wedding. "The wedding has become costly because the price is shooting through the roof," she said.
"A tola of gold costs over Rs70,000. We need at least 4 tolas of gold for wedding jewellery," said Rajbhandari. "Most of the money is spent on buying gold. It's really hard to pay for other necessary wedding goods."
Shakya said that daily gold sales dipped to 25-26 kg during the wedding season compared to 45-50 kg in the same period last year. "The price, obviously, has jumped 25 percent within a year."
Shakya added that sales had shrunk as bridal customers were making do with less. People who used to purchase 5 tolas of gold are now buying only 3 tolas. Nowadays, most people are seen buying 2 to 3 tolas, he added.
Mani Ratna Shakya, immediate past president of the federation, said that sales of gold bullion had declined to 30 kg from 50 kg daily compared to last year.
"With buyers selling their used jewellery due to the price hike, gold dealers have a lot of stock on hand, as a result of which gold bullion transactions have declined," he said.
With gold jewellery sales way down, the craftsmen who went home for the Dashain festival have not returned, Shakya said. "The makers are paid based on the design of the jewellery; but since there is no demand, they have not returned to work," he said.
Potential buyers had put off their purchases for four to five months hoping prices would come down, but they started to rise instead, and they rushed with their shopping. The high prices forced them to buy less than they had planned.
According to Reuters, spot gold inched 0.1 percent higher to $1,477.16 per ounce on Monday. US gold futures were steady at $1,481.60. Gold market investors are still a bit sceptical about the growth outlook next year, so they prefer to hold onto their positions, it said.
Gold has risen 15 percent this year on the backdrop of the months-long tariff war and its impact on the global economy, it said.
---
---