Oil import bill soared 25 percent to Rs214.48 billion in last fiscal
Nepal Oil Corporation said the rise in fuel imports was due mainly to increased construction work.

This file photo shows Nepal Oil Corporation's depot at Amlekhganj, Bara. Pawan Yadav /TKP
bookmark
Published at : August 6, 2019
Updated at : August 6, 2019 15:43
Kathmandu
Nepal's oil import bill surged 25 percent in the last fiscal year despite regular supply of electricity to households and industries after years of debilitating load-shedding.
The statistics of the Department of Customs show that the country imported petrol, diesel, liquefied petroleum gas, aviation fuel, kerosene, fuel oil and lubricating oil worth Rs214.48 billion in 2018-19. Nepal's oil import bill in 2017-18 amounted to Rs171 billion.
Oil imports have swelled even though the Nepal Electricity Authority has declared an end to load-shedding which was expected to result in a sharp fall in cooking gas imports. In April 2018, the state-owned power utility declared industrial areas free from power cuts, but this has not resulted in a drop in the import of petroleum products.
Imports of petroleum products accounted for 15.2 percent of the country's total import bill of Rs1.41 trillion in fiscal 2018-19.
The country's spending on imported fuel has risen alarmingly at a time when it is facing a widening trade deficit due to a small volume of exports and a steep rise in imports, leading to severe pressure on foreign currency reserves. As of mid-June, the country had foreign exchange sufficient to import goods and services only for 7.7 months, according to Nepal Rastra Bank data.
Nepal Oil Corporation said that the rise in the fuel import bill was due mainly to increased construction work, and partly to a depreciation of the Nepali rupee against the US dollar, rise in crude oil prices in the international market and smuggling to India because of a price difference in the Indian and Nepali markets.
Binit Mani Upadhyaya, deputy director of Nepal Oil Corporation, said increased infrastructure construction resulted in a rise in demand for diesel. "Of late, there is significant investment being injected into hydropower projects in particular," said Upadhyaya.
Customs records show that diesel imports increased to Rs120 billion from Rs97 billion. Petrol imports surged by Rs7 billion to Rs35.5 billion, aviation fuel imports increased by Rs2.4 billion to Rs13.7 billion, and liquefied petroleum gas imports swelled by Rs8.4 billion to Rs35.5 billion.
The exchange rate of the dollar also rose to a record high of Rs119.33 in October, following which the rate fell to Rs111, as per Nepal Rastra Bank.
Petroleum prices in the international market swelled to $86 per barrel in October from $65 per barrel in July. According to Nepal Oil Corporation, the price of crude oil in the international market stood at $60-65 per barrel on average throughout the last fiscal year.
Upadhyaya said that smuggling of fuel to India slowed significantly after the price difference became less. According to Nepal Oil Corporation, petrol is cheaper in the Nepali market by Rs12.59 per litre while diesel costs Rs12.94 per litre less in Nepal than in the bordering markets of Bihar, India.
Until a few months ago, the difference used to stand at around Rs25 per litre. "With the reduction in the price difference, there is nominal trading of fuel across the border," said Upadhyaya.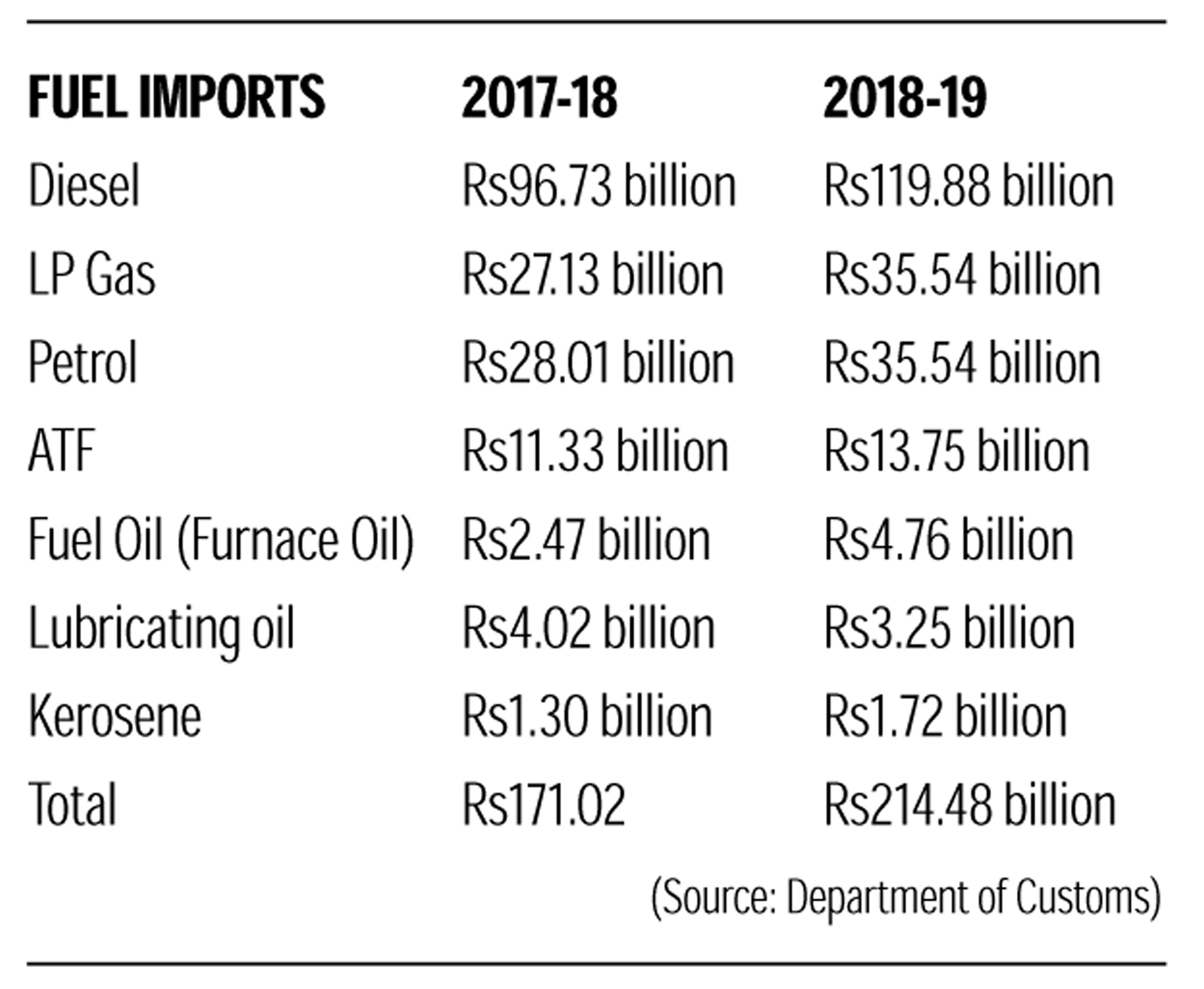 ***
What do you think?
Dear reader, we'd like to hear from you. We regularly publish letters to the editor on contemporary issues or direct responses to something the Post has recently published. Please send your letters to [email protected] with "Letter to the Editor" in the subject line. Please include your name, location, and a contact address so one of our editors can reach out to you.
---
---