Underground water table drops due to deforestation
Rupandehi and Lumbini facing drinking water shortages as wells run dry.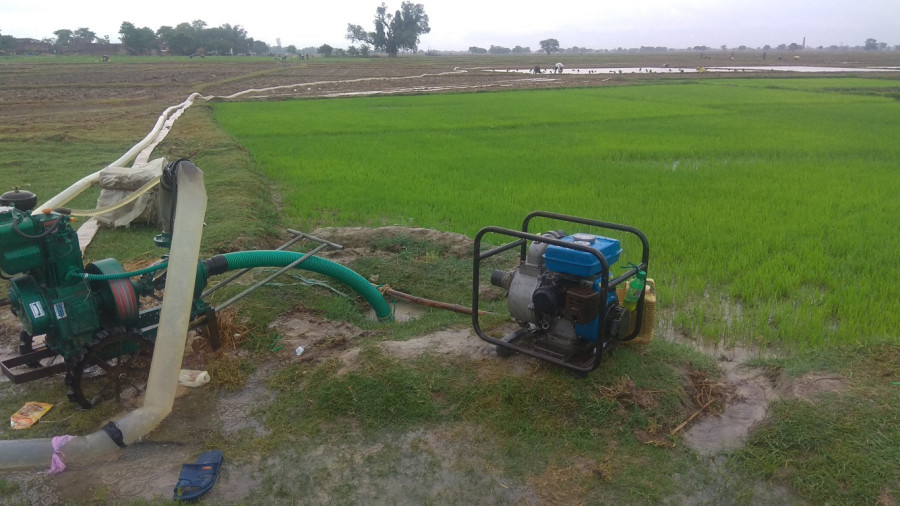 A deep boring pump irrigates a paddy field in Kanchanpur Rural Municipality, Rupandehi. Post Photo: Ghanshyam Gautam
bookmark
Published at : July 5, 2019
Updated at : July 5, 2019 08:12
Rupandehi/ Kapilvastu/ Nawalparasi
Groundwater levels have dropped in the southern plains because of growing deforestation in the Chure hills, haphazard plotting of arable land and increasing blacktopping of roads. Unmanaged urbanisation in the Chure region and low rainfall have resulted in the depletion of aquifers also making it hard to recharge groundwater.
With increasing depletion, hand pumps in various regions in the Tarai have dried up, and farmers who rely on medium and deep bores to irrigate their farmlands are facing difficulties.
Earlier, groundwater could be reached at a depth of 20-25 feet during the monsoon, but now it can only be extracted from 150 feet. Groundwater levels have declined by 2-3 feet annually; and in the past seven years, the region has witnessed a decline of 15 feet.
The Chure region has witnessed increasing land degradation over the years due to arbitrary mining of limestone from the hills and deforestation. But the state has failed to take concrete measures to prevent it.
Rapid urbanisation and blacktopped roads in the Chure hills have rerouted the water which originally flowed into aquifers into rivers leading to disruption of groundwater recharge as the concrete surface prevents water from seeping into the aquifers.
According to hydro-geologist Prakash Gyawali at the Department of Water Resources and Irrigation, groundwater levels have been impacted by degradation of major sources in Chure and plotting of arable land.
"Groundwater has not been recharged because of loss of land, ponds and trees. Also, erratic rainfall in the Tarai which used to witnessed incessant rain has led to low recharge of groundwater," Gyawali said. "Inconsistent rainfall can be attributed to climate change."
Due to falling groundwater levels, areas such as Rohini, Siyari and Sudhodhan in Rupandehi and others in the Lumbini region are facing drinking water shortages.
Farmers are left helpless during the paddy planting season because of lack of water for irrigation. Rohini Rural Municipality has even issued a public notice calling people and the respective authorities to stop extracting groundwater using big pump-sets and deep tube wells after the hand pumps failed to extract water.
"Locals are facing difficulties getting drinking water from hand pumps," said Sanoj Kumar Yadav, chief of the rural municipality. "At present, we have barred locals from irrigating their fields to plant rice saplings by extracting water from medium and deep boring."
As per government statistics, there are around 500 medium and deep boring machines in Rupandehi alone. Such pumps extract water from 100-250 feet below the surface causing a decline in water sources for shallow tube wells used for extracting drinking water.
According to Sandan Chaudhary of Nawalparasi, hand pumps could draw water regularly five years ago even if there was a deep boring machine operating in the region. But now the hand pumps dry up when deep bores are in operation.
Hand pumps dry
A majority of the hand pumps in Kapilvastu are running dry with the decline in groundwater levels. Every year, the region witnesses water shortages from April to May. But this year, with the late onset of the monsoon, water shortages have lasted till July.
Areas in the southern part of the districts such as Banganga, Motipur, Mahendrakot, Gajehada and others are reeling under shortages with the hand pumps drying up. "The problem which has existed for 8-10 years now has grown in magnitude," said Dipak Panthi of Jitpur. "It is imperative to curb land degradation and raise environmental awareness now."
According to Irrigation Development Division Office Chief Netra Bohora, the situation is caused by an increase in water consumption and lack of efforts in water conservation. "The situation could turn critical in 2-3 years if a work plan on water conservation is not implemented," said Bohora. "Preservation efforts should be focused in the Chure region with a forestation programme and water collection efforts."
No water for planting
The first week of July is the ideal time for farmers to plant the rice saplings. However, farmers in western Nawalparasi are scrambling to arrange water for irrigation instead of planting the seeds.
A delayed monsoon has barred farmers from planting the rice saplings, and deep bores have not been able to extract water like in previous years. The situation has forced farmers to pump water from canals and rivers as far away as 500 metres from their fields.
According to Resham Chaudhary of Palhinandan, he has laid pipes and extracted water from a canal 500 metres away. "If the taps cannot provide us with water like before, how can boring machines work?" said Chaudhary
---
---