Chitwan company launches Nepal's first disposable eco sanitary pads
The disposable eco sanitary pad uses 100 percent biodegradable products that can be disposed in 180 days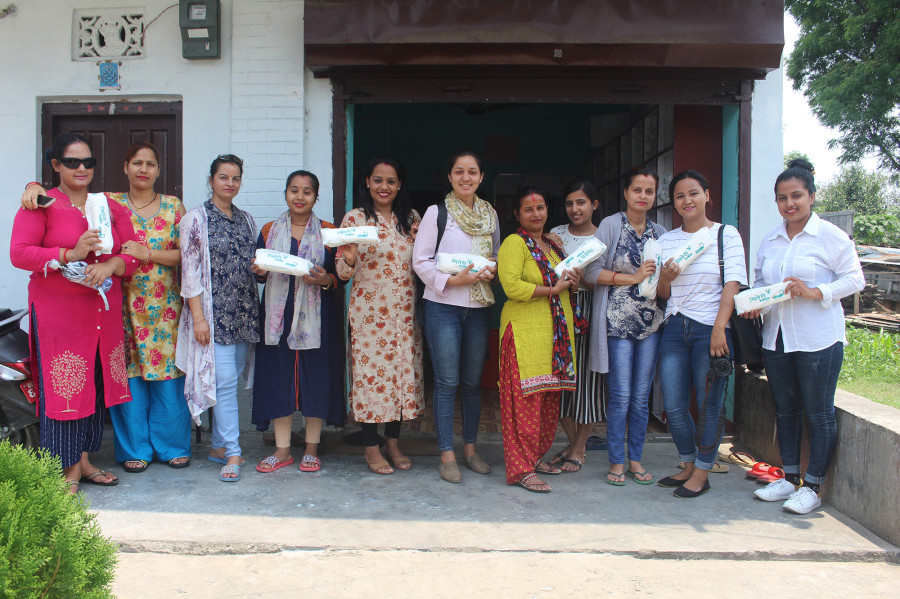 bookmark
Published at : May 22, 2019
Updated at : May 23, 2019 07:03
Kathmandu / Chitwan
Miteri Jaibik Sanitary Udhyog launched Nepal's first disposable eco sanitary pads on Tuesday. The disposable eco sanitary pad uses 100 percent biodegradable products that can be disposed in 180 days including the package, claimed the company. After the successful trial of the disposable eco pads, the industry introduced the pads in the market.
Opened with a joint investment of Rs4 million from Radha Paudel Foundation and Women Forum for Justice, Chitwan, Miteri Jaibik Sanitary is producing two different Miteri Eco Pads – disposable eco sanitary pads and reusable eco sanitary pads.
The disposable eco sanitary pad is priced at Rs100 for seven pieces while the reusable eco sanitary pad is priced at Rs100 and Rs150. The pads can be used for a year from the date of manufacture.
The company sold four cartons of disposable pads during the launch event, said
Sabitri Bhandari chairman of the industry.
With awareness gradually growing for eco-friendly pads, a handful of organisations are taking the initiative to produce it in recent days. The practice of using modern pads is still relatively new in Nepal, with women opting to use recycled old sarees and towels instead.
"Our disposable eco pads have good absorption capacity with zero leakage," Bhandari said.
Bhandari said that they introduced the eco pads not just for women health and to eliminate menstruation taboos from society but also to campaign for a clean environment.
"Though our society still thinks of menstruation as a taboo subject, the women can cooperate in the campaign by using eco pads."
Eco pads are beneficial for one's health and are environmentally-friendly. The modern disposable pad uses harmful gel and polymer on it which is not considered good for women's health, said Bhandari.
"Our reusable eco pads can be used for a year from the date of manufacture," she added. She said that even the packet of pads is eco-friendly.
"We can make our sanitary pads available at a cheap price if the government provides customs waiver while importing plants and raw materials for production of the disposable and reusable sanitary pads," Bhandari added.
The industry has been using pinewood pulp sheet, cotton, and few polymers to produce the pad. The pad passes through five different production processes before it goes to the market. It needs 6.5 to 6.7 gram of cotton to prepare the pad.
According to Bhandari, beside pinewood sheet, the pads can also be manufactured from banana leaves but it is not possible due to the lack of government support as the cost of production will be high. "We expect government support on it."
The industry imported sanitary pad machines and raw materials from Akar Innovation, India. Akar Innovation with its 35 units in India along has been cooperating to produce eco pads in Africa, Uganda, Kenya, and Tanzania.
A study shows that a woman gets menstruation for 3,500 days over the course of her life, nearly 10 years dealing with the issue.
This means that a woman uses 11,000 to 15,000 sanitary pads during their lifetime which is 50 kg on average. There are 27 different sanitary brands in the country.
Non-disposable sanitary pads take 200 to 1,000 years to decay, a study shows.
The foundation started production of reusable eco pads from Jumla and Kalikot in 2014. The foundation has provided training to produce reusable eco pads in different districts since then including Mugu, Dailekh, Sindhupalchowk, Nuwakot, Kathmandu, Siraha, Kavre among others.
However, the target audience of the eco pads, women themselves are not particularly enthusiastic about using reusable sanitary pads due to the hassle of cleaning.
---
---