The e-commerce market in Nepal is worth $25 million: Daraz Nepal
Daraz is set to launch its first ever 11.11 shopping festival in Nepal on November 11. The event, introduced by its parent company and e-commerce giant Alibaba a decade ago, is now the world's biggest sale day.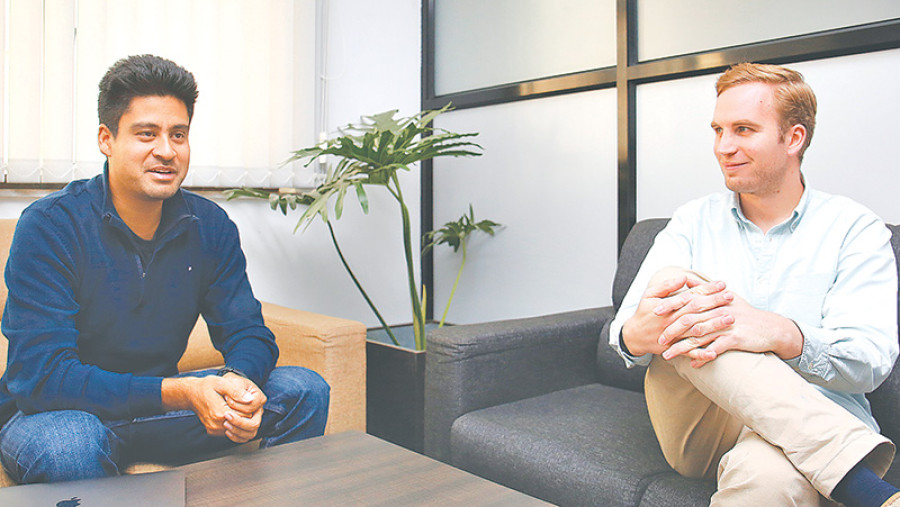 bookmark
Published at : November 8, 2018
Updated at : November 12, 2018 09:02
Daraz is set to launch its first ever 11.11 shopping festival in Nepal on November 11. The event, introduced by its parent company and e-commerce giant Alibaba a decade ago, is now the world's biggest sale day. The shopping festival is expected to usher in a new era of online shopping for Nepali customers. The festival will kick off at midnight on November 11 and last for 24 hours. It will feature discounts of up to 80 percent and be a full day of hourly flash sales, mystery boxes, brand vouchers and unbelievable deals. Krishana Prasain of the Post caught up with Rajeev Amatya, managing director, and Lino Ahlering, chief commercial officer, of Daraz Nepal to talk about the e-commerce market in Nepal and the first ever 11.11 shopping festival in Nepal. Excerpts:
How do you access the e-commerce market in Nepal?
The e-commerce market in Nepal is worth around $25 million. We are seeing 300 percent growth annually which is also our target. Customers are trusting e-commerce more, and sellers are seeing the value of e-commerce. We have many delivery companies. We will be introducing online payment in January.
Neighbouring countries like India and China have taken a great leap forward in the e-commerce market. Why is Nepal still lagging behind?
Rajeev: People generally look for three things in e-commerce. One, variety of products; two, competitive prices; and three, fast delivery. These are the fundamentals of e-commerce and they apply everywhere. We carry 100,000 products right now; and in six months, we plan to have 600,000 products. We have 1,200 sellers, and are planning to boost that number to 5,000 in six months. We are working to increase variety. In terms of prices, we are working with manufactures, importers and brands directly. In six months, you will see a lot of manufacturers selling directly through Daraz. You will see a lot of online brands which do not have any offline presence and offer competitive prices only on Daraz. We are introducing exclusive products which will be available only on Daraz. We are working on a very low margin.
We are bringing three phones for the first time—Samsung, Xiaomi and OnePlus—only on 11.11. These phones will not be available in the market. Daraz has started its own logistics now, Daraz Express. With delivery companies, deliveries to our warehouse and customers are happening faster. We are
planning to open 25 hubs within a year. With this, growth will be much faster. We have about 700,000 people visiting our website every month, and we are aiming for 2.5 million in three-four years, which means almost 10 percent of the Nepali population visiting Daraz.
Why don't Nepali consumers fully trust online shopping?
Rajeev: We are working only with registered sellers. We do not allow any replica production on our website. We check for quality and study the feedback from customers. We also have an easy return policy for buyers and sellers. We have a seven-day return policy.
Lino: Trust issues take place due to lack of awareness, and that is why we put a lot of emphasis on customer service so that we can communicate with our customers. Cash on delivery and return policy will help customers to build trust. E-commerce is new for them, and we still need an ecosystem to develop. Similarly, customers can engage with sellers and put questions to them directly which also helps in solving issues.
What is Daraz 11.11? What can consumers expect from the event?
Rajeev: 11.11 is a sales campaign, also called Singles Day Sale that originated in China. It was pioneered by Alibaba and they made $25 billion in sales during the 11.11 event last year. For Nepal, 11.11 will be about acquiring new customers and building trust for customers while showing our vendors, brands, importers the value of e-commerce and value of Daraz for them. We plant to generate as much revenue as possible. We also see it as an opportunity for us. We plan to generate 100,000 orders in one day and expect to sell at least 1,000 phones in 15 minutes during 11.11.
Lino: The discounts that customers will be getting on 11.11 is really something big. It will be much bigger than Black Friday last year.
What are the major features of 11.11?
Lino: We have mystery boxes, vouchers, crazy deals with discounts of up to 80 percent across different categories.
How do you manage to give heavy discounts?
Rajeev: I have been working with manufacturers especially in fashion, to develop a completely new line-up of products for us. We do not have to give margins for wholesalers, retailers, as it comes directly from manufacturer to us. These products are made in Nepal and we can support local manufacturers in this way also. Many products are reserved exclusively for 11.11. We also have quite a few products that are on sale.
What are the arrangements for delivery of the product?
Rajeev: We have working on the delivery system for the last three months to ensure that we have enough delivery resources for 11.11. We have our own delivery arm, Daraz Express. We have set up seven hubs in Kathmandu and one in Pokhara for smooth delivery on sales day. We have tripled our human resources to handle delivery for the day. We have also worked with our
courier partners like Aramex and UPS who have also increased their capacity by three times for the day.
What can be done to make cash payment digital?
Rajeev: We are doing 100 percent cash on delivery right now. But we are working with payment gateways offered by Nabil Bank and Compass Plus that works with Nabil Bank to introduce online payments using your Visa and Master card. We are also exploring domestic online payment systems like E-sewa, Khalti. By the end of 2019, we expect at least 50 percent of all our payments to be digital.
---