Jagat Lal Master: The Master from Masangalli
Masangalli. A narrow galli that cuts between the dazzling temple of the Seto Macchindranath (or Janbaha Dyo) and Mahabouddha, towards Bir Hospital, has seen several avatars in the recent past. Popular today for its innumerable Kurta and Sari whole sellers,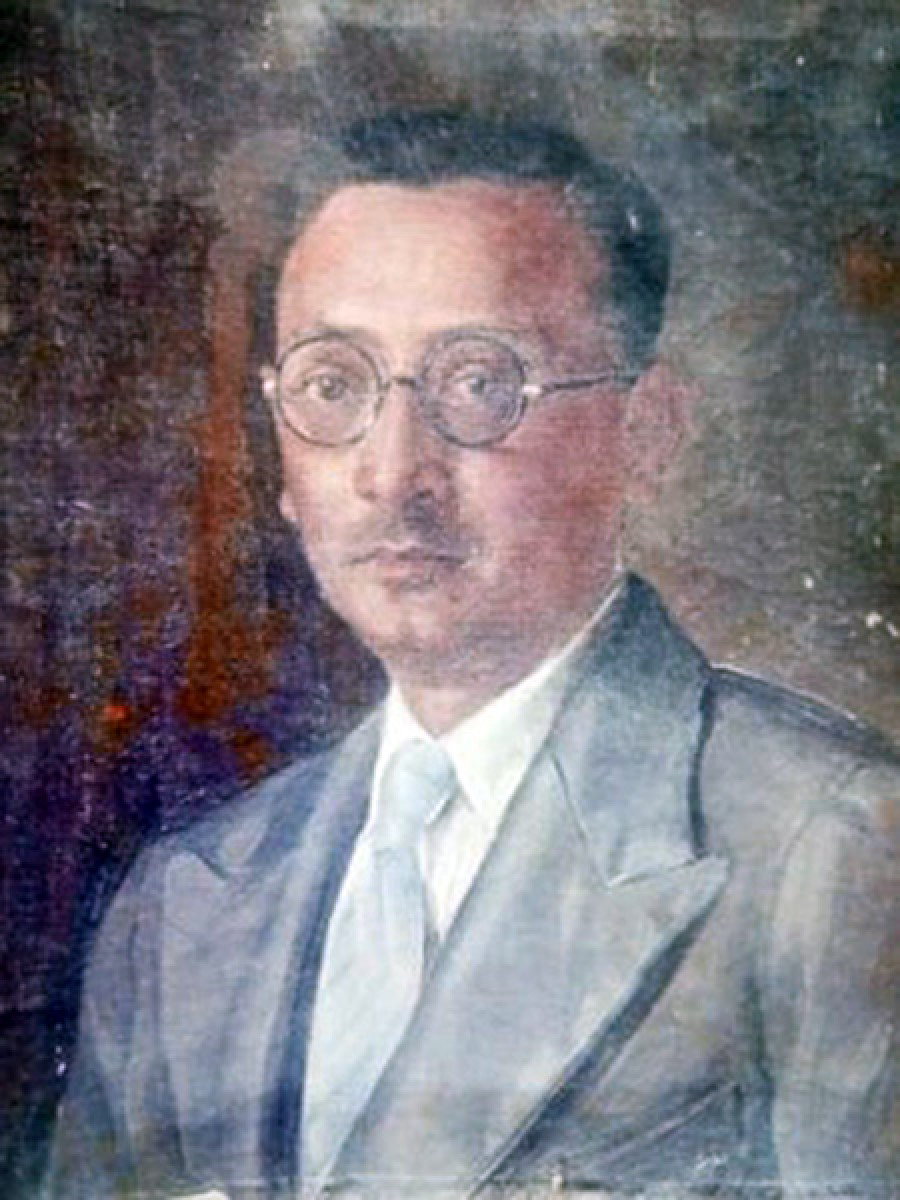 bookmark
Published at : March 31, 2018
Updated at : April 11, 2018 17:11
Masangalli. A narrow galli that cuts between the dazzling temple of the Seto Macchindranath (or Janbaha Dyo) and Mahabouddha, towards Bir Hospital, has seen several avatars in the recent past. Popular today for its innumerable Kurta and Sari whole sellers, in the late 80s and into the 90s, this little lane was famous for the Mo:Mo restaurants and 'Cap Houses' that once dotted it. But in the early 1900s, this unassuming dark galli was home to one of Kathmandu's best kept secrets. Fifty metres into Masangalli, a narrower, short galli branches off to the right. At its end lies a large Peepal tree, and under its shade a long red and white brick house. That's where the young boys and girls from the neighborhood started gathering around 10 am in the morning.
By this time, a stone's throw away, Kathmandu's busiest market, Asan, would be coming to life for the day—a crowd of vendors shouting out to customers and shoppers bargaining for the best deals. Their voices at one with the clangoring of the bells from the Annapurna, Ganesh, Balkumari and Janabaha temples in the vicinity.
Amid this routine, clamorous environment, noise from the classroom easily diffused into the air. Yet, the children were strictly expected to maintain silence, for this was an age when anything to do with education was severely suppressed, and there was every chance that even something mundane as excited chatter of school kids could provoke the Rana Regime to initiate punitive action. But when their teacher entered the room, the children politely rose from their seats and broke the silence they had so guarding kept, as they greeted in unison their beloved Jagat Lal Master Saheb.
For Jagat Lal Master, teaching was so profoundly embedded to his identity that the respectful "Master" remained attached like an inseparable part of his name; so much so that even his students did not know Shrestha was his family name. Many of these students grew up to make their mark in diverse fields. Among them are Karuna Ratna Tuladhar, who pioneered transport service in Nepal with his brother Lupou Ratna Tuladhar, one of best artists Nepal has known, Amar Chitrakar, author and freedom fighter Prem Bahadur Kansakar, writer Pushpa Ratna Sagar, industrialist Mahanta Lal Shrestha and educationist Nhuchhe Bahadur Bajracharya. His own son, author and folklorist Keshar Lall, was also educated by him. And while these individuals found recognition in Nepali society, the heroic story of their teacher, Jagat Lal Master, who dared to defy the repressive Rana Regime to teach small children and instill in them the desire to learn, ability to dream, and become what they ultimately did, remains untold.
When in the mid-1920s Jagat Lal Master started teaching neighbourhood children at his home, education censorship in Nepal was at its peak. Fearing a rise in consciousness among common Nepalis and subsequent protest against the Regime, the Rana rulers strictly monitored and suppressed any activities aimed at educating the public. PM Chandra Sumsher reluctantly established the Tri Chandra College in 1918, but soon after, its inauguration famously lamented that by opening this institution he had sown the seed of the Regime's downfall. And 1930 was the year of the infamous Library Parva, in which 45 youths, including Mahakavi Laxmi Prasad Devkota, were heavily fined by the government of PM Bhim Shumsher for attempting to establish a public library.
Amid this intense state of suppression, Jagat Lal Master had the audacity to gather and teach a group of 50-60 children at his home for five to six hours daily.
He had built a long building right beside his home, and filled its two rooms with long benches made of thick, brown woods that were attached to tables. In this school-like arrangement, he introduced his students to Geography, English, and basic Mathematics.
Spread across the classroom wall was a large map of the world. Pointing to the contours, shapes and sizes of the different countries on this map, Jagat Lal Master presented to the students the physical and political geography of the outside world, the doors of which were shut for them by the Ranas. Huddled together on the benches, the children's eyes lit up as their Master's Geography lessons took them to faraway lands.
Jagat Lal Master would further fuel their imagination by telling them tales from those lands. His daughter Lily Shrestha, 79, says that he would have The Royal Readers, a comprehensive English textbook of the time, ordered from Calcutta. The book had poems, stories, beautifully illustrated with pencil sketches, and through these he introduced the children to the beauty that words could create.
He told the children stories of Sherlock Holmes and those by HG Wells. Lily says that his storytelling was so passionate and vivid that it seemed to them as if the characters and their actions were dancing before their eyes, as if the plots in the stories had jumped out of the pages and was happening right there in the narrow, dank alley in Masangalli.
The way he told these stories, and the characters they formed, introduced, for the first time in those children's lives, the people and the lives in the world much different from their own. The world that was free, and where ideas were free.
The audacity to fill young minds with ideas prohibited by the Regime was borne out of Jagat Lal Master's own tough upbringing.
Lily says that this simple man was a young boy of nine when his father died, and soon after his mother left home as well. The only child, he had no one except his 'Thulo Mummy'—as he called his father's first wife—to fend for him. Struggling for support, Jagat Lal Master would find his first job as a mason at the construction site of a Rana durbar. As small as his hands were and as feeble his strength, they could only carry two bricks at a time to place above the rising wall. The little wage he made, he dutifully surrendered to his family.
All these must have, Lily says, strongly shaped Jagat Lal Master. Yet, it was education that molded all these experiences of hardships to make of him a resilient and visionary personality.
One afternoon, he happened to be sitting near his home, unconcerned by the dust on his clothes and the reprimand that this would bring him later from his step mother. Head bent, his forefinger ran smoothly on the dust to sketch a rose. He was so engrossed in his act that he did not realise a stranger walking by had stopped to admire his work. Only when he had finished the drawing did the man ask him what he was up to.
The man was so touched by the boy's condition, Lily says, that took him by his hand and led straight to his house in Asan and taught him his first letters. This man was no other than Jagat Sundar Malla, foremost educator, writer and one of the leaders of the Nepal Bhasa Movement at the turn of the 20th century.
Educated and mentored by him, Jagat Lal grew up to harbour a vision and heart that had profound faith in the transformative power of education on common people's lives, making it a mission to educate the children in his neighborhood. For him, to see a child and know that he or she was not being educated spread a sense of unease.
"Whenever he saw a child running about, he'd call him or her over and tried to teach them something," Lily says. "He'd talk to parents, convincing them to educate their children."
Jagat Lal Master started out by teaching out of a room in his house. Slowly, the word spread, and parents from far off began bringing their children too, Lily says. Because he taught English, many of his students eventually were the children of Lhasa merchants, whose exposure to British India had shown them the value of this language, and wanted their children to learn it.The building with two classrooms was built as the number of students steadily increased.
For all the long hours he taught each day, Jagat Lal Master did not charge specific fees. He himself brought poor children who had no means otherwise to know the value of education, let alone pursue it.
"He was most genuinely concerned to educate children, so making money was never his intention,"
says Amrit Ratna Tuladhar, 69, recalling what he had heard his father Karuna Ratna Tuladhar, a student at the school, say.
Neither did Karuna Ratna and his peers feel that their teacher believed in or sanctioned untouchability, adds Tuladhar. And so in Jagat Lal Master's classroom, the children of the poor and rich and of different castes sat side by side, a break of the socially rigid barriers of caste and class that gripped the social and legal norms of that time.
But this man's vision perhaps gains more clarity in his efforts to educate girls as well as boys. A keen observer of society's discriminations, he particularly saw in education the power to emancipate women.
In his neighbourhood lived a young girl Heera Devi Kansakar (Heera Devi Yami after marriage), who would grow up to become a freedom fighter. According to her daughter Timila Yami Thapa, at age 12, Heera Devi caught tuberculosis, which then had no medical treatment available.
Seeing this young girl's pain, Timila Yami says, Jagat Lal Master felt that teaching her could ignite in her some hope, just as it had in his life. Knowing that her highly conservative family discouraged children from learning, he started secretly passing her lessons scribbled on small sheets of paper. Later, as she recovered, she would visit him at home for lessons.
"Learning to read gave me hope," she'd later tell her children. She'd also tell them that when she stayed in Calcutta and Kalimpong for treatment of tuberculosis, being able to read newspapers and gain insights about the Indian freedom movement fuelled her willpower to recover and stay alive to see her own country freed from the Rana Regime.
Lily remembers that with time several girls attended his classes.
Jagat Lal Master's school eventually fell under the sharp surveillance of the state. Every day, strange people would appear at their house, Lily says, to spy on her father's activities.
"They'd ask for father and
then ask him all sorts of strange questions," she says. "Or, there would be people surreptitiously hovering around the house."
The officials in the Rana durbars also sent their children as students for the ground information on what he said and his activities. But never, Lily says, never was he arrested, or subjected to any sorts direct physical and mental torment.
But perhaps, he almost was. And this incident is etched in Lily's memory. Around the time that the small community of Kathmandu was terror-struck by the cold-blooded murder of the four freedom fighters—Gangalal, Dharma Bhakta, Darsarath Chand and Shukra Raj—some men walked into Jagat Lal Master's house in the dead of the night.
"In this particular stance, they had certainly come with some intention," she says. "It's a good fortune that he was really sick. They climbed upstairs to check on him in the room where he was bedridden. They saw him, and they left." One of the men who came that night was his former student.
Lily says that it took consultation among nine Vaidays to determine
his illness and treat him. Once
cured, he was back to his classroom, where his classes continued for another decade through the tumultuous freedom movement.
The advent of democracy in 1951 was also to become a turning point for his classes. Eventually Jagat Lal Master took up a job in a medical store in Maru Tol, and his son Kesar Lall and then his daughter Jagat Kumari took over the teaching in the school.
But his love for introducing children to the world of letters and words, and fuel their imagination never waned. In 1958, he wrote the Jagat Barnamala, an alphabet book, and in 1961, a collection of children's stories in Newari titled Machabakhan.
The two classrooms offered last lessons to children in 1963, the year the daughter got married. A year later, he sold his property in Masangalli except for the building with the classrooms, and moved to Bansbari in northern part of Kathmandu. There, at the age of 63, he died in 1967.
But by this time, his classes had fulfilled its due role in spreading the message about the value of education. Many schools had opened in Kathmandu by then, for both girls and boys. With time, Jagat Lal's own students became educators. Through the efforts of individuals like them and of the state, the education slowly spread not just in the Capital but around the country. It remains, however, that the spark light was struck in the darkest period by now-forgotten individuals like Jagat Lal Master.
n A portrait of Jagat Lal Master by one of Nepal's best known artists Amar Chitrakar, who as a child was his student.
---
---