The art of conversation
Once, maybe three years ago, on one of those large rickety blue buses that circumambulate the Ring Road, I sat next to a middle-aged man in crisp cotton pants and shirt, holding a wooden walking stick. He started to talk to me as I pulled out a newspaper to read.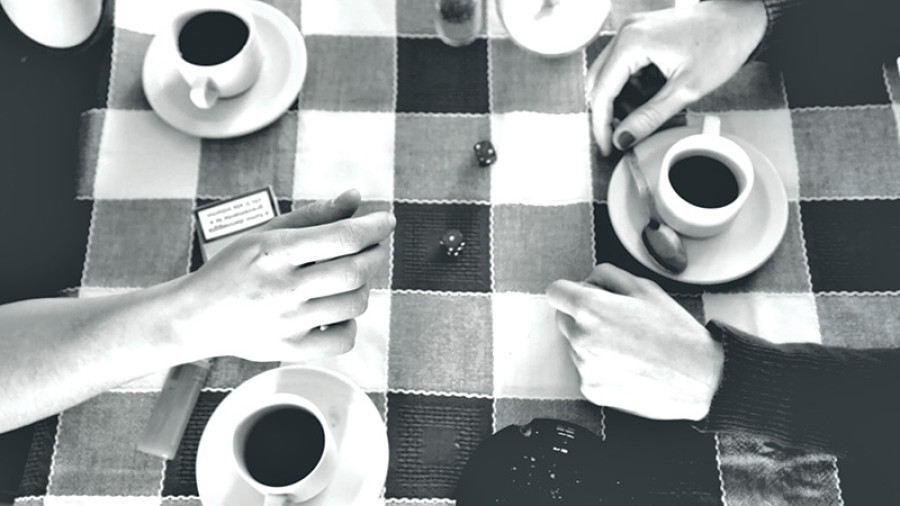 bookmark
Published at : May 6, 2017
Updated at : May 6, 2017 08:46
Once, maybe three years ago, on one of those large rickety blue buses that circumambulate the Ring Road, I sat next to a middle-aged man in crisp cotton pants and shirt, holding a wooden walking stick. He started to talk to me as I pulled out a newspaper to read. Usually, I would've been annoyed, but that day, I was in a better mood than usual. He asked after my reading and if I went to school. I told him I worked for a newspaper. He seemed surprised. He said he couldn't read very well, especially not English. He had dropped out of school in grade eight and gone into trade with his father. He was from Jomsom and although he had operated a storefront in Kathmandu for over two decades, he was now living back in his hometown. At 60 years of age, he'd taken up farming.
Our conversation meandered like the Dhobi Khola. He did most of the talking but he'd ask me things from time to time. For the hour that I was on the bus, from Basundhara to Koteshwor, we didn't make small talk. This wasn't a conversation that began with the weather and slowly got awkward as we ran out of trivial things to discuss. This man was not willing to simply talk about the banal. He spoke at length about how operating a store in Kathmandu had leeched him of life like a parasite and how much he'd yearned to go back home for all those twenty years. He talked about the way the air and the earth smelled in Jomsom, how sweet the water tasted, how much easier it was to walk. =He asked me what I hoped to achieve by working for a newspaper and if it was what I wanted to do with my life. When I expressed uncertainty, he reassured me, relating that he hadn't known he wanted to be a farmer until he was almost 60.
It was only when I got off the bus at Koteshwor that I realised I had forgotten to ask for his name. We had been two strangers and for all intents, we remained strangers. Still, for an hour, we had had a strangely intimate conversation.
This has happened to me in Kathmandu on more than one occasion. Kathmandu is a strangely dissimilar city in that way, a city of millions where people try not to be strangers. Everywhere, whether in bank queues or at the electricity authority or in a cramped microbus, there are always people willing to talk. And oftentimes, these conversations aren't simply shoptalk; they can get intensely private. There is no awkwardness to Nepalis. They will ask you what caste you are, what your parents do, how much money you make, whether you are married and if not, why not? In a way, it is strangely liberating.
In his book Conversation, the Oxford scholar and historian Theodore Zeldin lionises exactly these kinds of conversations. He laments that we are becoming an increasingly banal society, full of ordinary conversations about predictable matte—the weather, the state of the roads, that television show last night, what that celebrity did. We no longer have conversations that are meaningful and personal, especially between strangers. Shorn of the personal baggage that comes with friends, family and acquaintances, Zeldin believes that strangers can have conversations that truly challenge preconceived notions. He has modelled his particular take on the conversation after the Socratic dialogue: "the idea that individuals could not be intelligent on their own, that they needed someone else to stimulate them. ... His [Socrates'] brilliant idea was that if two unsure individuals were put together, they could achieve what they could not do separately: they could discover the truth, their own truth, for themselves.
Zeldin has a prescription for the banality that afflicts our conversations. Through his Oxford Muse foundation, Zeldin conducts 'conversation dinners' where two random strangers are paired to sit and hold a conversation for a minimum of at least two hours. They are provided with a conversation 'menu' that lists questions in the form of appetisers, entrees and desserts. The questions range from the personal ('How have you made and lost friends over the years and what kind of friends would you like to have now?' or 'What is an aspect of your personality that you dislike?') to the philosophical ('How important is money and power to you?' or 'If you could change one thing about the world, what would it be?' or 'What is one piece of art, literature or music that you think is overrated by critics?').
These conversation dinners have been replicated over the world. I recently took part in one such conversation dinner in Vienna. Conducted by space and place, a cultural organisation of 'rebellious optimists', this particular iteration, aptly named 'Coffeehouse Conversations', draws on Vienna's storied history of conversations in coffeehouses. It seeks to revisit the cultural zeitgeist that was part of the Vienna of the early 20th century, where artists, philosophers, writers and musicians frequented Vienna's many coffeehouses, holding forth debates and discussions on circumstances of import.
My particular conversation was wide-ranging and imprecise. We ended up talking about all manners of things, not limited to what was on the menu. My partner had been born and raised in Vienna but now lived in Berlin. We had a pleasant conversation, inquisitive and interesting. It was a conversation pursued with no intentions. This wasn't speed-dating, it wasn't an attempt to make a friend. It was simply a conversation, free of all baggage, between two perfect strangers. After close to two hours of talking, I left with simply a firm handshake.
In Vienna, space and place has deemed it necessary to revitalise the lost art of conversation. In Kathmandu and among Nepalis, I am not so sure this moment has arrived yet. Nepalis remain gregarious, innocently unaware of the social conventions that place such a high bar on privacy in the West. In Nepal, the private is everybody's business.
It is often said that cities breed loneliness. In the cities I've lived in so far, New York, Brussels and now Vienna, it is not an exaggeration. Surrounded by so many people, being sociable can be exhausting. Kathmandu is somehow an exception. The small village mentality persists. Even in a city of nearly millions, complete strangers will ask you for your last name and where your parents come from. This can be seen as nosy but it can also lead to fun experiments. After all, you can always lie.
I am reminded, once again, of a chance meeting long ago. I was leaving the country for the first time, bound for the US to pursue my undergraduate degree. At Bangkok's Suvarnabhumi airport, I had an exhausting 12-hour layover. There, I met another Nepali, my age, perhaps a year or two younger. Since we were both on the same flight the next morning, we spent the entire 12 hours wandering the airport. We sat on hard seats and observed people; we ate at a food court; we pointed to waiting Malaysians and remarked on how similar they looked to Nepalis; we shared dinner with a Nepali man who happened to recognise me from Kathmandu. We didn't speak much about ourselves, who we were or where we were going. We were strangers, like out of that one film where two strangers meet on a train and get off for a night in Vienna.
The next morning, we boarded the same flight. She took her seat and I took mine. We never saw each other again.
---
---