Health Minister's New Year resolution: To urge people to opt for healthy behaviours
Statistics point to an alarming health situation in Nepal: one third of the country's population has hypertension and 15 percent has diabetes;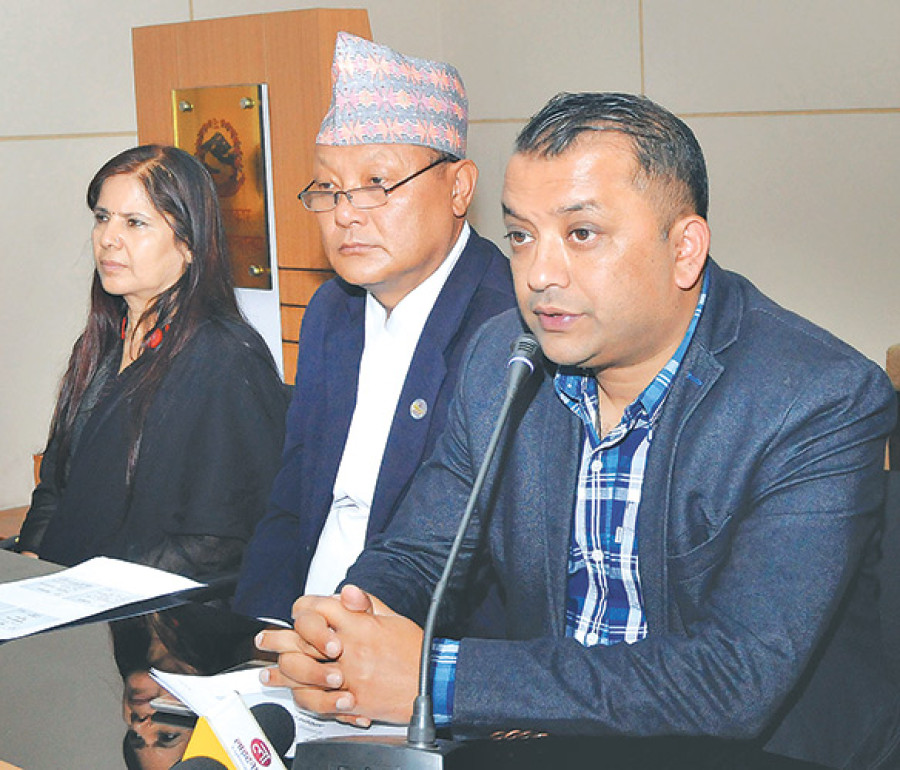 bookmark
Published at : April 14, 2017
Updated at : April 14, 2017 08:19
Kathmandu
Statistics point to an alarming health situation in Nepal: one third of the country's population has hypertension and 15 percent has diabetes; 44 percent deaths are attributed to non-communicable diseases while around 10,000 people are diagnosed with cancer every year. Also, the Health Ministry estimates that 18 percent of the population is overweight with four percent people obese.
With an aim to improve the state of affairs, Health Minister Gagan Thapa has unveiled yet another ambitious plan to embed preventive measures in healthcare and encourage people to opt for healthy practices. Prime Minister Pushpa Kamal Dahal will launch a yearlong campaign of the Health Ministry on Friday to promote healthy behaviours across the country.
The campaign called "Mero Barsha 2074" with the theme "Ma Swastha, Mero Desh Swastha" will urge the people to adopt healthy lifestyles and curb alcohol intake and quit smoking while promoting exercise and nutritious foods. The programmes will be run by the health posts, district hospitals and public health offices in collaboration with the other local stakeholders including schools.
In the campaign, PM Dahal and Health Minister Thapa will seek people's commitment to adopting five key behaviours: stopping consumption of alcohol, tobacco or tobacco-related products; exercising regularly; eating healthy and nutritious foods; having routine check-ups; and watching the health of family members.
According to the ministry, particular focus is on checking consumption of alcohol and tobacco products because a majority of the non-communicable diseases (NCDs) stem from this habit. The ministry shows that 19 percent of the people are smokers while 17 percent drink alcohol.
Minister Thapa said something was found amiss in the approach to healthcare services because the government had been widening the scope of free health services while people continued to indulge in unhealthy activities. He said the increasing number of NCD patients requiring treatment would increase the government's costs.
"With the campaign, I personally believe we can encourage people to seek healthy behaviours," Thapa told a news conference on Thursday. "Also, our primary focus will be on schools where students are encouraged to exercise and eat fresh foods instead of junk foods. This will certainly have a wider impact."
The ministry recently started expansion of the NCD screening package in 1,053 health posts to detect early signs of non-communicable diseases through tracking of blood pressure, blood sugar, urine test and the body mass index. Through this package, the ministry is encouraging people to be aware of their health conditions and to seek timely medical attention.
However, as the health minister aims for a new campaign, some of his earlier decisions have not been implemented. This can be a major setback in this preventive campaign. Selling tobacco and alcohol through separate outlets and stopping their sale to people under 18, for example, is yet to see the light of day.
Thapa said the ministry has written to the ministries of Finance and Home Affairs requesting them repeatedly to implement the decision. "They have informed us that the special measures will be enforced only from July 16 due to some legal hassles," said the minister.
---
---