Let's talk about sex
The first time I consciously registered thinking about sex was after watching a movie. I must have been about 13 at the time and I remember being very curious.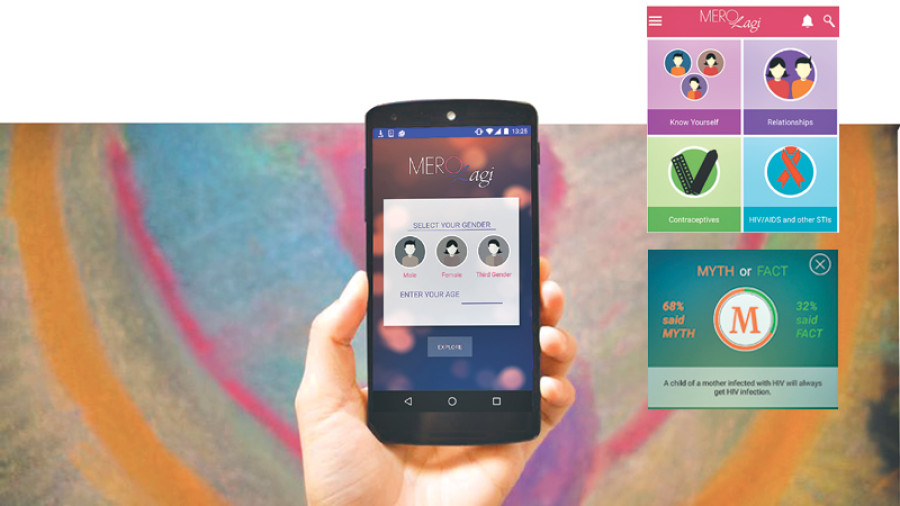 bookmark
Published at : April 1, 2017
Updated at : April 1, 2017 08:56
The first time I consciously registered thinking about sex was after watching a movie. I must have been about 13 at the time and I remember being very curious. But who would you ask? I was hesitant to even Google about it," recalls 18-year-old college student Sikha Thapa. For most urban youth like her, sex is a topic that continually bombards them via the TV and the internet, yet it is a subject that is seldom talked about. Many have questions regarding changes their bodies are going through, about masturbation, safe sex, sexual preferences and much more. But those queries are seldom voiced out loud, if ever answered.
"We don't have the culture of giving our children 'the talk' about sex. There is still a stigma about it in our society and the thought of talking about sex with their children is something that still horrifies most parents," says Dr Rolina Dhital, one of the architects behind the recently-launched MeroLagi.
MeroLagi is an android mobile app which aims to provide adolescents and youths a platform to receive and share information on sexual and reproductive health. Intended for those 15-24 years of age and developed by a team of medical and public health experts from Public Health Concern Trust- Nepal (phect-NEPAL) with blessings from the department of health services, MeroLagi is available in both Nepali and English languages. The app has useful content, available even when offline, on a myriad topics related to sexual health—ranging from simple queries about condoms to difficult ice-breakers on sexual inclination. For others just browsing through the app also has interactive quizzes and a 'Mythbuster' game fielding statements such as: 'If a male doesn't ejaculate during sexual intercourse, a girl can't get pregnant.' A myth, which according to the app, 70 percent of responders guessed was a fact.
Today's adolescents and young adults are caught between two worlds. On one hand their generation is becoming more open to sex, but on the other they remain obeisant to societal mores that treat is as taboo. A recent study published in the Biomed Central Psychiatry journal suggested that 20.9 percent of undergraduate students—though derived out of a small pool of 937 students from 20 colleges—were sexually active.
Taking increased openness into account, MeroLagi aims to build more than just a one-way dump of information but rather a platform that is a safe, anonymous space where users can share their stories or field questions. In a section called Mero Question, for instance, a 16-year-old female asks, "There is an uncle in my neighbourhood. Though he seems very friendly, I don't like the way he looks at my body. He always touches, hugs me and sometimes puts his hand around my waist. I don't like it. What should I do?"
Recipient of a John Hopkins HC3 grant that promotes communication aimed toward social behavioural change in reproductive health, MeroLagi, according to Anuroop Manandhar, another member of the core developers, struggled initially to rally resources and information on the subject. "As soon as we applied for and received the grant, we wanted to materialise the idea. But there have been very few studies done on this important public health issue. Scientific literature is just not there. We had to start from scratch," he says.
"We had a series of focus groups with students aged 15 to 24 and were fairly surprised by the eagerness and curiosity of the participants," says Dhital, "They were much more open about the topic than we had imagined which made it easier to learn about what problems existed and what solutions should be offered." The app that came out of the process was then fed back to the groups for feedback. According to Manandhar, large chunks of the app, including the idea for the anonymous platform for sharing stories or questions, came through the focus groups.
One of the users of the app, Sarthak Bhattarai, says, "I heard about MeroLagi through friends and I am glad I found it. It is engaging and informative." When asked what he thought was most useful he said (with a slight chuckle): "As a guy I was always curious about menstruation. It was one of the first things I looked up on the app. Now I feel I have a better idea about what girls actually go through."
For Dr Tara Shakya sexual and reproductive health awareness is a pressing public health issue. "As Gynaecologists, we encounter so many different cases that could have been prevented had the patients had the right information. Many of our patients, particularly the younger ones, resort to emergency contraceptives, without any idea of its harmful knock-on effects," she says, adding that accurate and accessible information on reproductive health would go a long way in curbing unplanned pregnancies, STDs and abuse.
For what it's worth, MeroLagi, which only launched earlier this month, is already beginning to find traction with its young users, with the team now inundated with questions—which, Dhital adds, are mostly filed in Nepali. "We are heartened by the queries that are flooding in. When we get to read real questions, by real adolescents out there, we feel like we are solving a problem that had not been addressed before, that we are filling a void."
---
---