Nepal by numbers
Medha Joshi will soon start researching her master's thesis. She's from Kathmandu and studies rural development at Tribhuvan University's Tri-Chandra Campus.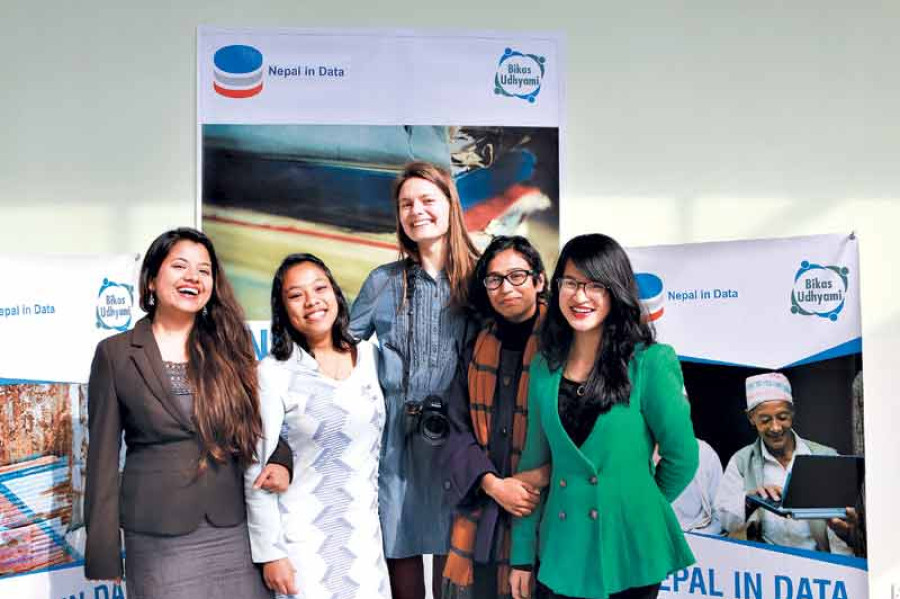 bookmark
Published at : February 4, 2017
Updated at : February 4, 2017 14:46
Medha Joshi will soon start researching her master's thesis. She's from Kathmandu and studies rural development at Tribhuvan University's Tri-Chandra Campus. "One problem I knew I would have," says the 27-year old, "is that for my research I would have to go through hundreds of pages of data stored on PDF documents." Many students who recently gathered in Pulchowk voiced similar complaints. They were attending the launch of a new statistics website called 'Nepal in Data'.
Academic research is often slow and painstaking in the country if government data is needed. It's not that statistics aren't available to the public. But often facts and figures are hidden in PDF documents, which are stored on different ministry websites. Or students are forced to phone ministries and ask them for data. Santosh Gartaula had this experience years ago, as an undergraduate in development studies at Kathmandu University. "I had to nag people, asking them again and again for the numbers I needed," he says. So Gartaula started collecting government data on a hard drive.
All data in one place
His private collection was the starting point for the website nepalindata.com, which aims to make the search for government data easy and intuitive. "From now on, you can find relevant data in one place," Gartaula informed students at at Tribhuvan University's Institute of Engineering last week. He is now the CEO of the privately funded non-profit organisation Bikas Udhyami and nepalindata.com is one of the organisation's first projects. Bikas Udhyami calls itself a social innovation hub and it's trying to bring an entrepreneurial approach to development. Currently the organisation has five staff members and two apprentices.
The target audience for the new website are policy makers, staff of development agencies and civil society organisations, academics, journalists and students. Gartaula and a handful of collaborators spent the last six months collecting further government data and preparing it for use in a database. The young Nepalis had their work cut out for them. Converting PDF data and cleaning it for use in a database was a laborious task. Choosing how to categorise and structure the information was another major headache. Equally ambitious was designing a user-friendly website. Here the team received help from a new start-up called Techkunia.
The questioned students at Pulchowk Campus were impressed with the result. After a short tutorial, they navigated the website with ease. While some said, that such a project should have been launched by the government itself, others stressed how much easier their life will be because of the new website. "Finding the relevant information has been very difficult until now,"says 23-year-old Abhishek Singh Basnet Chhetry, who studies social sciences at the National College in Baluwatar.
Informed decisions
Bikas Udhyami did receive technical advice from one of the directors of the Central Bureau of Statistics to ensure data consistency. And the government has shown interest in the project.
The non-profit company hopes to be able to collaborate closely in the future. "We have reached out," says Gartaula. "For instance, it would really help us if government could supply us with data stored in Excel files."
So what kind of questions does the website help answer? Currently users can choose from 12 sections (eg 'Civil Society & Foreign Aid', 'State and Politics', 'Industry', etc) and 1156 data sets. Each section is divided into indicators and sub-indicators.
If you want to know how many NGOs were registered between 2000 and 2016 and how much foreign aid was dispersed during the same period, the answer is just a few clicks away. What the website intentionally doesn't do, is help you interpret the results. It just gives the facts and the tools to analyse them.
"We want to provide people with the numbers, so they can make informed decisions and policies," says Gartaula. That goes for I/NGOs as well as for politicians. If for example an organisation wants to invest in alternative energy, it can use the website to identify how many solar panels were installed in the Terai in the last two years, instead of starting a project which is just based on assumptions.
But nepalindata.com is not only for seasoned professionals. It also wants to give students, the policy makers of tomorrow, the tools they need for their research. Judging by the enthusiasm voiced by many young Nepalis on launch day, the platform is on its way to achieving that.
Allemann is a journalist at the Bern-based Swiss National Radio currently interning at The Kathmandu Post
---
---