Theatre Village and the city
Setting up theatres in Kathmandu—a city getting more expensive by the year—has been a costly gamble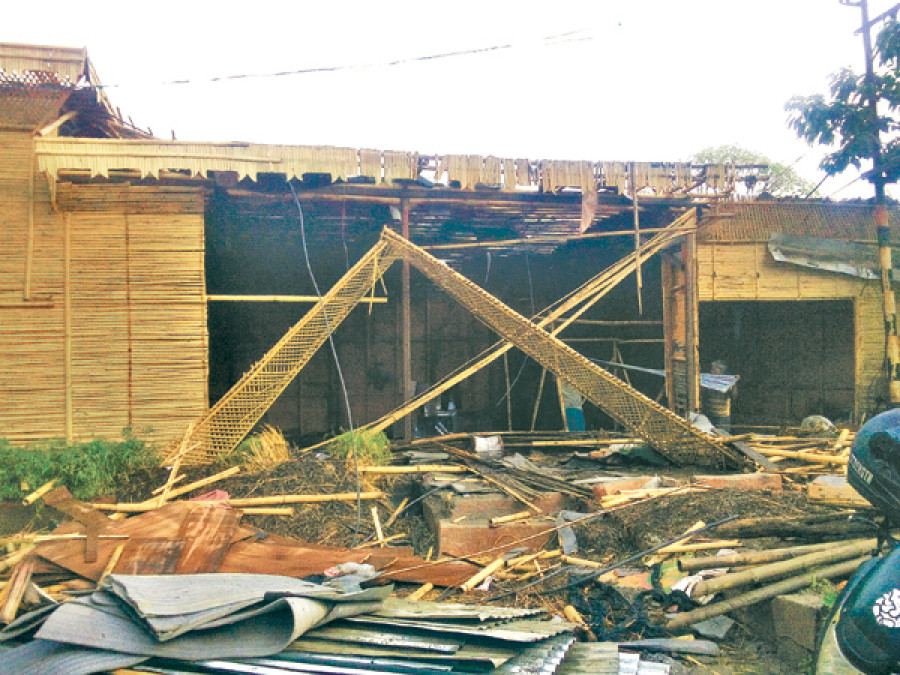 bookmark
Published at : June 11, 2016
Updated at : June 11, 2016 09:11
When the actors appeared on stage for the final performance of a Nepali rendition of Hamlet on May 7, it felt like a curtain call to an era. Just like how the characters exited the stage after the raucous round of applause, Bimal Subedi and Jibesh Rayamajhi, artists and proprietors of Theatre Village, were readying to pack up their props and accoutrements and leave. The stage, a hub for Kathmandu's theatre renaissance, was to be torn down.
Theatre Village, a simple structure erected with bamboos, was named after Satyamohan Joshi, a pioneer playwright and historian. Established in 2004, it had played a pivotal role in shaping Nepali theatre to what it is today. For those of us who were present there that evening, amid the confusion and despair, we nostalgically remembered what had transpired four years ago when Arohan Gurukul, another landmark theatre in Kathmandu, suffered a similar fate—closing down abruptly without plans for immediate relocation. Sunil Pokharel, the artistic director of the then Arohan Gurukul, is still labouring, with little luck, to find a new space to reboot the project.
Proprietors Subedi and Rayamajhi too have plans for relocating the much loved and respected Theatre Village, but the prospects of procuring a space to call their own quickly is, understandably, bleak.
With the closing of the iconic theatre, enthusiasts have once again begun questioning as to why, despite being such a powerhouse of talent, did the theatre shut its gates. And furthermore, why do the country's theatres have to struggle to stay afloat.
Sunil Pokharel and Bimal Subedi, both graduates of the National School of Drama (NSD), India, have proved their mettle as two of the most creative theatre directors in South Asia. Both the directors' contribution to contemporary theatre in Nepal has been exemplary. Yet that is of little solace in the face of the innumerable obstacles they are facing to navigate through to keep Nepali theatres buzzing with humour and swooning to romance.
Anup Baral, another graduate from NSD, has been running Actor's Studio for the past 12 years. He too doesn't have a space to call his own. Despite producing a number of young theatre talents, he too has been scavenging for a suitable space for 15 years—working where and with what he can in the meantime.
Setting up theatres in Kathmandu—a city which is getting more expensive by the year—has been a costly gamble for Nepali theatres. Theatre Village, for instance, was housed in a prime and convenient location at Uttardhoka. To be able to keep the space, however, the theatre needed to make in excess of Rs 300,000 every month—a tall order for the 200-seater hall charging rates ranging from Rs 200 to Rs 500. To stay afloat, regular shows needed to be put up, often at the cost of quality and overworking actors. To supplement their income, Theatre Village ran short-term courses on acting for aspiring artists. They also occasionally provided the hall on rent. Ghimire Yubaraj, Rajan Khatiwada, Dayahang Rai, and Kedar Shrestha, who have been running their own theatre centres in the country, too have been working in a similar fashion. Besides financial restraints, the lack of proper art and cultural policy of the government has been another drawback in letting this sector from truly flourishing. Government-run theatre halls like the Naachghar, Nepal Academy and Nepal Music and Drama Academy remain idle most of the time round the year, despite being located in convenient hubs in the Capital. The government allocates a significant amount of money to these centres for upkeep. Yet, what good are empty theatres when those that stage play regularly are being driven out of business?
The government's lack of farsightedness with theatres discourages artists to do better work, from pushing their artistic limits. Unless there is a shift in the attitude with how independent theatre artists are looked upon and until theatre gets the respect it deserves, the future for Nepali theatre remains bleak.
Despite putting out plays that broke the audience down into sobs or had them cheering in jubilation, the fate that awaited Theatre Village was unavoidable. And, sad as it is to admit, it is not the only theatre in the Capital that is under threat.
Rijal, teaches at the Central Department of English,TU, Kirtipur
---