Most preferred destinations
Of the countries that are preferred by Nepali students, destinations including Australia, Japan, New Zealand are emerging as the top destinations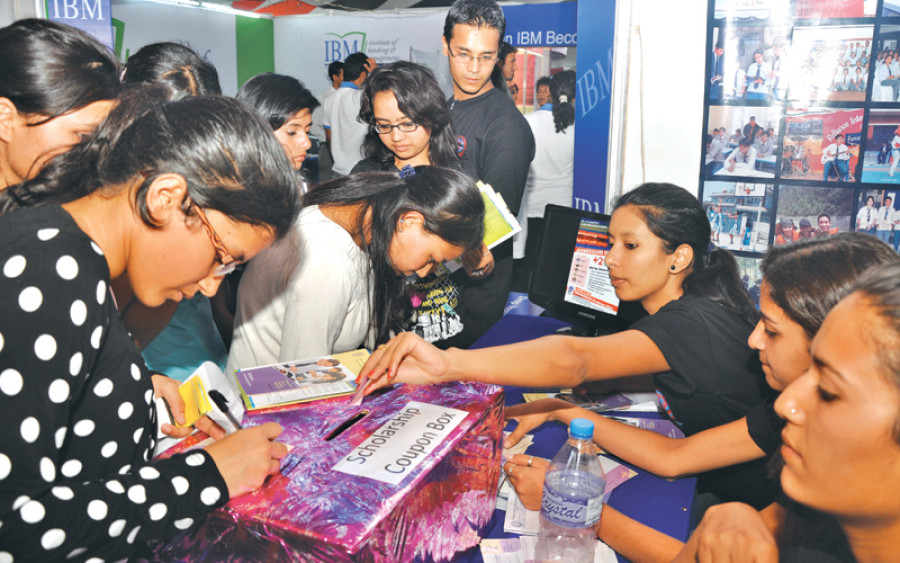 bookmark
Published at : June 10, 2016
Updated at : June 10, 2016 09:45
Kathmandu
In recent years, the number of students going aboard for further education has proliferated. As globalisation makes travel more convenient, ever increasing students are picking colleges and universities abroad to further their higher education. Of the countries that are preferred by Nepali students, destinations including Australia, Japan, New Zealand are emerging as the top destinations.
Australia
Australia is the most sought after destination for Nepali students. This year a majority of the students from going aboard have chosen Australia, making it the first-choice academic destination for students from Nepal.
One of the primary attractions for Nepali students towards Australia is its climate and lifestyle. A report suggests that the growth of the Nepali community in Australia has overtaken China and India in terms of annual growth rate of immigrant population born overseas.
Furthermore, the top ranking universities also makes it an attractive destination where among the total 41 universities, 39 are owned by the government itself. To ease the process, the Australian government recently revised its visa policy and is set to implement a simplified student visa framework (SSVF) from July 1.
According to the Australian Department of Immigration and Border Protection "the SSVF will support the sustainable growth of Australia's international education sector by making the process of applying for a student visa simpler to navigate for genuine students, delivering a more targeted approach to immigration integrity and reducing red tape for business." Mahesh Babu Timalsina, Managing Director at Kangaroo Education, the new immigration policy places Nepal as a low risk country which makes it easy for the Nepali students to acquire visas. "Apart from the bank balance and loans, students can also apply based on their family's annual income, which must exceed AUD 70,000. They, however, should furnish a tax clearance certificate," said Timalsina.
Similarly, Santosh Pyakurel, Chairman of Common Foundation, said the admission process to Australia has eased as the Australian government aims to maintain 3.4 percent of student growth rate till 2025. "The tuition protection scheme has also been a major attraction. This has served as a cushion for students in case the college shuts down during while a student is still enrolled there," said Pyakurel .
Similarly, students can also work up to 40 hours every two weeks, while post study work (PSW) has also been a major attraction." One can get two years of PSW after completion of a Bachelors or a Masters degree, while three years is made available after completing a Masters in Research and four years for a Doctorate degree," said Narayan Koirala, director of Nova Education and Migration Service. He added that the quality education conferred by internationally recognised university is a major factor for students picking Australia over other countries.
Japan
Japan, the Asian economic and industrial superpower, offers students ample opportunities to gain practical skills and knowledge. With an abundance of academic opportunities, in Japan, it is up to the students to fully utilise the available opportunities.
Khadga Chamling, chief at Fast Track Education, says a lot of scholarship schemes are available for deserving students in Japan. "One who aspires to study in Japan should at least pass higher secondary level education, scoring a minimum of 50 percent marks, and should be fluent in Japanese," said Chamling.
Japan has one of the best IT and technical education available. Academic programmes in Japan have been preferred by thousands of young Nepalis. Japan's success in modernising the country and its advancement in science and technology are major attractions for students pursuing higher education in the country. Japan also allows students to work up to 28 hours per week. Presently, students should complete at least 1.3 to 2 years of language classes before they can enrol in Japanese universities.
"In terms of Japanese Language Proficiency Test, students who can secure N2 and N3 can directly enrol in universities," said Mahesh Shrestha, chief of Hartford Education. "However, even students with low academic performance can secure seats in universities."
According to him, Japan offers scholarship programmes for Nepali students under three different categories—post graduate and research, undergraduate and specialised training. Scholarships are provided through open competition.
New Zealand
Of late, New Zealand is becoming a new destination for students wishing to pursue further education. The initiation of Post Study Work (PSW) and part-time job facilities by the New Zealand government has been seen as a major factor that has begun attracting international students to the country.
Rakesh Shrestha, from Access Education, New Zealand's academic institutions are regularly monitored by the Education Review Office (ERO), a government quality assurance agency. He said there are eight universities in the country and they all fall fall under top 500 universities of the world.
The education prospect in the country has been further enhanced by the government's plans to increase the education investment by two-fold—from 2 billion dollars to 4 billion dollars by 2020. "This assures the quality of education in the country will continue evolving for the better," said Shrestha.
Apart from the eight ranked universities, there are 27 government and non-government universities. Furthermore, the prospect of obtaining permanent residency in New Zealand is very favourable for students who do not want to return back to their home country.
In addition, the job search visa issued by the government for up to two years after the completion of 1.8 years of college also remains a major pull factor for the country. Similarly, New Zealand is also believed to the world's easiest country to become an entrepreneur.
India
The porous boundary shared with India has been a major advantage for Nepali students to pursue education in the country. Throughout the history, students from Nepal have pursued their education in this neighbouring country—from Gurukul system to the inception of modern education in various destinations like Deharadun, Nitital, Darjeeling, Banaras and Gorakhpur.
While exact data is not available, as students do not have to acquire a No Objection Certificate from the Ministry of Education, it is estimated that over 15,000 students leave the country on annual basis to India.
Umesh Dhungel, treasurer of ECAN, says it is easier for parents to visit the colleges their children are aspiring to attend. "Also, students can come back home regularly or parents can visit their children often as well," said Dhungel. "Students who go to India can study without the burden of having to work while still enrolled. This makes the chances of them returning back home very high."
United States of America
The USA remains a preferred choice for international students around the world. It is estimated that the US is the chosen destination for at least 70 percent of the students looking to study aboard. From world's most prestigious universities to state and community colleges, the US is truly a land of opportunities where students can maximise their potential.
Sagun Pant, Managing Director at Innovate Nepal, says that the fee structure in the US depends on the quality of the college you are seeking enrolment in. "The fee ranges from USD 8,000 to USD 100,000 but most of the Nepali students end up paying fees ranging from USD 8,000 to USD 25,000," says Pant. According to him, despite the seemingly exorbitant fees, there are a plethora of scholarship opportunities available for students.
Furthermore, while pursuing Masters and PhD programmes, there are ample opportunities for the students to take up teaching assistant or research assistant positions. In doing so, students are able to further hone their research and academic skills as they work closely with faculty members and professors.
With the US has recently initiating reduced-document processing for tourist and student visa applicants, students look likely to continue flocking to this popular education destination. According to the new rules, applicants for tourist and student visas need to bring only a few required documents to their visa interview. Starting June 1, applicants for tourist and student visas will only need to bring a passport, any prior passports, DS-160 confirmation page, application fee payment receipt, photos, and an I-20 (for student visa applicants).
Germany
One of the major attractions to pursue higher education in Germany is the free education facility offered in the country. Sabin Mishra, from Edu Park, says that students going to Germany prefer to take on medicine, engineering and pharmacy among other technical subjects. There also are many scholarship opportunities available to students in programmes like biomedical engineering, environmental science and engineering among others.
However, students in Germany need to complete one year of foundational courses before they are eligible for a university placement. While it is relatively easy to acquire a visa for the country, securing a placement in a university is quite tough and competitive.
---