A NEW HOPE
Disability and poverty reinforce each other, but assistive devices could help enhance capabilities of victims who lost limbs during the April earthquakes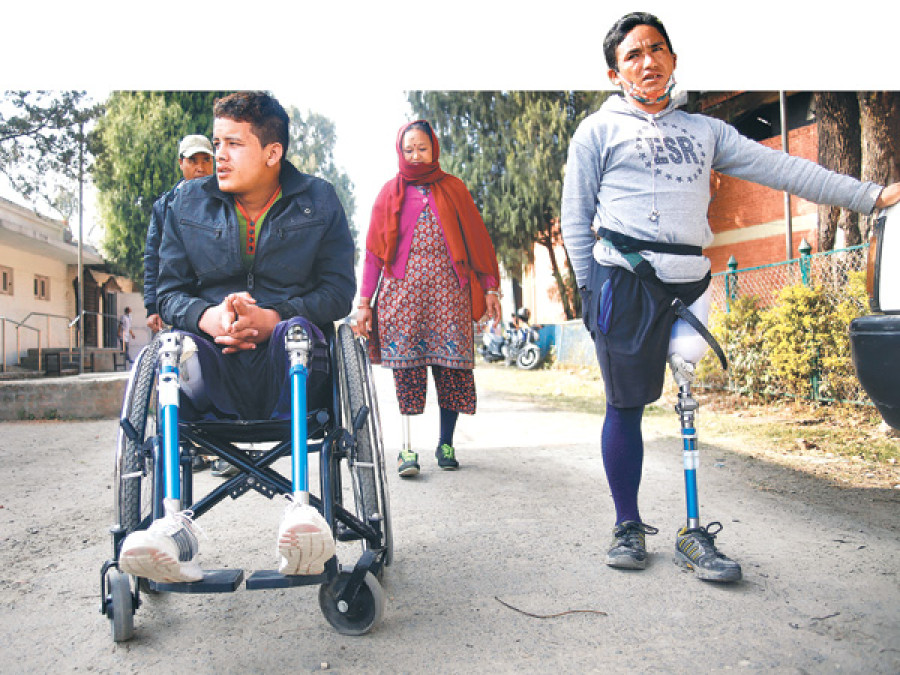 bookmark
Published at : January 16, 2016
Updated at : January 16, 2016 11:43
Kathmandu
Sedar Tamang basks in the sun, wearing a casual shirt and half-pants, at the premises of the Rehabilitation Centre of the National Disability Fund at Exhibition Road, Kathmandu. He gets up and hops towards a prosthetic leg lying in a corner. He fetches the artificial leg and wraps the cut-end of his left leg with a white stretchable cloth. Directing what remains of his leg inside the frame, he pulls the cloth tightly, and fastens it. He, then, puts a belt around his body, and slowly, and forcibly, begins to take a walk. Tamang is learning to walk all over again.
Tamang, originally from Rasuwa, is now residing in a guesthouse near the rehabilitation centre. It has been 12 days since Tamang got a new leg, and he has been trying hard to adapt to a new life. Tamang is among the 40 people who have registered at the Rehabilitation Centre to receive prosthetics after losing their limbs to the April 25 earthquake and subsequent aftershocks. On the day of the quake, Tamang was strolling with his two sons when the ground shook. As a stream of boulders and stones began falling towards his direction, he clutched his sons and took to the ground. Everything else is hazy. He would later learn that his left leg was almost severed by the fast-falling boulders set loose by the quake. His elder son suffered an injury to the head, while the younger son sustained some hip injuries. The sons, to his relief, have recuperated.
Tamang, who comes from a historically marginalised community with little access to the state apparatus, is, at the moment, not sure how he will take his life forward. Before the disaster, he worked as a labourer—sometimes carrying stones, sometimes essential goods. He owned a small piece of land and the crops sustained his family for a few months a year. "At least, I used to have land, however little it was. But even that was swept away by the landslip during the quakes," laments Tamang.
Now slowly learning a new life, Tamang takes slow steps with his new leg and rediscovers his balance, he has little hopes of getting a better job—his condition no longer allowing him to haul goods. To add to his woes, his home in Rasuwa is at least an hour's walk from the last bus stop. Making the arduous uphill journey is not an option anymore. "I have to figure out a way. My life will never be the same, but hopefully I can still make something out of it," says Tamang.
Sat alongside Tamang is Ramesh Khatri of Basi, Dailekh, who lost both his lower limbs to the quakes. Khatri worked as a waiter at the Bhumeshwor Guest House, New Bus Park and was trapped under the rubble when the building collapsed. It would be 12 hours before he was rescued, and when he was rushed to the Tribhuwan University Teaching Hospital, the doctors had little other options than performing a double amputation.
For the past five days, Khatri has also been learning to walk with his new bendable prosthetics. So far, Khatri believes that he will be able to adapt to the new devices.
"I want to study now. I dropped out of eighth grade in Dailekh, but now I want to resume my studies here," said Khatri. Given the geographical ruggedness, he believes he cannot go back to his village and live there permanently. Like Tamang, Khatri says he will figure-out a way to make a living in Kathmandu.
For Tamang and Khatri, these assistive devices are becoming crucial parts of their lives; its absence could severely deplete the choices they could make in life. Although, their disability would still curtail their choices, these assistive devices now allow them to perform day-to-day chores.
Shree Ram Panta, Manager at the Centre, said all these devices are provided for free to the earthquake victims. He believes it will be at least two months before all the amputees get their assistive devices. Then, it will require at least a month of rigorous rehabilitation at the Centre for them to adapt their body to the prosthetics. At the rehab, they labour to walk on a short ramp with metal-frame supports on either side. Once they can make it through this section, they are asked to walk on a set of mock stairs, slopes and rough surfaces. If there are any corrections to be made to the devices, they are done at the centre itself.
Yet, people with amputations and spinal injury and other forms of disabilities have a higher chance of being pushed further into poverty. Disability and poverty reinforce each other and assistive devices, for now, look set to present them with more choices in life.
---
---