Deal with Israel to send workers
Israel has agreed to hire 300 caregivers from Nepal through the government to government (G-to-G) channel.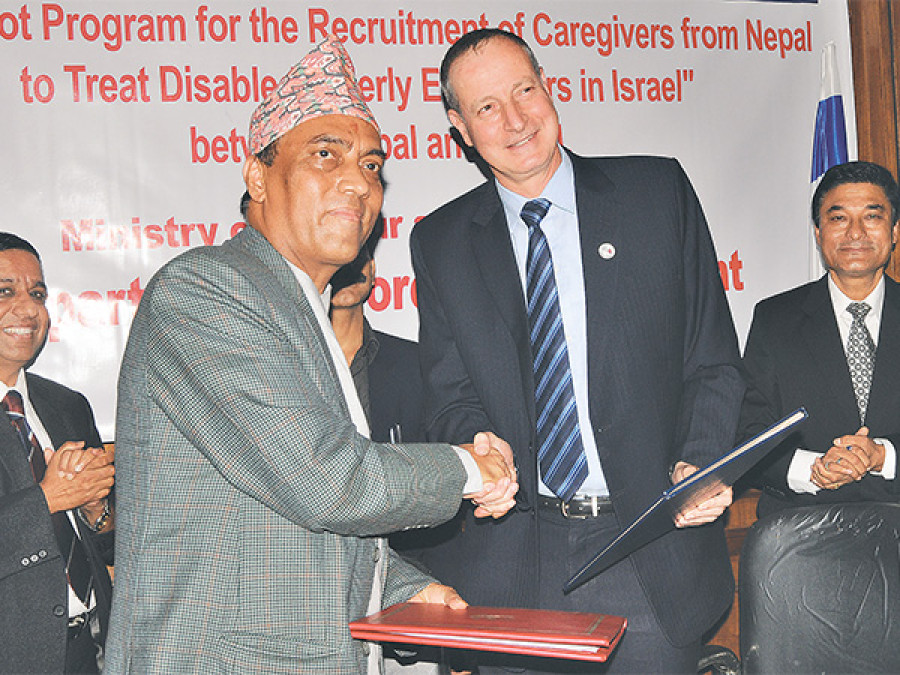 bookmark
Published at : August 8, 2015
Updated at : August 8, 2015 08:29
Kathmandu
Israel has agreed to hire 300 caregivers from Nepal through the government to government (G-to-G) channel. Sixty Nepali workers will leave for Israel in the initial phase, according to an agreement signed between the two countries on Friday.

The caregivers will be the first lot of workers to leave for Israel through the institutional channel in seven years. Israel stopped hiring Nepalis through recruitment agencies since 2009, citing widespread irregularities in the hiring process conducted by the overseas employment agencies in Nepal.

Recruiting agencies in Nepal were found to be charging as high as Rs1 million to send the workers. Moreover, many agencies were found not even imparting much required training and orientation to the outbound workers.

Bharat Subedi, director general of the Department of Foreign Employment, and Israel's ambassador to Nepal Yaron Mayer signed the agreement in the presence of State Minister for Labour and Employment Tek Bahadur Gurung at the ministry.

As per the new agreement, both male and female caregivers can go to Israel paying around Rs65,000. Nepalis in the age group 25-45 years can apply for the job.

"As agreed, these caregivers will go as part of a pilot project. Both the sides are committed to making the recruitment process fair, transparent and competitive," Minister Gurung told the Post following the agreement.

There could be more job demand for Nepalis based on the results of the pilot project, according to the Israeli side. It will be mandatory for prospective employees to take training and language classes to be considered for selection, besides having the set academic qualification.

DoFE spokesman Badri Karki said the department will soon issue a public notice informing about the recruitment process. He said the department would finalise the working procedure based on the memorandum of understanding.

"We are hopeful that the first lot of caregivers will leave before the end of this year," Karki told the Post.

Israel is considered a good work destination, especially for Nepali domestic workers, due to lucrative earning and a protection mechanism. Nepali caregivers earn a minimum of Rs100,000 monthly in Israel, several times higher than in the Gulf countries where many Nepali women face abuse and exploitation.

Israel has also been taking hundreds of Nepali farmers as paid trainees. Some 700 Nepalis left for Israel in the past one year, including those who used individual channels.
---