Shankha Park is the city's success story
The park in Shankhamul boasts a remarkable number of visitors—all looking to escape the dullness of the capital's concrete jungle.

Deepak KC/TKP
bookmark
Published at : July 26, 2023
Updated at : July 27, 2023 07:26
Kathmandu
Amidst the bustling streets and concrete jungles of the city lies Shankha Park—nestled in the charming neighbourhood of Shankhamul, Lalitpur. It has earned its reputation as a versatile open space, accommodating morning walkers, fitness enthusiasts, and friends looking for a hangout spot. With visitors from all generations flocking to this park, it exemplifies the vitality of open spaces in crowded cities. However, as with any urban park, Shankha Park faces challenges in maintaining its green appeal amidst the encroachment of concrete structures.

Shankha Park's contribution to the aesthetics of Shankhamul is undeniable. Its strategic location by the Bagmati River lends the urban landscape a much-needed breath of fresh air. The dullness of the buildings is softened by the vibrant park, bringing a touch of serenity to the urban fabric. Its thoughtfully planned pathways and open spaces invite residents to take leisurely strolls, encouraging a healthier and more active lifestyle. The presence of benches and seating areas scattered across the park offers opportunities for moments of contemplation and social interaction.
Shankha Park embraces diversity, welcoming people of all ages and interests. The park reverberates with the laughter of young ones, while elderly visitors find comfort in the natural surroundings. Young adults engage in fitness activities, fostering a dynamic atmosphere. Each day, as the first rays of the sun break through, the park comes alive with morning walkers seeking solace and fresh air. "I come here every morning for my walk. It's the best time to rejuvenate and prepare for the day ahead," says Niru Ghimire, a regular visitor.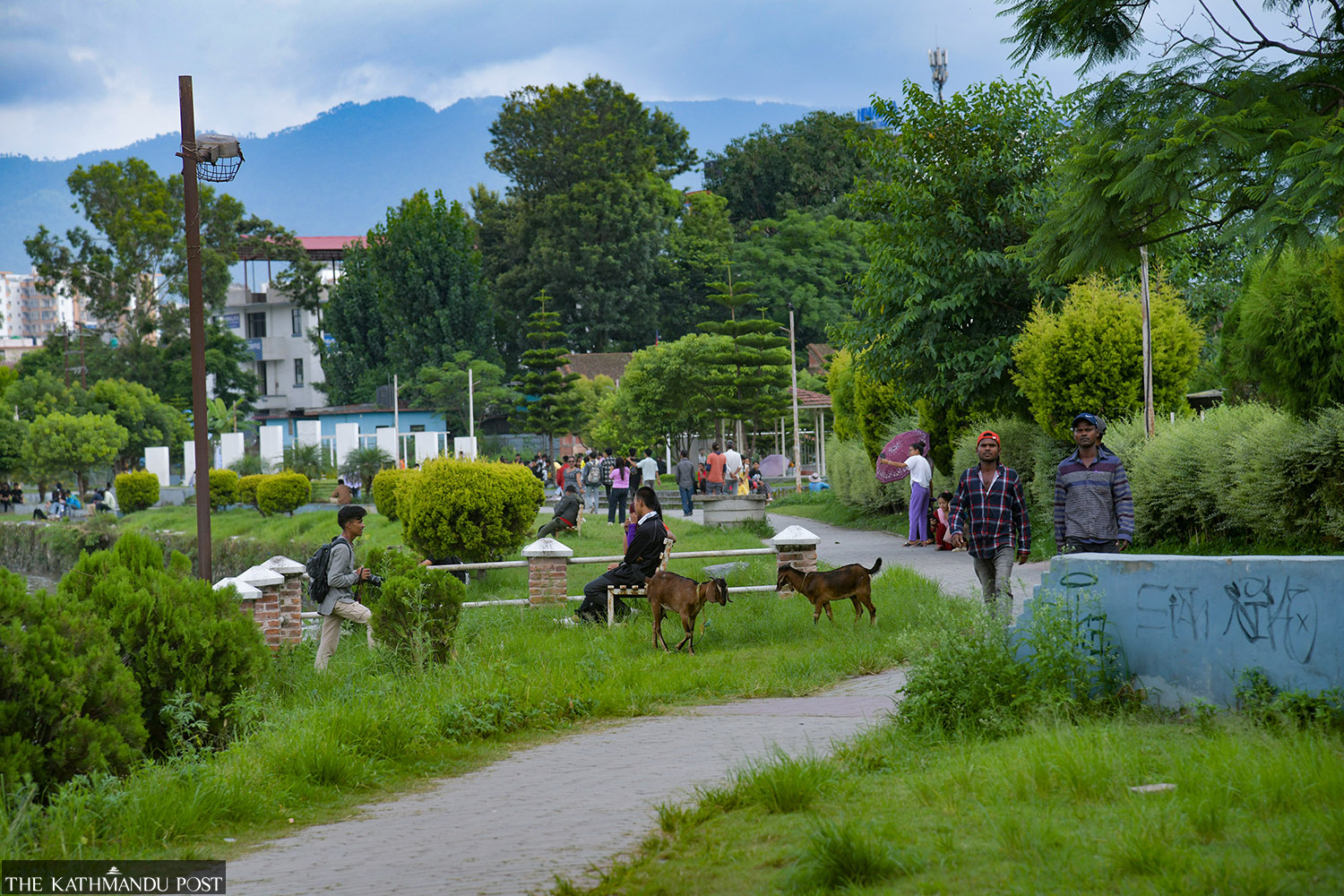 Deepak KC/TKP
As the day progresses, the park transforms into a hub of physical activity. Fitness enthusiasts, mainly from the younger age group, utilise open spaces to engage in jogging, yoga, and various exercises. The park has also become a playground where they can channel their energy and build a sense of camaraderie through group activities. Young adults challenge each other to friendly sports matches or participate in organised exercise sessions, creating a sense of community and belonging.
Beyond exercise, the park serves as a meeting point for friends and families seeking leisurely moments in the green surroundings. Friends gather under the shades of trees, enjoying a respite from the fast-paced city life. "It's our go-to hang-out spot. The park provides a much-needed escape as we get to relax," says Ganesh Regmi, a college student and frequent visitor.
A research published in North Carolina Medical Journal in 2022 revealed that frequenting parks and green spaces have positive effects on all aspects of health—mental and physical. Spending time in such open spaces provides opportunities for physical activities, promoting better health and fitness. Moreover, research has also shown that regular exercise helps reduce stress and anxiety, contributing to improved mental well-being. Another important aspect is that parks act as community gathering spaces, fostering social interactions and building stronger bonds among residents.
While Shankha Park remains a cherished green space, it has also received some criticism for what some deem unnecessary concretisation within the park's space. There are several structures within the park—the eponymous 'Shankha' (conch shell), large pillars, a fountain, as well as multiple slabs of concrete. Many believe that along with increasing the cost of the park's development, it also impedes its natural essence. "Though the Shanka structure looks impressive, I wonder if it's essential. It occupies quite a lot of space that could have been better utilised as greenery," expresses Lekhnath Ghimire, a concerned visitor who admires the park's green elements.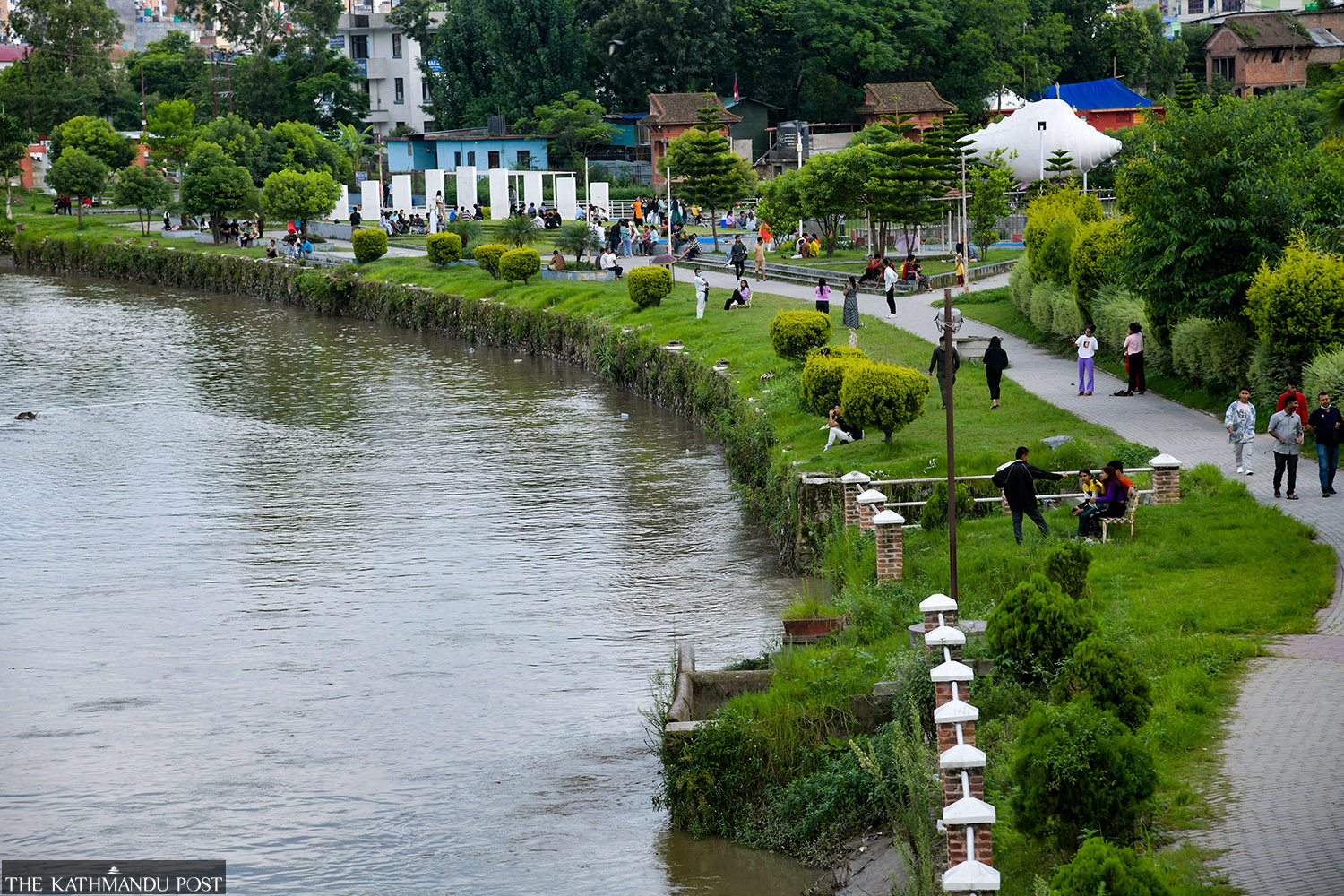 Deepak KC/TKP
By limiting unnecessary concrete and promoting greenery, Shankha Park can continue to thrive as a welcoming retreat for people of all generations, he says. As urbanisation continues to encroach natural spaces, maintaining parks becomes crucial in preserving a sense of balance and connection to nature in the heart of the city.
The Valley severely lacks playgrounds and parks and Shankha Park is one of the few spaces available for people to rest and relax, without having to pay any money. While the concrete structures within the space might be an inconvenience, both physically and aesthetically, the park remains an essential testament to the vitality of open spaces in crowded cities like Kathmandu.
It is a reminder of the importance of preserving green spaces that allow people to connect with nature and each other. By focusing on enhancing its greenery, creating more open spaces, and encouraging community involvement, Shankha Park can maintain its natural significance and serve as a symbol of unity, leisure, and serenity for generations to come.
---
---