Stretch your way to good health
Arpana Lama, a professional ballet dancer, talks about the importance of stretching daily.

Shutterstock
bookmark
Published at : May 3, 2023
Updated at : May 3, 2023 08:21
Kathmandu
Arpana Lama is a professional dancer and gymnast. Her passion for dance started early—she began taking dance classes in ninth grade. Eventually, Arpana joined Sushila Arts Academy, where she planned to study contemporary dance. However, her instructors were so impressed with her dancing that they encouraged her to study ballet instead. Since then, she has honed her ballet skills for almost eight years.

In August 2022, she had the opportunity to compete in the national gymnastics competition as a team member of Nepal the Armed Police Force (APF) club and was able to secure second place and bring home a silver medal. Before any dance practices, Lama makes sure she stretches her body thoroughly. She notes that it benefits everyone, regardless of athletic ability. Below, she provides some insight into proper stretching techniques.
What exactly is stretching?
Stretching is an essential physical exercise that helps move the muscles and improve their elasticity. It can help people perform different tasks and sports efficiently by enhancing flexibility and elasticity. It offers several benefits, such as improved flexibility, reduced risk of injury, better posture, reduced muscle tension, and improved circulation.
Whether you are involved in sports or not, stretching is something that you should follow daily. People who do not engage in physical activities need to stretch for at least 20 minutes before playing. Those not involved in any sports can stretch for a maximum of one hour.
It is crucial to start stretching with a proper warm-up. A person needs to do it for 10 minutes before any form of exercise by running, jumping, or any activity that warms up the body. Sudden stretches can harm the body, and muscles can become tense. Warming the body up and preparing it for further exercise can help muscles stretch more efficiently.
How can one start?
A person can start stretching anytime, but I prefer mornings. People should be clear about their limitations and how much their bodies can handle. Don't push your body too much, it can cause injury and muscle pain. A person who's just starting out should try the 'slow and steady' technique. But before starting, make sure your stomach isn't very full. After having a heavy lunch or dinner, you need to wait for two to three hours, whereas if you've eaten something light, you can wait for at least one hour.
The key is knowing when to stop. Because starting with heavy stretches might throw you off, the body might feel tired for the first three to four days. There might even be mild pain. But you have to remember that after some days, your body will get used to it, and everything will be okay.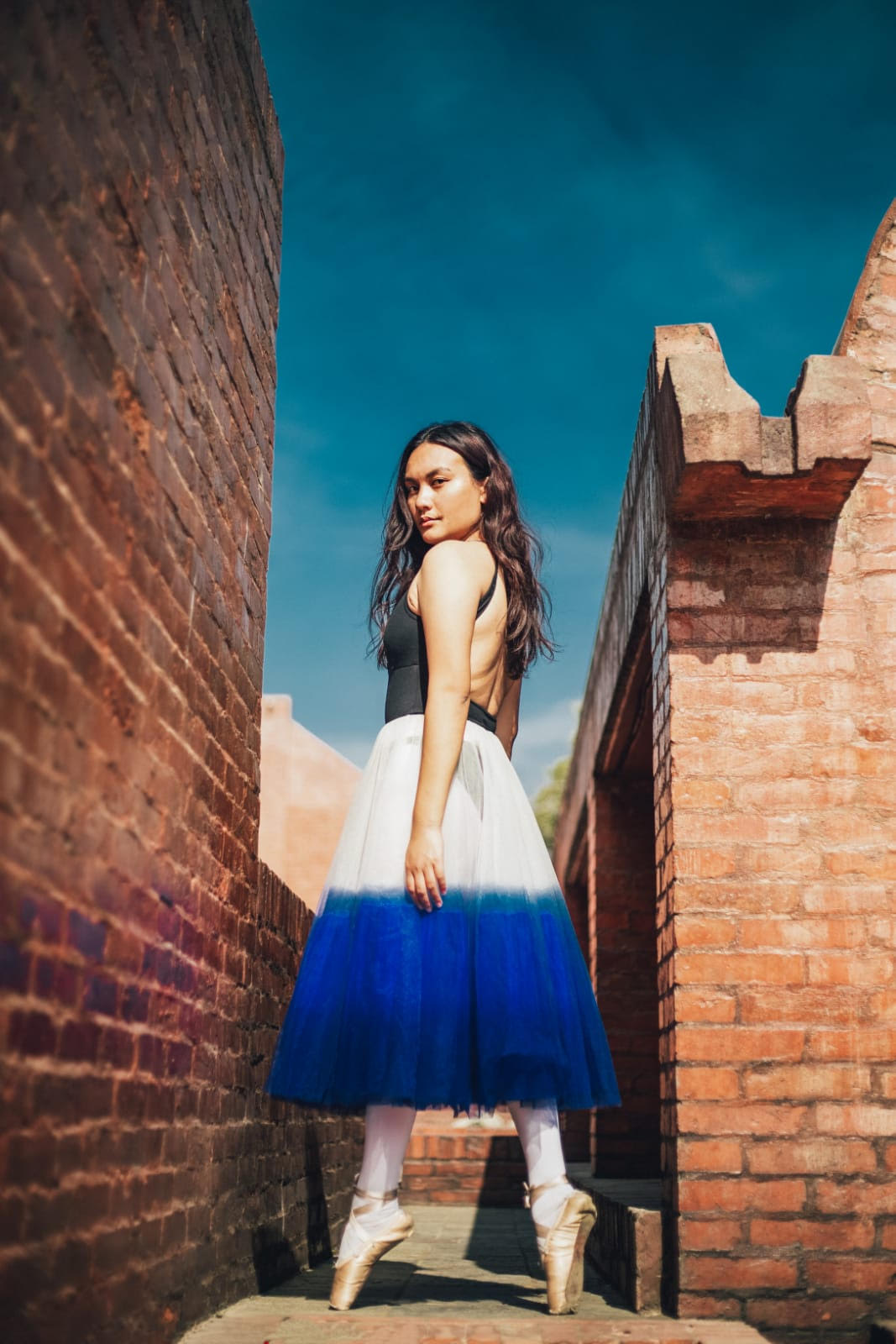 Arpana Lama, dancer and gymnast. Photo courtesy: Yalamber Limbu
Why are the different types of stretching?
Stretching helps increase athletic performance, improve general health, and eliminate pain and tension. There are three general types of stretching—static, dynamic, and ballistic.
The most widely known is static stretching. We hold a position for 30 to 60 seconds, and this active or passive extension enables the muscles and the fascia that connects them to lengthen. Static stretches are the most well-known and have been accepted as the standard practice for many years. But there are more effective methods for enhancing performance before exercise. Incorporating static stretching into your routine can reduce your risk of injury. Not only does this type of stretching help maintain your flexibility, but it can also improve your overall range of motion.
Dynamic stretching is a type of active stretching that involves engaging the opposing muscle through the joint's range of motion. You only hold the stretch for two to three seconds. This type of stretch is very advantageous as a part of a warm-up routine before any athletic event. It entails actively contracting your muscles and extending the range of motion in each joint. Athletes use this type of stretching to prepare their muscles for their sport's strenuous demands.
It's important to remember that everyone's body is different and may require other stretching techniques. However, one type of stretching that's caused much debate among fitness enthusiasts is ballistic stretching. This method involves quick and jerky movements to activate the muscles. While it can help reduce the body's stretch reflex and increase muscle range of motion, it can also lead to overworking of muscles. This increases the risk of injury, so most fitness experts caution against the method. It's simply not worth the risk.
For beginners, the best thing would be to incorporate static or dynamic stretches into one's fitness routine. That way, you can reduce risk and, at the same time, reap a lot of benefits regardless of your body type.
---
---