The holy face of Lakeside
Every evening, people gather around Barahi Ghat in Pokhara to catch a glimpse of the sacred aarati.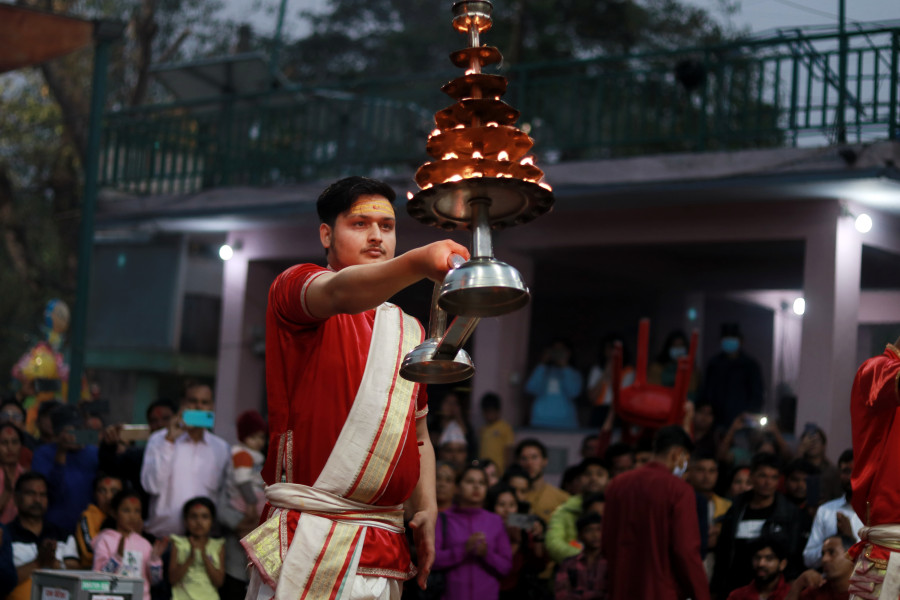 Photo: Courtesy of Sugam Gautam
bookmark
Published at : April 29, 2023
Updated at : April 29, 2023 13:34
Every very day, at around six in the evening, you'll see excited faces on the banks of Phewa Lake–their faces lit up like that of concert goers. No, there's no concert going on. The crowd is actually here for an aarati which is a Hindu ceremony in which lights are lit and offered up to gods. The small space that overlooks the Barahi Temple sees hundreds of people—devotees, passers-by, tourists— every evening. Small benches bear as many as seventy people, but attendees don't mind standing as they observe the event in an attentive mood.

Indian tourists, mostly elder ones, outnumber others, but you can also spot other foreigners in the bunch. But what's interesting is that young Nepalis are also inclined towards observing the aarati. Tired from the day's work, officers in their attires also mark their presence to get into a good mood as they return home. College students are no exception; they, too, come in great numbers.
The aarati is organised by the Mata Talbarahi Aarati Sewa Samiti, formed in 2018 to promote cultural tourism in Pokhara. Shambhu Acharya, a retired army, says he always comes at six sharp in the evening to attend aarati. "When I'm here, my mind is free of thoughts. I find the whole process so relaxing," says he says.
The bustling crowd pauses and watches curiously when three priests begin to perform the ritual. Murmurs recede, and every pair of eyes is drawn to the priests standing with pooja accessories. Once the holy verses fill the air, you feel at peace and out of the world—far away from the chaos of modern life. Your head automatically nods to the soothing melody sung in the names of gods in the bhajan. The rhythmic clapping, piercing sound of hand-bells and exuberant crowd add to the stunning backdrop of reddish sunbeams reflected in the water of Phewa Lake. The fascinating thing is that a juxtaposition exists even between the places at a close distance. Just a five-minute walk North, you will see the illuminated street with lavish lounges and bars on either side. Hanging around the shore where the ritual takes place, you'll feel you are not just in a vibrant city but in a holy place where devotees get together to sing away. The regular conducting of aarati has brought a sense of newness to the Lakeside, appending a holy dimension.
According to Hindu rituals, aarati is performed in remembrance of deities and to realise their greatness. The flame that the priests rotate in a circular fashion has a pious implication. The aarati platter has lighted wicks, which the devotees reach out and press gently against their forehead. The glowing lights are meant to chase away the darkness and welcome happiness and prosperity. While performing the ritual, one should not let their mind wander and must remain focused on visualising god. It is also seen as a medium to express gratitude and forgiveness.
One of the priests associated with Mata Talbarahi Aarati Sewa Samiti says that an individual can even pray for the freedom of demised parents from evil spirits simply by registering the details before they perform the ritual. Once the details are taken, the priests take care of everything.
An aarati can also be done at home. To conduct it at home, one should have access to pooja accessories like an aarati platter, a lamp made of kneaded flour, and ghee. However, if you live around areas where it is performed, you can simply observe the performance by the priests in a methodical manner. In Kathmandu, devotees assemble at Pashupatinath Temple in great numbers to attend an evening aarati.
As I viewed the priests performing the ritual, I realised it's essential not to overlook religious practices. Every religion has its traditions, beliefs, and way of paying homage to its deities. It made me realise that religious practices must be passed on to the forthcoming generation for them to remain preserved. Samridhi Shrestha, a mother to an eight-year-old child, states that she always brings her son to view the aarati. "We have learned cultural exercises from our parents, and I want my son to inherit this quality," she says. It comes down to the hands of the older generation to make young people realise that it's essential to follow cultural practices. Taking your children to temples regularly, making them listen to religious songs and asking them to get involved in pooja can be great ways to sow interest in cultural practices.
The Pokhara residents, especially those close to Lakeside, are lucky to be able to view the aarati every evening. If you're not from Pokhara but planning to visit, you must not miss out. "I'm from Ratna Chowk, and I used to take an evening stroll around Basundhara Park, but lately, I have been coming to Barahi Ghat. This way, I get to see the aarati as well," says Himal Ranabhat, a student of English literature. But I must warn you: if you go and observe the ritual once, there's a high chance you might end up going every day. You might get addicted to the view of the setting sun, the calm ambience of Phewa and the methodical presentation of aarati.
---
---