Namaste,‌ ‌Pleasure:‌ ‌Making‌ ‌equal‌ ‌sexual‌ ‌pleasure‌ ‌more‌ ‌accessible‌
In a society where talking openly about sex raises eyebrows, this women-led initiative is creating a welcoming space for women to talk about female pleasure.

Like in many societies, the culture of shame and silence around female pleasure is still prevalent in Nepali society. Namaste Pleasure hopes to change that. Unsplash
bookmark
Published at : March 4, 2021
Updated at : March 4, 2021 06:39
Kathmandu
While on her search for a bullet vibrator, Arati Subba says she visited several sex toy shops in Kathmandu. But her quest to find a sex toy was unsuccessful. She couldn't find any shop that was welcoming enough or catered to her needs, she says.
"All of the store operators were men, and the service they provided was very unwelcoming," says Subba, 29, a product developer. The store operators were so disinterested in her preferences and needs that they were pushing her to buy other products, which were completely different from what she was looking for, she says. "This one store I visited did not even listen to my needs. They just wanted to make a sale and were pushing me to buy things that I didn't even want."
Every time she left a store, Subba would leave empty-handed and disappointed. Her search to buy the sex toy of her choice was fulfilled only when she found Namaste Pleasure, an online outlet that sells sex toys on Instagram, through her friend, she says.
"I always wanted to gift a bullet vibrator to myself," says Subba. "And it was super efficient and easy to buy it from Namaste Pleasure, as it was really comfortable to communicate with them."
In the past few years, there has been a boom in the sex toy market in Kathmandu, with the opening of both physical and online spaces, through which people can buy toys to augment their sex life. However, these shops are owned and operated mostly by men, and most of them cater to their needs only, neglecting the preference of their women clientele.
And that's why last September, Namaste Pleasure, one of the country's first women-led sexual initiatives, started: to fill this gap and cater products to women that can actually fulfil their needs, says the 28-year-old founder, who is choosing to stay anonymous so as to highlight her initiative and not her identity.
"I too have visited several sex shops around Kathmandu. But they were mostly male-centric and run by men and staffed by men," says the founder. "Their idea of a sex toy for a woman was limited to a penis-shaped dildo; they were so unaware about women's bodies and how a woman can seek pleasure."
She felt the need to do something on her own: to create an open, welcoming space for women where they could address their needs and talk about pleasure and sexual fulfilment without feeling uncomfortable.
"I thought I must do something because I knew that I could do so much better than the rest of the other sex toy shops. I personally have always felt the need for such a space. Sadly there were none. That's why I started this initiative after getting motivated by my small circle of people," says the founder.
But opening a sex toy shop in a society where sex is taboo and the majority of people are still not welcoming to the idea of using toys comes with its own struggles. And it took her almost four years to start the initiative, she says.
"A lot of things kind of got in the way to start this initiative. One of the main reasons was my commitment to the corporate 9-5 job I had," says the founder. "Now I am not associated with it anymore and this initiative is the best thing that has happened to me amidst the pandemic."
Like in many societies, the culture of shame and silence around female pleasure is still prevalent in Nepali communities. Women are considered as passive partners and conversations around their sexual and intimate needs are still hush-hush. And due to this conditioning, there is a wide 'orgasm gap' between men and women worldwide, with many studies showing that it's mostly men who orgasm during sexual intercourse, and women's pleasure isn't given much significance.
Similarly, the educational curriculum in schools and most of the information sources for sexual knowledge are male-centric. This leads to women, in comparison to men, knowing little about their bodies and their sexual needs, says Dr Archana Amatya, a gynaecologist, who has been practising for 20 years.
"Many women still don't know their own bodies due to the unavailability of correct knowledge and information. As we openly don't discuss sex, menstruation and other topics because of the existing taboos, many women are forbidden from understanding their own bodies," says Amatya.
And this was also the major area where the founder wanted to work through the initiative of Namaste Pleasure, as she found a lack of knowledge about one's body and sexual pleasure among women, due to which they weren't able to satisfy their body's needs and gain the same pleasure like men were receiving, she says.
"One of the major aims of the initiative is to normalise pleasure for women and make it educational so women can know more about their bodies. Similarly, through the initiative, I also wanted to break this perception regarding female pleasure. Socially and commercially, female pleasure is always understood as something that should be penetrative—and this is not applicable to every woman. How pleasure is felt by a woman or what it means to a woman is rarely exposed in mainstream narrative and that's why through the initiative, I wanted to bring these topics forward for discussion," says the founder.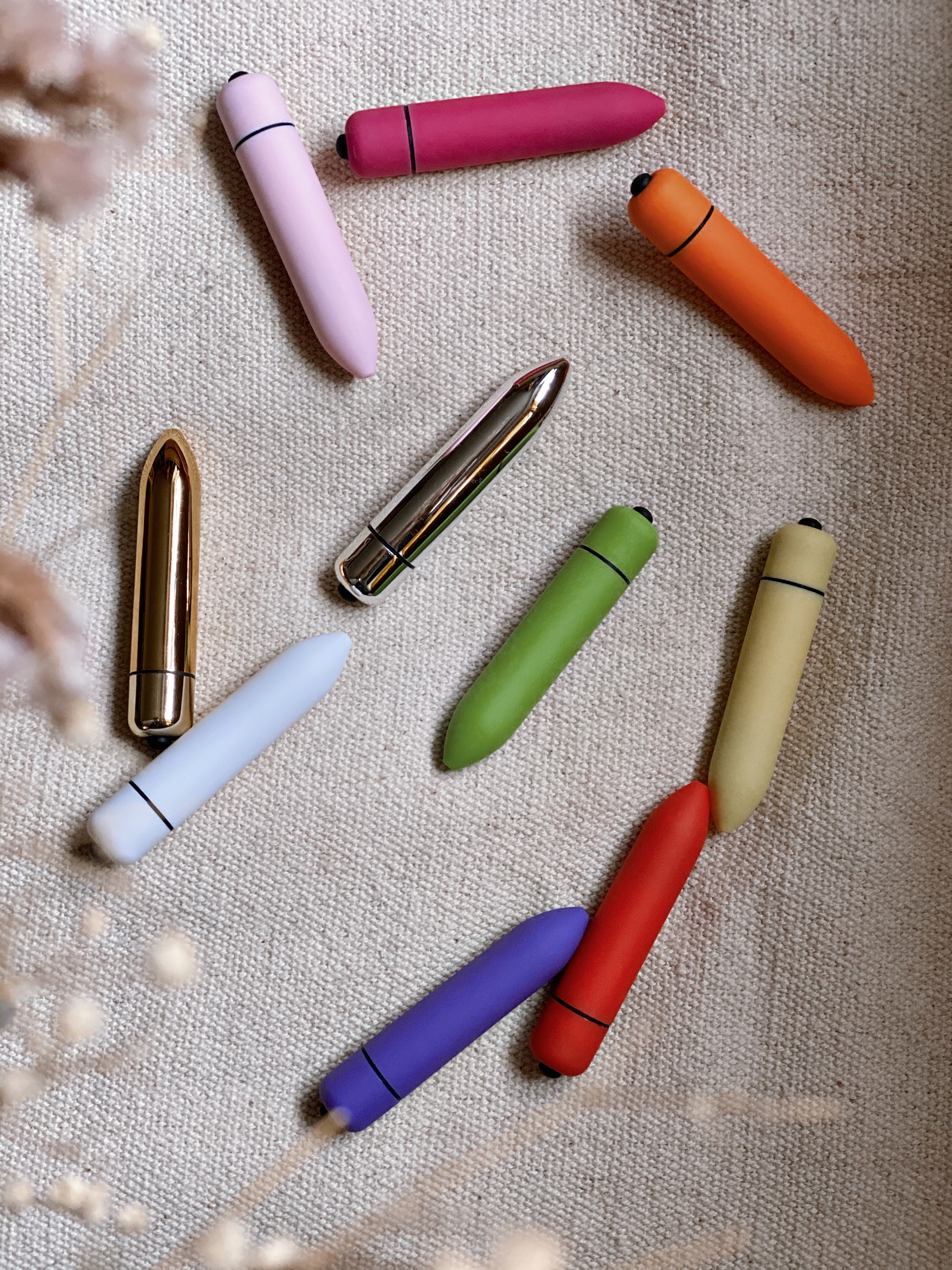 Photo Courtesy: Namaste Pleasure
Currently, Namaste Pleasure sells toys that are imported from various global adult platforms that manufactures pleasure toys. Almost all of the sex toys they sell are catered to women like user-friendly mini vibrators, clit and G-spot vibrators, among others. And the icing on the cake is that these products do not look overtly like sex toys. For instance, the initiative sells a bullet vibrator called 'Mini-Sathi', which is easily portable and available in different shades of colour as well. Another G-spot vibrator, called 'Roopa', which looks like a rabbit, is also available in an aesthetically pleasing design.
But as an initiative, they aren't only limited to selling sex toys. Using the digital space, through their Instagram profile, they also educate women about issues related to women's pleasure, sexual fulfilment and topics related to intimacy, love and lust.
On their Instagram page, they regularly post videos, photos and other content that can help their followers gain more information related to using sex toys, clit stimulation, menstrual hygiene and so on, which according to the founder was done with an intention to aware people, especially women, about how they can explore their sexuality and body.
"For me, it was so important to create a space—however small—on the Internet and get an opportunity to openly address the issues related to women's pleasure, their intimacy and sexual needs. I personally have always felt the need for a space like this through which we can normalise women's pleasure as well as deconstruct the masculine and patriarchal narrative of sexual pleasure, which only validates penetrative pleasure," says the founder.
Since its inception, Namaste Pleasure has sold more than 100 sex toys to customers from different part of the country, including Kathmandu, Butwal, Pokhara and Dhankuta. Besides women, her customers also include men, who are mostly young, and even those who are in their early years of marriage says the founder.
"Each day, Namaste Pleasure is evolving and learning about what it's missing. In the coming days, we would want to make this space safe mainly for women, queer, and gender non confirming people," says the founder.
While Namaste Pleasure may be just one initiative, it does signal that conversation around sexual liberation for women is taking place in the country, as well as the world. And for many women, initiatives like these are empowering.
"We definitely need more initiative like this," says Subba. "I would love to see an aesthetically pleasing walk-in store in the future where women won't be intimidated. A space where one can really be open about their needs and get the right service and product they are looking for."
---
---