Eat, pray, love (yourself)
Hemmed in by dozens of garment stores, this small shop at the corner of a street in Khichapokhari would easily go unnoticed on a busy day. But for 62-year-old Maya, this was exactly the store she was looking for.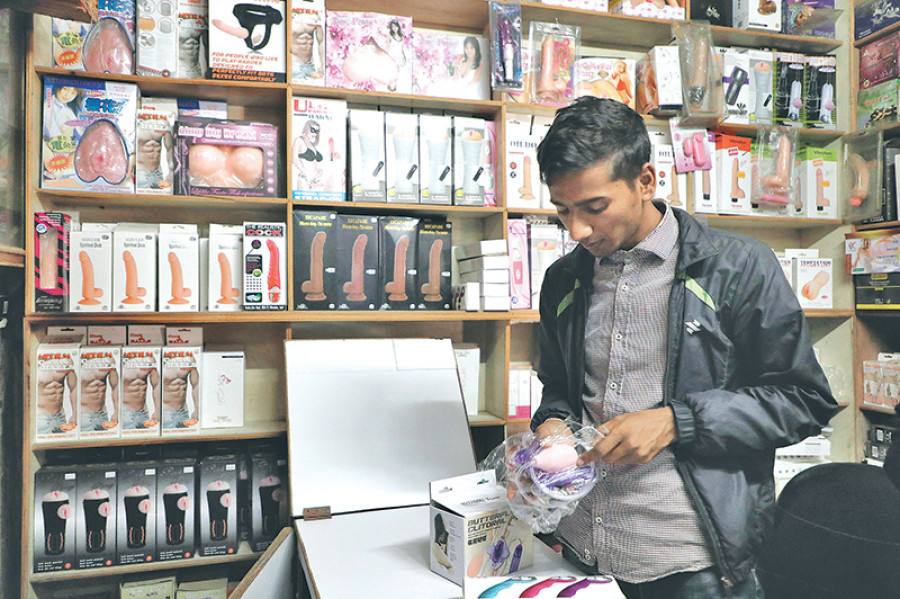 bookmark
Published at : November 3, 2018
Updated at : May 27, 2020 09:37
Hemmed in by dozens of garment stores, this small shop at the corner of a street in Khichapokhari would easily go unnoticed on a busy day. But for 62-year-old Maya, this was exactly the store she was looking for. Maya was looking for a solution regarding a problem her 26-year-old son Sudhir had. Maya was concerned that Sudhir, who has Down syndrome, had growing physical needs that were posing problems not just to his mental health but also to women. She was seeking out this specific shop in order to alleviate his needs.
Maya, who wished to be identified only by her first name in interests of privacy, left the store that day with an adult toy in her hand and after a couple of weeks, returned in great relief. With the help of the toy, her son's sexual aggression towards women had gradually declined, she reported.
"Adult toys can do wonders for people," says Yubraj Neupane, owner of the first adult toy store in Nepal, the Nepal Condom House. "I just don't understand the social stigma behind it," he laments.
Neupane, who is also a health worker and a sex counsellor certified in Germany, opened his adult toy store in 2008. Since then, many others have followed suit and gone on to start their own stores. There are numerous online stores that sell such adult toys. Neupane himself has franchises in Damak, Itahari and Narayanghat.
Neupane's business has been booming as people's attitudes towards adult toys have changed drastically for the positive in the past few years. Both male and female customers walk in confidently to purchase toys to enhance and supplement their physical desires, says Neupane, whose clientele varies from 20-year olds to people in their 80s. Contrary to expectations, his stores sees more women—married women—who want to purchase toys to augment their sex lives, buying artificial penises, vibrators, hand cuffs and other experimental apparatuses. Most of his customers are well educated, modern and liberal minded, or suffering from some form of 'sexual depression', says Neupane.
Following Neupane's lead, Samir Bohara too opened a small store at Purano Bus Park called the Kantipur Condom House in 2009. Unlike Neupane's clientele, Bohara has more male customers. Men aren't very open to suggestions over the kind of sex toys they would like to purchase, says Bohara. Women, however, are more upfront and willing to explore toys that can help their sexual needs. He is of the opinion that sex and intimacy is an "open secret" so people need not be hesitant about it. Intimate sexual needs can make or break a person's mental health. "We are here to raise positive sexual awareness and adult toys can help people both physically and mentally," says Bohara.
The Kantipur Condom House is also available online and has delivered sex toys all over Nepal, including remote areas like Jumla and Humla. "These toys are often ordered by disabled people or those whose partners live far away," reports Bohara.
Online outlets like Kantipur Condom House are not delivering adult toys all across the country but are also catering to the needs of countries where such toys are not freely available or even illegal. Countries like Saudi Arabia, the United Arab Emirates, Malaysia, Thailand and Vietnam outlaw adult toys in some form so Nepali online stores have been delivering their products to these countries clandestinely. Love and Lust, an online store based in Kathmandu and operated by brothers Suraj and Subhash Bhattarai, delivers internationally to a number of the afore-mentioned countries. So far, they haven't been caught or gotten into trouble. Furthermore, many Nepali migrant workers in these very countries take adult toys from Nepal in order to satisfy their needs without resorting to prostitution or other forms of harmful behaviour.
Despite the open attitude of store owners and their customers, many still see sex as a taboo, including the government. The recent ban on pornography has been seen by many as parochial and conservative government misunderstanding sex. The internet has opened up many avenues, causing modernism to outpace Nepalis, says Poonam Thapa, who has been working in sexual and reproductive health for the past 35 years. Our education system has not been able to keep up with rapid advancements, leading to a disconnect. Banning pornography in a country where people are still divided into conservative and modern, there needs to be proper guidelines and rules, says Thapa.
While Nepali society at large and the government might remain conservative, many, especially in urban areas, don't adhere to such outdated morals anymore. "If it took the west 200 years to be modern, our country has seen that same change in 20 years," says Thapa.
The many satisfied customers of these adult toy stores are testament to changing attitudes and an acceptance of sexual pleasure as something natural and desirable. Seshma, a 30-year-old involved in advertising, discovered such toys through social media and purchased one a year back through an online portal. Since then, there has been no turning back for her. "I bought these toys to spice up my sex life," she says.
"They have helped develop a healthy relationship between me and my partner." Although Seshma purchased the toys online, she isn't hesitant to explore her physical needs and sees no shame in enjoying varying sexual practices such as BDSM, she says.
Women as open about their desires as Seshma might still be rare in Kathmandu, as the experience of 28-eight-year-old Aashika speaks. Aashika, a doctor by profession, was recently gifted a sex toy by her boyfriend. "I received a vibrator as a gift and I was quite excited," she says. But when asked if she
would've bought such a toy herself, she says, "We still live in a conservative society where people have preconceived notions of unmarried women indulging in sex. Thinking about the repercussions and judgments passed haunts me. How trustworthy would these stores and portals be?"
---
---