5 ways to work effectively from home, stress free
Grappling with the Covid-19 crisis, while simultaneously managing work from home and other chores can be stressful, but there are ways you can manage them all.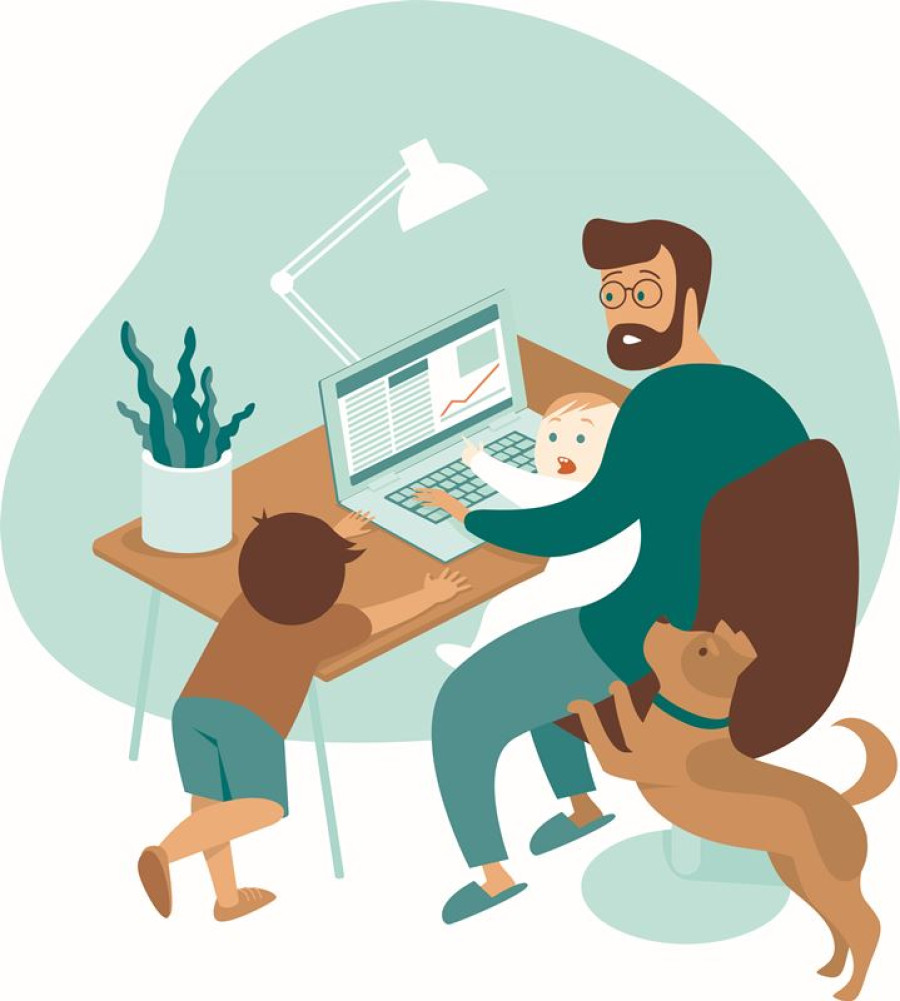 Shutterstock
bookmark
Published at : May 21, 2020
Lalitpur
When the lockdown started, on March 24, Hari Shrestha woke up thrilled to start working from home. The nation-wide lockdown to curb the spread of Covid-19 felt like an opportunity he could use to relax and energise his spirits. After all, work-from-home had always sounded feasible and fun.
"Honestly, for the first few days, I was all fired up. Staying home felt like a much-needed break," says Shrestha, who is the country office manager at Christian Aid. "And I think I felt that way because I thought the lockdown would only last a few days," he says.
But now, as the lockdown is in its ninth week, working from home has started taking a toll on Shrestha. He has children at home who need help with online classes and work is as demanding as it has always been—multitasking the two hasn't been easy for the last two months.
And he's not alone. Many health experts believe working remotely can be more stressful than on-site work, as work from home involves more screen time and challenges the regular set-up of a workspace. "For people who cannot adopt a way around work from home, things may become even more stressful in these times," says Renuka Manandhar, psychosocial counselling psychologist at Counselors Alliance for Psychological Support and Counseling Nepal.
While some workplaces have reopened after the government eased restrictions on some institutions, for many organisations, work from home is still a daily reality for the foreseeable future as the Covid-19 cases in the country rises. For people working from home, however, a lack of structure, too many distractions, social isolation or interruption in personal space amid the anxiety of the virus news can cause more stress that can take a toll on their work. But there are ways to manage the stress of working from home. Here are some tips for working from home without stress:
Stick to the standard work time
The work from home lifestyle may quickly rule out the clock in and out time, but it's essential for people working from home to follow a schedule, says Shrestha. "I have realised you need a basic structure to follow through a day. I try to work out everything in between 9 to 5, like normal office hours," he says. For Shrestha, working on a strict schedule helps to separate boundaries that separate his work from personal time.
Many will probably give in to the idea of working whenever they feel like it, but a routine is essential to keep you disciplined. "A routine helps you give certainty to your day, especially in a time like this when it's easy to lose track of time and give in to your whims," says Diva Shrestha, director of Nepal Leadership Academy. Shrestha herself has been following a schedule of her own, dividing time for her interests while also making sure to get things done that are on her to-do list. And to keep her team motivated and accountable, every day the organisation also holds check-in and-out meetings. This activity also helps the team to stay connected with each other while also sharing their learnings during the process of getting things done on the task list.
Segregate work among your team
For those working from home with children, managing work while simultaneously taking care of your children can become stressful, especially when their online classes clash with your work time. While many people believe work from home gives ample time to work, managing duties without help as you shoulder multiple tasks by yourself can get exhausting and frustrating.
"The work-time can be very demanding as everything happens during the day, even meetings and the children's classes. So, if you have help to segregate your work with your family and your partner, you can still manage to work productively," says Hari Shrestha.
Notify family members about your priority and your urgency and when possible divide hours to check in on your children's assignments and online classes with your partner or your family. Shrestha also tries to separate a minimum of two hours for his children's classes during the day and makes up for the lost work hours for an hour or two after five.
Make and complete the work on your task list
"If you don't finish your task list of the day, it can become a burden tomorrow. It just adds to the stress. So, I make it a point to finish what I had set out to do when I had planned the day," he says.
A to-do list is essential for efficiency as it tends to your priorities. For many, a task list also helps to set boundaries, cut down on distraction and focus on the main goals. "When you don't have a task list, you may not feel the urgency of the work," says Diva Shrestha.
"Having a task list anchors you to place and anchors you to your activities, and that can give you some certainty, and that helps you to move forward," adds Shrestha.
In these times, dullness of the day can decrease people's work productivity, and many may resolve into an unrestrained undertaking of their interest or doing nothing at all.
"We can't always do the activities we love to do whenever we like, so allotting a specific time to get back to these activities also helps you to push through your day," says Shrestha. "You have to be disciplined while also being conscious about your mental health as anyone can be like this is a pandemic and I don't want to do anything. And that is unhealthy, and that is anti-mental health," she says.
Take breaks
According to Manandhar, one of the primary reasons why people become stressed is because of increased screen time. "Many of the people who have reached us have said that they have started to have backaches, bad headaches and eye aches, and that is because people are spending a lot of time looking at their devices," she says.
Hari Shrestha, who manages operations and administration for Christian Aid, attends a maximum of three virtual meetings a day that spans from a half an hour to an hour and sometimes more. He also helps his children with their online learning virtually. But apart from that, he also spends time in front of the screen for entertainment.
"You need to see that you are engaging with people and not just working. You need to spend time talking to people and letting yourself breathe outside your workspace," says Manandhar.
While the typical work environment has breaks that allow employees to connect with people in the office and get refreshments, the work from home set-up can feel limiting to people. "And so people working from home should put in the effort to see that they are taking time off from work and taking breaks to energise themselves," says Manandhar.
Engage your team with activities
Virtual meetings and networking can get exhausting. For many, it might also seem to limit their ways of understanding human interaction and emotion. And in these stressful times, talking just about work can make team members more detached, consequently, discouraging people's work motivation.
"So, it's always nice to have little activities that can help the team keep their spirit and feel connected," says Diva Shrestha. During their virtual check-in and check-out meetings, Shrestha has been making sure of interpersonal exchange between the team members to keep the team excited during this dull time. When the lockdown initially began, the startup company had also had their team members take over the organisations' Insta-handle to give a glimpse of how the team had been working from their places.
"We have been challenging ourselves and doing all sorts of small activities. We also organised a small gratitude session, played Pictionary online, and shared one thing that we are proud of doing during the lockdown," says Shrestha. "We are just doing some simple activities to recognise that there are still some things going on right now to keep ourselves motivated. When you are leading a team, sometimes you need to make such efforts, especially right now when everyone is feeling disconnected."
---
---