Taking a sustainable approach towards self-care
A handful of startups are making all-natural, environmentally friendly self-care products—tapping into a growing new, niche market for sustainable beauty.

Photo Courtesy: Naturo Earth
bookmark
Published at : December 18, 2019
Kathmandu
When Pooja Limbu came across a shampoo-bar that was promoted as "natural and chemical-free", her first reaction was scepticism. Like many, she was used to using mass-produced, staple products she usually picked up from departmental stores across Kathmandu and was hesitant to try something new. But she decided to give the handmade product a try, whose ads kept popping on her Instagram feed. This was a year ago, and Limbu hasn't used any other shampoo since.
"I was intrigued by the product due to its composition, which followed an environmentally friendly approach,' says Limbu. "After using it, I found that it made my hair much healthier than it was before."
Although it may seem like a new trend to the younger generation, using sustainable, natural beauty products has been the Nepali way for generations. But with the easy availability of commercially marketed products, the usage of natural and herbal products were pushed to the sidelines. Many shops around the stretch of Ason, Jhochhen and Thamel still sell many natural ingredients, but they are neither marketed well nor packaged to attract customers. But now, with the growing global popularity of natural products, many entrepreneurs have cashed in on such homemade remedies, introducing a new market for sustainable, natural beauty products.
Apart from the popular shampoo-bar, the natural products that these handful of startups sell range from body mists, scrubs, conditioners, soaps, lip balms, essential oils, makeup removers, bath bombs to even hair dyes. Most of the companies that have ventured into manufacturing these chemical-free and environment-friendly products are startups driven by young people.
"Initially we started out as a project to make people aware of sustainable self-care. But now with time, we have grown as a full-fledged company with the support from our customers," says Bibechana Rai, operating officer of APR1L, a sustainable self-care products store which started a year ago.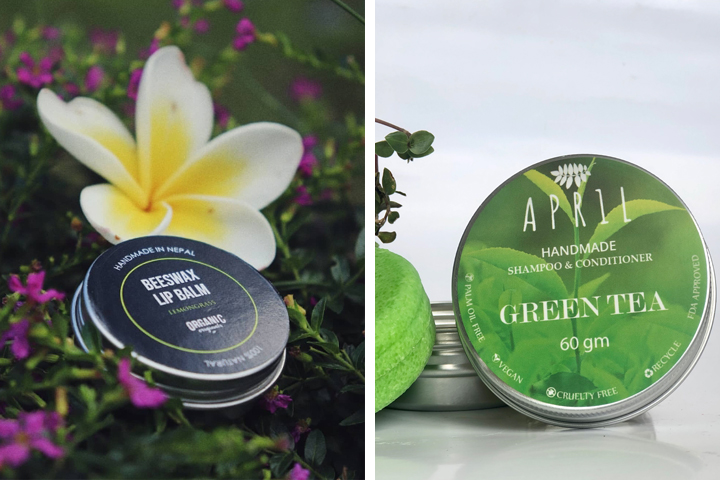 Photos Courtesy: APR1L & Organic Originals
Like most startups, APR1L doesn't have a physical store. The customers have to directly order the products from their website or through outlets such as Shunyata Collective, Sparsh Spa, Saloon and Academy, and Posh Clothing Store.
As for their customer base, these startups are targeting the urban youth. The business owners say that their customers are mostly very environmentally aware and are looking for sustainable alternatives to their products.
"People have definitely become environmentally conscious; they keep track of how much trash they individually produce," says Ankit Agrawal, founder of Naturo Earth, an organic store. "We are going back to the basics, and this has helped us to build a market."
But he says that he always felt it is easier to make and market natural and chemical-free products in Nepal. "Nepal is rich in resources that can be utilised in making more sustainable self-care products," he says.
But it wasn't just about the products being good for the environment that attracted people to them. Their products are more efficient than the ones readily available in the market, say business owners.
Phoebe Bhattarai, founder of Organic Originals Nepal, who started by making natural lip balms and other self-care products for her family and friends, says that she decided to venture into this business after she received positive feedback on her products.
"Our products aren't just labelled as natural," says Bhattarai. "We list all our contents in the packaging."
In order to make the products environmentally sustainable, the business owners also pay careful attention to their packaging. "We make sure we don't use plastic to pack our products when
someone buys from us, as we can't compromise on our values," says Agrawal.
With their ethical choices, these businesses are creating a niche customer base, which makes it tough to compete with cosmetic conglomerates, they say. With a hefty budget and years of branding and marketing, mass-produced products have become an integral part of people's lives and thus consumers may be reluctant to change their preferences overnight.
But they are hopeful. "All kinds of change takes time," says Agrawal. "But as more people learn about the availability of the products, its health benefits and sustainable values, they will definitely change their minds."
---
---