Mini-me fashion is the new fad for millennial mums
What is the matching-outfit trend that has been making a splash in Nepali social media all about?

Photo courtesy: Muku Boutique
bookmark
Published at : October 23, 2019
Kathmandu
Ruchita Sharma, a stay-at-home mother of two, starts her day by picking out matching outfits for her family. Her personal favourite is styling both her kids in a t-shirt matching hers that says, "Best Mom Ever!"
"I think it's really cute when children are styled. Especially when all of us are matching, we look like a very well put together family," Sharma says.
The trend of matching outfits of children with the family is now popularly known as the 'mini-me' and the 'mommy-and-me' fashion. Internationally, the trend was quickly picked up since Jeanne Lanvin debuted a high-end children's line in 1908, using the same luxurious textiles and avant-garde styles that characterised her womenswear and paraded around the city with her daughter in matching outfits. But with the boom of social media in recent years, it is making a splash with new mums posting matching photos with their children.
Nepalis have also embraced this trend wholeheartedly, or so it seems, if one scrolls through the social media pages of various boutiques. It is not just the mother and her kid, but the whole family can be seen decked up in customised and coordinated outfits.
Mukta Shrestha, senior fashion designer and owner of Muku Boutique has been designing such outfits for her clients and the number is on the rise. Muku's Instagram page is filled with pictures of families clad in coordinated outfits.
"In the last few years, family twinning has become a must for occasions like birthdays, graduation, weddings and bratabandhas," she says. "It's not like this is a new thing, but it has definitely gained more popularity, mostly among Nepalis living outside the country."
Most of Muku's customised outfits are for special occasions, making it more formal and party wear garments. But to follow the mini-me trend, the outfits do not necessarily need to be over the top or luxurious. Sharma says that mini-me trend can be as relevant for casual outings too. "You all don't need to be wearing suits or expensive dresses to coordinate. Neither everyone needs to be dressed in the same fabric from head to toe. It's all about little tweaks and details," she says.
But it isn't just about coordinating partywear for the millennial parents. Nayanshri Subedi at least colour coordinates with her five-year-old daughter to have a semblance of matching outfits. She says that a lot of DIYs also goes behind the scene to have the coordinated outfits ready for the mother-daughter duo.
"If I buy something for me, I look for a similar fabric and either make a scrunchy or sew a small pocket of the same colour for my daughter," Subedi says. "It just looks so cute."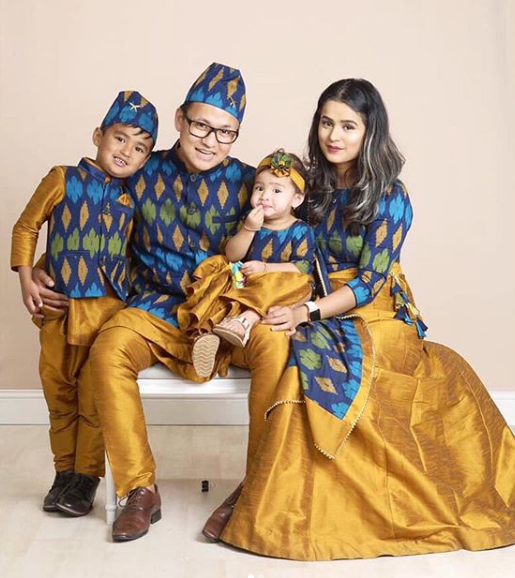 Photo courtesy: Muku Boutique
But for Subedi, it is not just to flaunt in social media. She likes matching her outfits with her daughter because she feels it helps her bond with her daughter more. She is unsure how long she will continue coordinating the outfits but says that she will do it as long as it is comfortable for both her and her daughter.

"Although I like following the mini-me trend, trying to find the same outfits for both of us can be exhausting and expensive," she says. "So, it is more about having fun for ourselves than displaying it to others or for social media.
With the formal wear too, Shrestha from Muku Boutique says that most parents try to coordinate little elements of the outfit with each other—like having the same fabric for the wife's blouse, husband's dhaka topi and the daughter's skirt or son's blazer pocket, father's tie and mother's skirt.
"That's how we balance our designs so it doesn't look like the family is wearing a uniform," she says. "And contrary to what most people believe, it's not very expensive. It's basically like recycling fabrics."
Udi, a print shop, where clothing can be customised, also caters to the mini-me trend. According to Praneet Prajapati, owner of the shop, about seven to eight orders come in every week to print messages like "I love dad" and "Mom on fleek" for both baby and adult sizes.
"People think it's cute and stylish, so they bring t-shirts and onesies for us to print. The sales of these clothes are more than those of bridesmaid and groomsmen t-shirts because parents are just so excited about dressing their babies."
While a lot of questions has been raised against this trend globally, it still continues to grow. People have been showing concerns about how parents have been using children and the mini-me trend for likes. Parents keeping up with the trend just for fun until the child is of objectable age brings concern regarding if the adults are forcing their taste upon their children just for photographs and also if it's appropriate to dress kids in smaller sizes of outfits that their parents wear.
However, according to a recently published article on Telegraph, parent-child twinning is about more than capturing the perfect photo, it's a way for a family to bond away from screens and have fun with each other. Sharing the same style is also said to make kids feel special. It gives them a sense of belonging and boosts their family bond.
As for Nepalis following this trend, either for casual outings or for partywear, both the designers and customers believe that it is definitely here to stay, but agree it may require some adjustments as the children grow up.
"So far, I have received positive feedback from people but some people have told me that I shouldn't be so extra and impose my choices on my kids," Sharma says, who is a mother to a one-year-old and a four-year-old.
Some, according to Sharma, has also raised questions regarding her children's dependency on her if she continues to make choices for them. But as both of her kids are toddlers, she says she will continue until they start their preschool.
"Until then, you can catch us wearing matching outfits," she says. "It is the hip trend for new parents. Everybody loves it."
---
---