Lahathis—a gift from Muslims to Hindu women
Lac bangles are more than just ornaments. In Janakpur, they connect people and give them a sense of belonging.

Afsana General Store has been catering to Hindu women with lac bangles for generations. Sweksha Karna/TKP
bookmark
Published at : September 18, 2019
Janakpur
Lalita Agrawal loves adorning her wrists with bangles, especially the ones made out of lac. These bangles are not just associated with beauty but also hold a strong cultural and religious significance in her Hindu community.
The lac bangles, made out of a resinous secretion of the tiny lac insect, moulded around a metal circle, are said to bring good luck, and are mostly preferred by married and pregnant women in the southern part of the country. Known as lahathi in the native tongue, the bangles are traditionally made by laharis, a Muslim community.
In Janakpur, Afsana General Store is one store that has been catering to Hindu women like Agrawal, 53, with such lac bangles for generations. Bhaiji Ali, the owner of the shop, has a variety of such bangles—from ones in monochrome colours to ones adorned with shiny metals.
"On most days, we sell about three to four sets; however, around the time of festivals, sales can go up to 50 sets or more," says Bhaiji.
Bhaiji lives in Lahariya tole where most laharis in Janakpur live and trade. Many households in this community make their own bangles in their backyards, although the number of families that still follow the tradition has significantly decreased over the years.
In a city where the majority of the population is Hindu, the lac bangles are something that has bonded the Hindu and Muslim community together. Due to the conservative outlook on caste, religion and gender in both the communities, there isn't much intersectional communication in Janakpur. But the cultural significance of lac bangles for Hindu women and its economic importance for Muslims have brought together these two communities.
"I've come across people who wouldn't rent me a room because of my religion, but then they buy bangles from me for pujas and weddings," says Mansur Ali, a street vendor who usually parks his cart of lahathis in front of Janaki Mandir. "Nevertheless, it's nice to hear people appreciate the bangles. I look at it as a matter of respect. No matter what, in the end, they need us and we need them."
"Lahari is more of occupation rather than an ethnicity, and we take pride in the craft that has been handed over to us from generations," he says. "We have accepted lahari as our title and identity."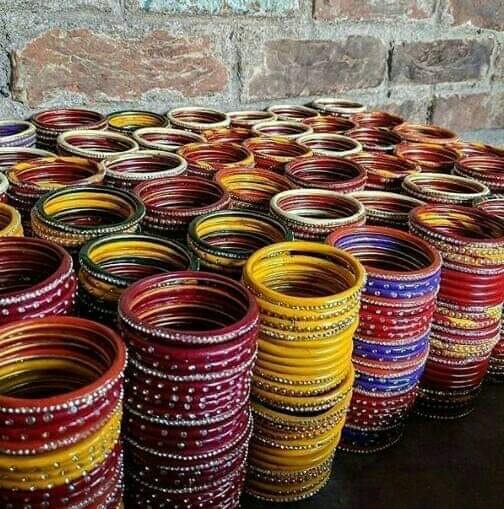 Sweksha Karna/TKP
The bangle-making process takes at least four people, and three to six hours per set. First, lac is coloured with dye and then heated over coal using a wooden rod. Usually, shades of red, green and yellow are used, as they are considered auspicious. The base of the bangle is then prepared, either with brass or steel. Then the brass and lac are coiled together, to achieve the desired shape. To complete the process, pearls, stones, mirrors and beads are heated over a tin plate, and placed over the bangle, giving them different patterns. All the bangles are moulded, shaped and embellished manually.
But in recent years, due to lack of raw materials and rigorous labour that goes into making these bangles, sellers like Bhaiji are also importing these bangles from Rajasthan and Bihar.
These bangle sellers earn anywhere from Rs200-2,000 a day, depending upon the type of bangles and the number of customers. However, in recent times, the sales of bangles have dropped drastically. Bhaiji recalls how he used to sell lahathis in Saptari, Sarlahi, Siraha, Mahottari, Jhapa and Kathmandu. But in the last decade, the demand for lac bangles in districts outside of Dhanusha has been constantly decreasing, which is why there are almost no lahathi suppliers in the rest of the country.
Even in Dhanusa and the rest of Tarai, lac bangles have now become occasional accessories, only used during weddings and pujas, when in the past, they were worn throughout the year as a must-have ornament.
"Women now prefer bracelets and watches as they are less of a hassle. But lahathis hold cultural value. I even go door-to-door to sell bangles," said Ali.
Shubha Sharma, 73, a native of Kuwa in Janakpur, agrees with Ali that even through their differences, laharis from the Muslim community have been helping them uphold their cultural needs through their bangle-making.
"Since ancient times, Muslims are said to have exceptional talent when it came to designing and making ornaments. That's why they were the ideal bangle makers," she says.
The laharis say that they feel good to be part of Hindu women's celebration. "Because of our job, we get to make sisters throughout the city prettier and happier," Ali says.
---
---