The new faces of wedding planning in Kathmandu
From helping you conceptualise the perfect venue to designing the perfect dress, MP Nepal is all about making your fairytale wedding a reality. 

The MP Luxury team at a wedding of one of their clients. Photo Courtesy: MP Luxury
bookmark
Published at : July 15, 2019
Updated at : July 15, 2019 10:37
Kathmandu
In 2015, when the market for online stores operating via social media sites was gradually mushrooming in Nepal, sisters Mahima Shrestha and Prathana Shrestha founded MP Nepal, an online imitation-jewellery store.
Mahima, an architecture student, was 22, and her sister Prathana, 18, a business student, when they decided to start a business of their own. "The initial idea was just to earn some pocket money. For that we got Rs 5,000 from our father to start something of our own," says Prathana. "In the beginning, we used that money to start an online imitation-jewellery store."
While selling jewellery, the sister duo gradually transitioned to selling clothes and doing wedding planning in 2016, with social media as their biggest catalyst.
"Today, we are able to share a bride's imagination and her story to not only Nepali people in Nepal but to those around the world. Through social media, we were able to generate strong brand identity and loyal customer base from various corners of the world," says Prathana. Their page on Instagram has approximately 24100 followers, and their strong following helped firm their identity in the market.
Today, MP Nepal has become one of the most sought-after wedding planning companies in Kathmandu. However, they prefer to identify themselves as a wedding designing firm as they do everything from designing the look of the bride and groom to curating the invitation cards to deciding which flowers will go on which vase on which day of the function.
The sisters' big break was organising the wedding of former Miss Nepal Earth Dibyata Vaidya, who was Mahima's friend. "Both Prathana and I were very passionate about wedding planning even before we started work officially. We are very thankful and grateful to Dibyata, as she trusted us enough to bring her imagination to life for her big day and for giving us the opportunity to start our journey as a wedding designing firm," says Mahima.
When the sisters started their company, they only had each other for a team. Today, four years into the business, their team has expanded: they now have an in-house photo and video team, three makeup artists, and a décor team for the wedding planning side. They also have different packages—which take charge of everything from decor, outfits, jewellery, make-up, photoshoots and wedding filming—to meet the demands of all types of customers. Their wedding package starts from Rs 25,000 and it can vary according to the clients' choices and needs.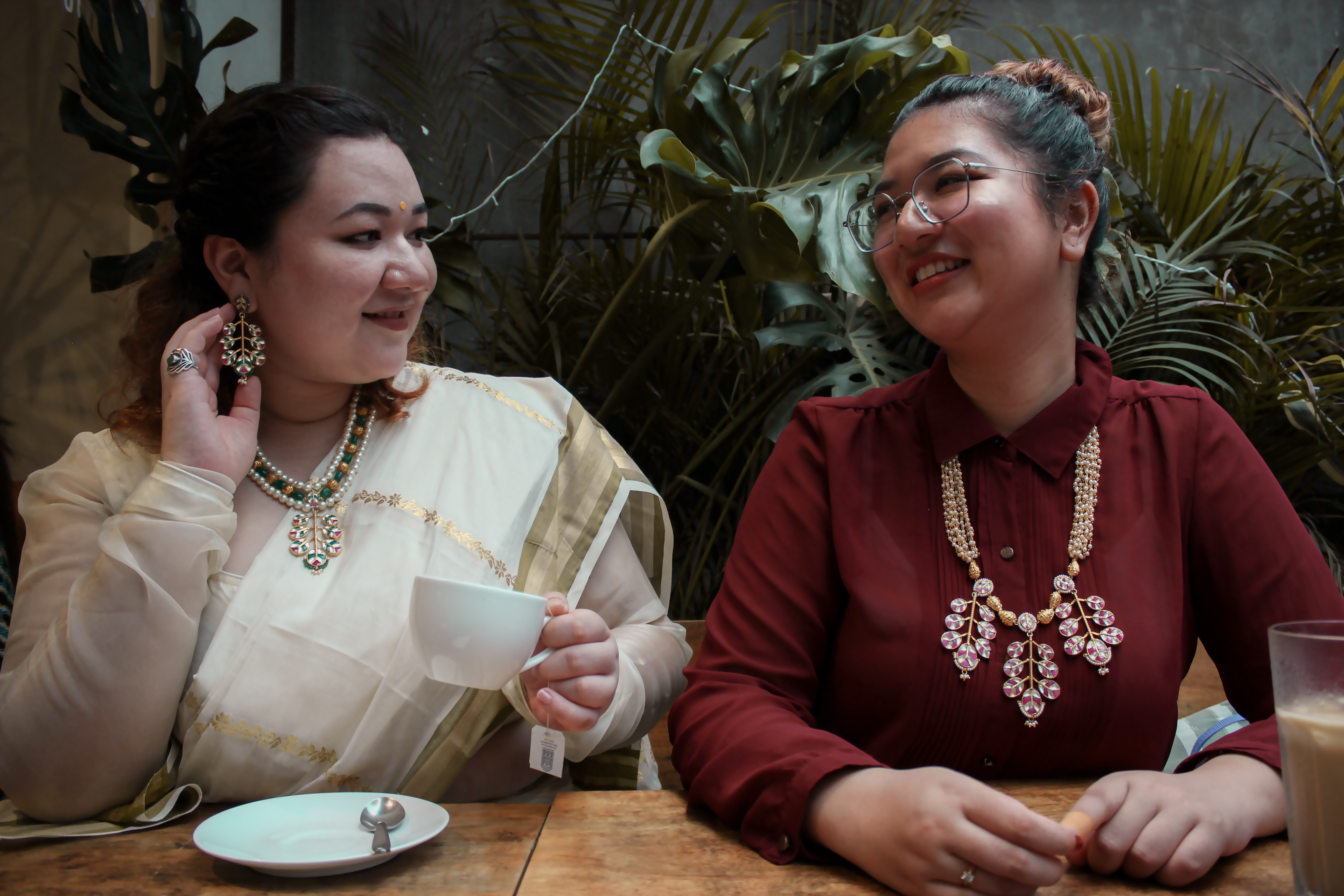 Sisters Mahima (left) and Prathana Shrestha, the brains behind the company. Photo Courtesy: MP Luxury Photo Courtesy: MP Luxury
"The best part of our work is the amount of time we spend with our brides and grooms and the things we learn from each new couple," says Mahima. When they sign a client and design their dream wedding, they are in constant contact with them and their families for a period of almost six months (which is the planning phase of the wedding), and by the time the wedding day finally arrives they develop a strong bond.
"It almost feels like we are in our sister or brother's wedding rather than a client's wedding," says Prathana.
"I think this is one of our strongest points: that we work as a member of the family rather than an outsider joining in for an event. We understand the intimacy and importance the events held for the couple and their family," says Mahima.
However, planning a wedding is not a child's play; it is a process that is stressful, chaotic and long. According to Prathana, the biggest challenge they face is the communication gap between clients and their parents. "A wedding is not just about the bride and groom; it is also about their family. Therefore we try to encourage and involve the parents in the planning phase as well to avoid miscommunications and gap in the main event day," says Prathana.
Another problem that often arises is time constraints. The Shrestha sisters say sometimes couples come to them with very limited time in hand. "MP's weddings normally have a planning phase of a minimum of three to six months where we are in constant conversation with the bride and groom," says Mahima. "We cannot take bookings for just one week or 15 days prior to the wedding. Couples are generally unaware of the fact that wedding planners needs to be hired at least three months in advance for efficient planning and execution. This applies for our bridal outfits as well; we cannot design your outfit if your event is just seven days away."
What started out as just a means to earn some easy cash has turned out to be a career for the Shrestha sisters, with them having organised nine weddings since 2016. In the next five years, the ambitious duo plan on expanding their business to the global market. For that, Mahima is currently studying Fashion and Bridal Styling from London School of Style and Prathana is doing her Post Graduate in Luxury Brand Management and Fashion Communication from FAD Academy in Mumbai.
But the heart of their business still lies in making dreams come true. "Our goal as a business is to bring our client's imagination to life," says Prathana.
***
What do you think?
Dear reader, we'd like to hear from you. We regularly publish letters to the editor on contemporary issues or direct responses to something the Post has recently published. Please send your letters to tkpoped@kmg.com.np with "Letter to the Editor" in the subject line. Please include your name, location, and a contact address so one of our editors can reach out to you.
---
---