Woman arrested for killing a man and dismembering the body found in Gongabu
Police say the premeditated murder was an act of revenge over a relationship gone sour.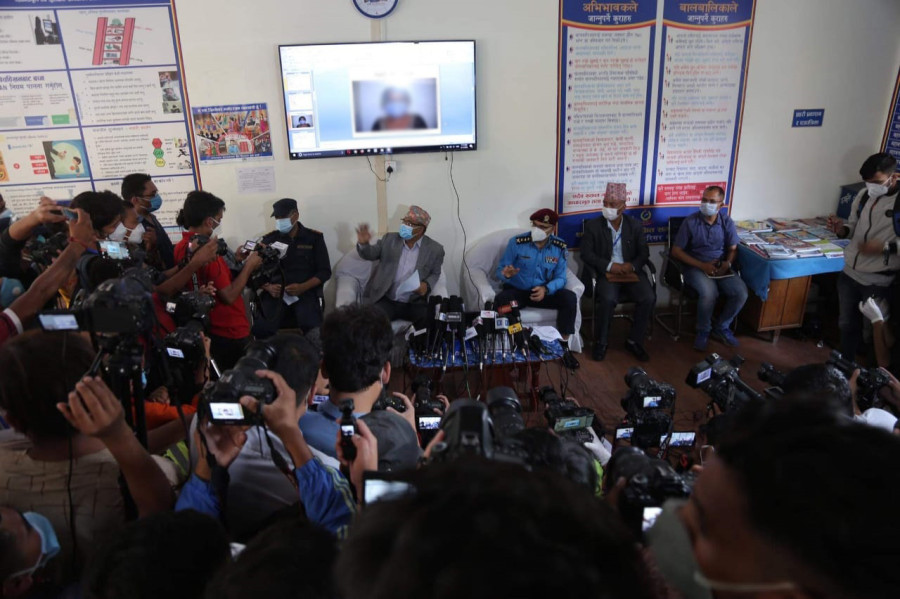 Kathmandu Metropolitan Police Range and Metropolitan Crime Branch held a joint press conference on Tuesday to make public the investigation report and the accused. Elite Joshi/TKP
bookmark
Published at : August 11, 2020
Updated at : August 11, 2020 15:52
Kathmandu
Police on Monday arrested a woman for killing the man whose body was found on Sunday morning at Gongabu in the Capital.

The dismembered body had been found inside a suitcase at Baniyatar area in Gongabu.
Police have identified the woman as Kalpana Mudvari, 37, of Chitwan, who currently resides in a rented flat at Tokha with her 14-year-old son and 15-year-old daughter. She also has another 21-year-old daughter, who is married and does not live with her.
The deceased has been identified as Krishna Bahadur Bohara, 45, of Rolpa, who had been residing in a hotel for the past eight months in the Capital's Gongabu area.
Police said the case seems to be a relationship gone sour and the motive behind the premeditated crime is revenge.
According to Senior Superintendent Shyamlal Gyawali, chief of Kathmandu Metropolitan Police Range, during interrogation, Mudvari said she and Bohora got acquainted some four years ago through Facebook.
"Then, over the years, their relationship grew. There could be several aspects to this relationship–from financial transactions to sexual intimacy–which are being investigated," said Gywali.
According to police, they two were having an affair for the past year.
"It has come to our understanding that Krishna Bahadur had also created a fake Facebook account in the name of a woman and was blackmailing the woman that he would post her nude pictures if she didn't do what he asked for," said Gyawali. The police believe there were financial disputes between the two and Mudvari wanted to get married which Bohara refused.
Kathmandu Metropolitan Police Range and Metropolitan Crime Branch held a joint press conference on Tuesday to make public the investigation report and the accused.
According to the investigation, the accused, Mudvari, is a housewife who occasionally plays small roles in teleserials. She told the police that she does not have a good relationship with her husband, who has been working in Dubai for over five years now.
According to the police, the murder took place in Mudvari's rented flat in Tokha on Saturday night. In her statement to the police, Mudvari said that she invited Bohara over, made him a meal, offered him some vodka and then served him curd, in which she mixed five crushed sleeping tablets, which rendered him unconscious.
Mudvari also admitted to have killed the unconscious Bohara by first striking him with a hammer on his nether region and then strangulating him to death with a black shawl, said Superintendent Ishwar Karki, spokesperson for the Metropolitan Crime Division.
Police have discovered a hammer, a khukuri, the black shawl and some clothes of the victim in the flat, he said.
"It is learnt that the body was taken to the bathroom, where the head and his legs were severed. They were then put in the black suitcase and a big plastic bag and disposed of on the roadside in Gongabu," he said.
According to Karki, Mudvari had cut off the head and legs to transport and dispose of the body. The accused took the suitcase and bag in a scooter away from her home and near the hotel where Bohara was staying.
The police have also arrested Mudvari's 15-year-old daughter for allegedly assisting her mother in disposing of the body. Her son, however, was asleep in another room, according to the police.
After the body was found in the suitcase, the police started an investigation into the incident under the name of Operation Jo Jo. JOJO is a trained dog of Nepal Police who had found the head and legs of the man some 300 metres away from the rest of the corpse.
"After getting rid of the body, she had left Kathmandu [with her daughter and son] and gone to Chitwan in an ambulance," said SSP Thapa. The police made the arrest after identifying the connection between her and Bohara and contacting the Chitwan District Police Office.
Police said they have uncovered some new information on Bohara as well.
"It has recently come to light that Bohara had also duped some women on the pretext of sending them abroad," said Senior Superintendent Dipak Thapa, chief of Metropolitan Crime Division.
Police said Bohara had two wives: the first wife is living with her son in India, while the second wife is in Dang. However, Bohara had not been in touch with any of his family members and had been living in Kathmandu, working as a clothes dealer. He was also involved in running Thakali Restaurant and Lodge at Sundhara.
He had returned to Nepal nearly three years ago after working abroad for over six years.
---
---