12th century Kakre Vihar restored to its former glory
Archaeologists believe the temple had fallen into ruins towards the end of 16th century.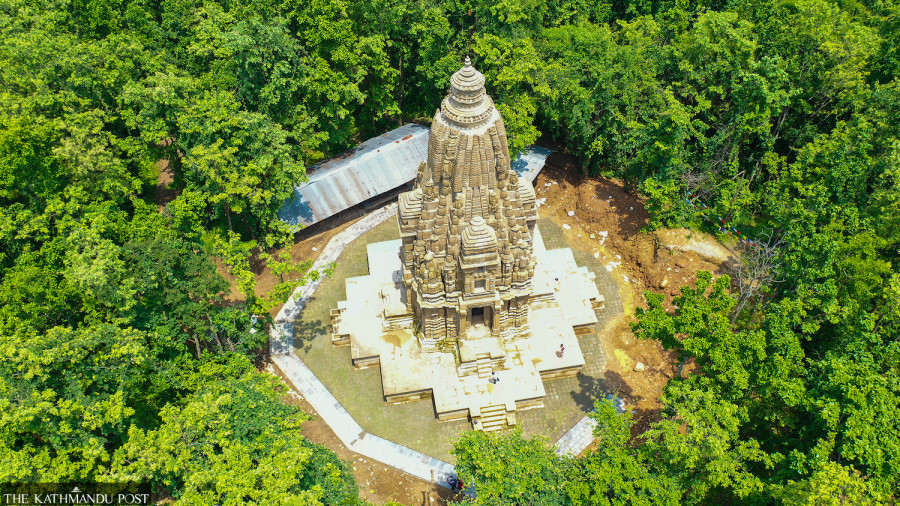 The archaeologically important shrine has been reconstructed in its original Shikhara style. Harihar Singh Rathour/TKP
bookmark
Published at : September 10, 2021
Updated at : September 10, 2021 00:50
Birendranagar
The reconstruction of Kakre Vihar, a 12th century temple revered by both Buddhists and Hindus, in Birendranagar of Surkhet is finally complete.
The Department of Archaeology (DoA) had first started restoring the shrine in 2004 but the work was left in limbo soon after.
In 2015, the department restarted work with an aim to complete the reconstruction within three years.
"The reconstruction work had been delayed due to the negligence of the construction company," said Purna Bahadur Shrestha, a senior engineer at the DoA. "Work on the archaeologically important shrine has finally been completed."
The DoA had awarded the contract for the Vihar's reconstruction to the Kathmandu-based Siddhababa Construction at Rs81.8 million.
A contract was signed between the DoA and the construction company in 2015 with an agreement to complete the work within three years. However, the contract deadline, according to Shrestha, was extended four times.
Kakre Vihar has been reconstructed in its original Shikhar architectural style by using stone blocks with inscriptions and artistic images. According to the DoA, the artisans rebuilt the temple in its original form with the materials that were discovered during an excavation.
According to engineer Shrestha, the Ward 9 office has taken the responsibility for the Vihar's cleanliness, security and management of tickets, including other works.
The DoA is yet to hand over the shrine to Birendranagar Municipality.
The department had started excavation works at the ruins of Kakre Vihar in 2001. According to Shrestha, the excavation work had been completed within a few months but it took time to finalise the design. Some 2,028 artefacts of archaeological and historical significance, including the statues of Lord Buddha, Saraswati, Lord Vishnu, Padma, and conch shells and chariot wheels, were dug up during the excavation.
Kakre Vihar, spread over around 180 hectares of land, is believed to have been built in the 12th century. Considered to be only second to Lumbini in terms of archaeological and historical significance, the temple, which has statues of Lord Buddha as well as numerous Hindu deities, stands as a symbol of religious harmony among the people of the region. According to archaeologists, the 12th century temple fell into ruins towards the end of the 16th century.
Birendranagar Municipality has also started the construction of a zoo in the Kakre Vihar area to attract more tourists.
According to Suresh Manandhar, the ward chairman, construction work of the zoo has been started with a budget of around Rs1.1 million.
"Various types of wild animals will be kept in the zoo. Favourable environment will be created for the animals by constructing ponds and proper habitat for them," Manandhar said. "We also plan to develop the zoo as a rescue centre for injured animals."
---
---