Northern Humla braces for a food shortage
Humla saw a prolonged snowfall this winter and the route to Taklakot was closed before the pandemic.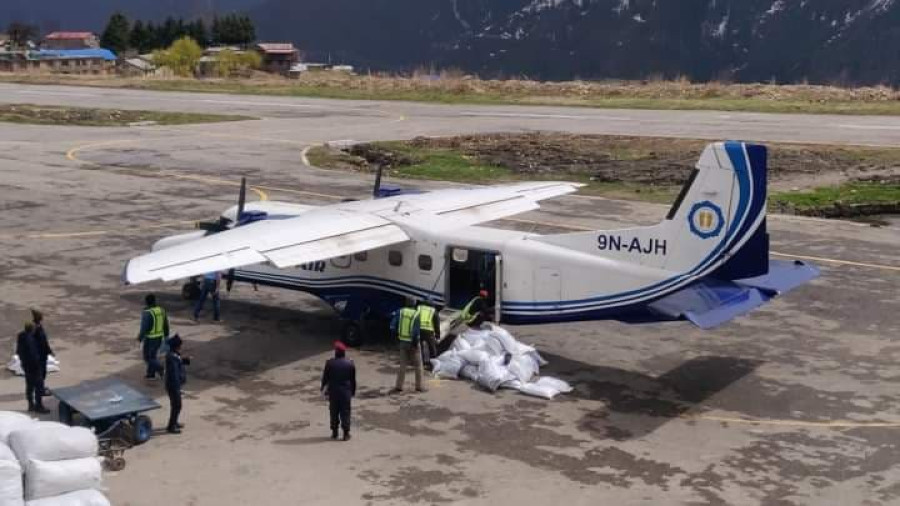 Daily essentials including food are delivered through planes in Humla. Post photo.
bookmark
Published at : April 18, 2020
Updated at : April 18, 2020 07:24
Humla
With the border points to China closed indefinitely to prevent the spread of Covid-19, Namkha Rural Municipality in northern Humla has been grappling with a food shortage. The rural municipality shares its border with China, from where the local unit would import daily essentials prior to the pandemic.
Nearly a dozen villages in the local unit are facing a food shortage, according to Paljor Lama, a local of Muchu, one of the many villages that depend upon imported goods from China.
Due to unfavourable climate and topography, Humla, especially its northern front, struggles with food shortage every year.
"This year, the crisis is getting worse, with the coronavirus pandemic showing no sign of ending soon," Lama said. "With lockdown in place and shut borders, we can't travel to Taklakot, the nearest town in China, to import food."
Humla saw a prolonged snowfall this winter and the route to Taklakot was closed even before the pandemic, Dorje Lama, a local from Chala, said over the phone.
"Many were of the mind that they would hoard essentials once the snow cleared, but then the pandemic ensued soon afterwards," Lama said, adding that the locally produced food doesn't even last for three months.
In the four villages of Til, Jang, Halji and Chal in the Namkha Rural Municipality, there are 204 households. The villages harvest local produce only once a year.
"The food crisis is perennial, given the difficulty to transport goods to the villages," Lama said. "So most of the people hoard food that would last them for a year. This year, we couldn't do that."
It takes two days to travel to the district headquarters of Simikot from Chala and four days from Limi, according to Lama.
The crisis is further exacerbated by a sketchy communication network, said Ganesh Rokaya, the in-charge of the Chala Health Post.
"Most of the locals are borrowing and exchanging food with each other," he said.
The nearest local unit from Namkha is Sarkegad, which has a stock of 300 quintals of food, according to Joshi Dhami, deputy chair of the rural municipality.
"The stock will barely be enough for Sarkegad, and some villages have already reported food shortages," Dhami said.
In the Simikot-based depo of the Nepal Food Corporation, there are 5,300 quintals of food stock, according to Ram Bahadur Bista, chief of the depo. The depo has started importing more foodstuff via air, he said.
"We are concerned about the reported shortage of food in Namkha," he said. "If the situation persists, we plan to deliver goods to the local units that report a shortage."
---
---