Local agencies should be empowered to fight forest fires
Controlled burnings of low intensity are needed and they should be done during the winter or when the dry season starts.

Sundar Sharma, Undersecretary at the National Disaster Risk Reduction Management Authority (NDRRMA). Keshav Thapa/TKP
bookmark
Published at : April 23, 2023
Updated at : April 29, 2023 13:12
Last week, the residents of Kathmandu gasped for breath due to the deteriorating air quality. Smoke and haze emitted by massive forest fires throughout the country covered most parts of the country, including the Kathmandu Valley. Major hospitals in the Valley reported an uptick in patients with respiratory illnesses. Some required intensive care. The IQAir, a Swiss group that collects air-quality data from around the world, ranked Kathmandu as the most polluted city in the world. (Thankfully, there have been some hints of rain in the past few days.) In this context, the Post's Arjun Poudel spoke to Sundar Sharma, Undersecretary at the National Disaster Risk Reduction Management Authority (NDRRMA), who is also a coordinator of the United Nations Office for Disaster Risk Reduction - Regional South Asia Wildland Fire Network, on the challenges of controlling forest fires.
Smoke and haze have covered most parts of the country. What is the cause and how long will it last?
Smoke, haze and air pollution during the winter and spring seasons is not new in Nepal. But this year, it blanketed the entire country for several days. Kathmandu, the capital city, again ranked as the world's most polluted city. And as usual, the main culprit for the problems is the rising number of forest fires. Over the past two weeks, each day, there were over 1,000 incidents of forest fires in the country. Major national parks and protected areas witnessed several massive fires. Most forests in the surrounding districts of the Kathmandu Valley have already seen fires.
Due to rising pollution levels, we have been experiencing dry and burning eyes. Many people complain of irritated nose and sinus, sore throat, wheezing, cough and difficulty in breathing. Unless there is a heavy rainfall, the air pollution levels will not subside, meaning the conditions of smoke and haze will continue in the coming days as well.
Incidents of forest fires have been rising in recent years. Why?
Whatever the cause, data shows that incidents of forest fires are increasing in Nepal. It can be linked to climate change. A lack of precipitation for a long time makes the weather drier, and a sudden rise in temperature fuels forest fires. The peak season of forest fires in Nepal is generally around April 25 but this time, the country has witnessed massive wildfires earlier.
Nepal's invaluable forests, which took more than six decades to restore, are now witnessing very bad fires. Hundreds of hectares have either been burnt or are burning. It's not only the national parks, protected areas and jungles of the Tarai region are witnessing fires, as are the forests and national parks in the mountainous regions.
Fires not only destroy forests but also cause multi-sector damages, including health damages to humans. How severe will be such effects?
Recently, two persons aged 13 and 55 died in Gulmi district while trying to put out a forest fire. Some have been injured. Forest fires not only burn forests but also damage our ecology, affect wild and endangered animals and impact human health. The unhealthy air quality that is the result of forest fires has caused emergency-like conditions from which the entire population has been affected, and many have experienced serious health effects.
Health experts can say more about the consequences of air pollution on health. Respiratory illnesses like pneumonia and bronchitis as well as conjunctivitis, skin allergies, stroke and heart problems are the short-term consequences. In the long term, the polluted air causes problems such as ulcers and cancers of the lungs and intestine, kidney disease and severe heart problems.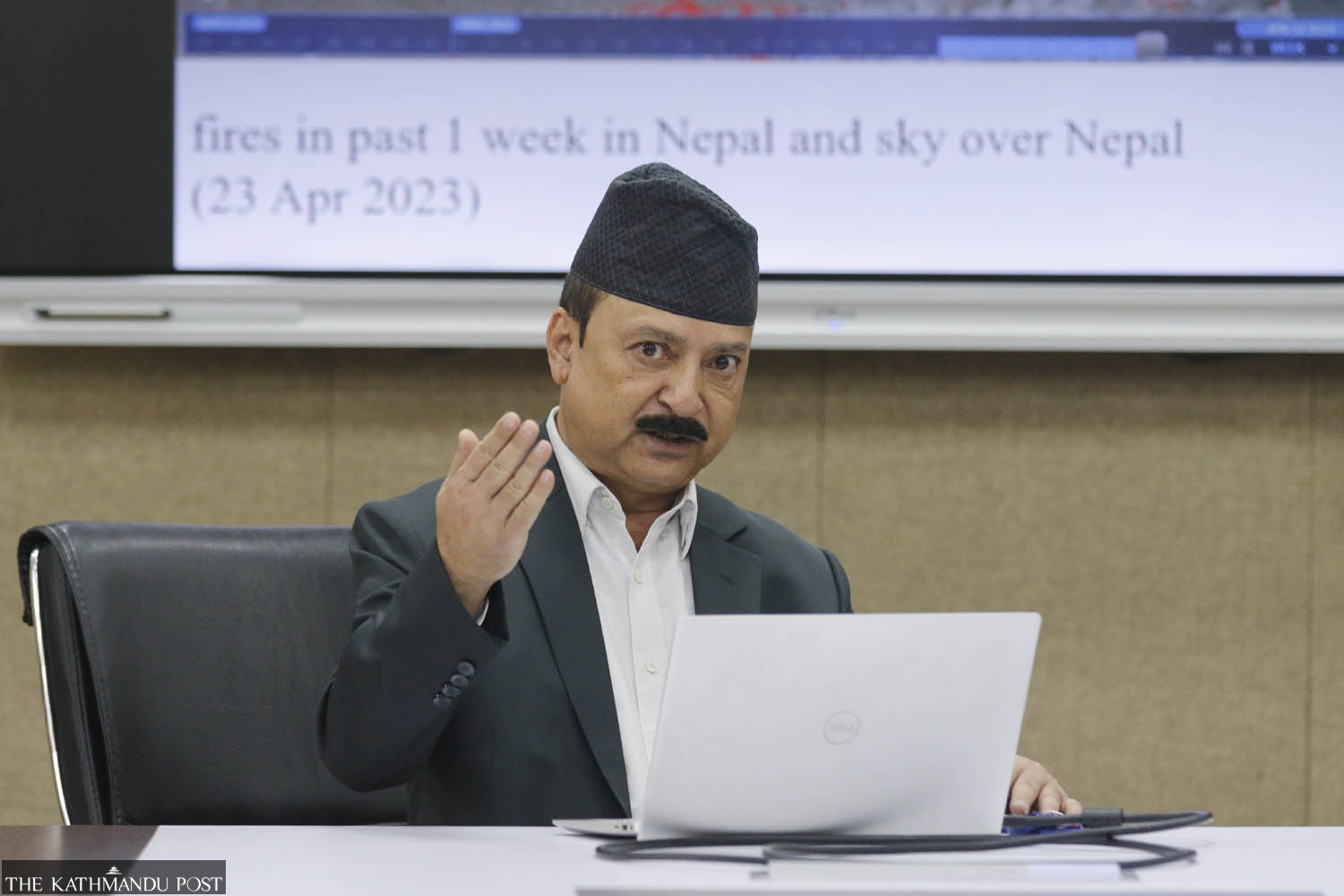 Keshav Thapa/TKP
When a person suffers from serious health consequences, it hits not only an individual's productivity but also affects the entire family. If a person suffers from serious health problems caused by toxic air from the forest fires, and if he/she is the breadwinner in the family, the entire family suffers.
Wildfires remove vegetation, which reduces soil infiltration capacity, ultimately increasing the runoff rate of rainwater. The post-fire sediment discharge also affects our hydel projects. We are yet to carry out a detailed study on the direct and indirect impacts of forest fires, but it is huge.
Is it possible to completely stop forest fires?
No. And I am not saying that forest fires should not happen. First, it is not possible to stop forest fires completely. If it was, countries like the United States, Brazil, Australia and Turkey would have prevented them. Accumulation of fuel for years creates conditions for carbon bombs and if ignited by any means, they cause a massive loss to forests, ecology and public health. Controlled burnings of low intensity are needed and they should be done during winter or when the dry season starts. Such burnings help in growing new grasses, which ultimately helps the ecosystem.
What measures are being taken to cut incidents of forest fires?
Unfortunately, the measures we have been taking to contain forest fires are insufficient and ineffective. Agencies to contain forest fires in all three tiers of the government are ill-equipped and lack resources and training.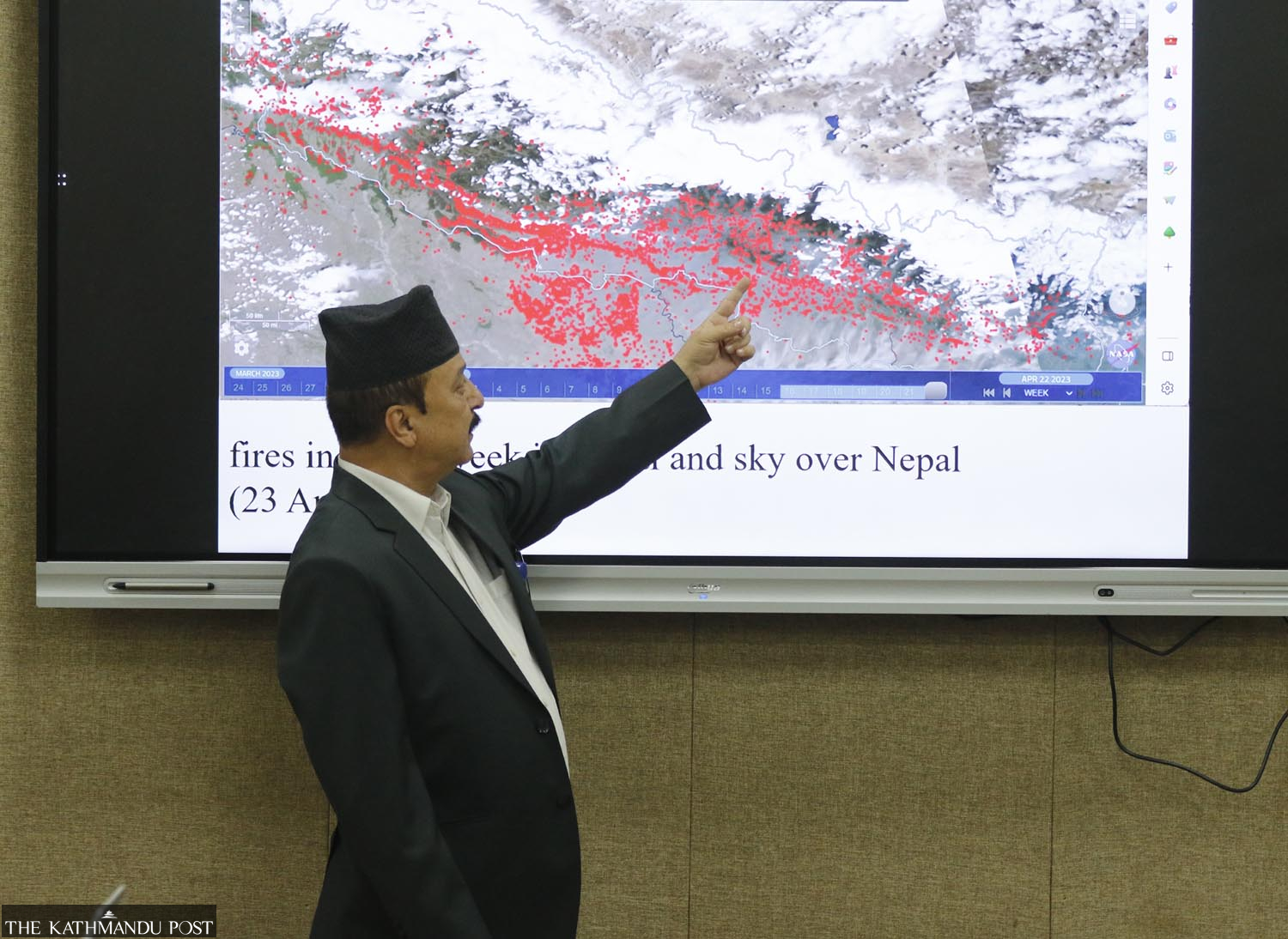 Keshav Thapa/TKP
Human actions like discarding cigarette butts without stubbing them out, burning dry vegetation to clear farmlands, and deliberate burning by grazers and poachers are considered main reasons for forest fires. We have not been able to start an awareness drive. Most agencies concerned lack the budget to purchase portable water pumps, dig water ponds near forests, and train locals to respond at the time of major disasters, including forest fires. For better results, we have to increase investment and prepare for the worst.
What other measures can be taken to cut the losses?
Going into the jungle to put out a fire in this season is akin to a suicide attempt, and thus must be prohibited. If the terrain is sloping, it is even more dangerous.
Locals should be encouraged to make fire lines in the jungles. Such fire lines should be cleared before the forest fire season. There are more than 23,000 community forests throughout the country. It will not be difficult to make fire lines if members of the community forest groups can be convinced. Making fire lines is also part of scientific forest management.
Making and clearing a fire line is not only the responsibility of locals but also of the concerned authorities at the national parks and protected areas, who have the responsibility of managing forests under their jurisdiction.
Controlled burning should be promoted. If settlements are near the forests, safety lines should be made to prevent fires from reaching them. Locals should also be trained to 'back-burn' (start from another direction) to prevent the fire from reaching settlements. Back burning involves starting small fires in front of the main fire front, which reduces the amount of fuel available to the main fire by the time it reaches the burnt area.
More importantly, local agencies, responsible for dealing with disasters like forest fires should be empowered, and given adequate financial and technological resources. Locals, who are the first responders, should be trained and volunteer groups formed in every ward.
---
---