Roshan Adiga: Discipline and work-ethic is more important in service-oriented companies
'Our teams understand that TeamQuest, as a company, endeavours to keep working on the value it has generated for itself over the years.'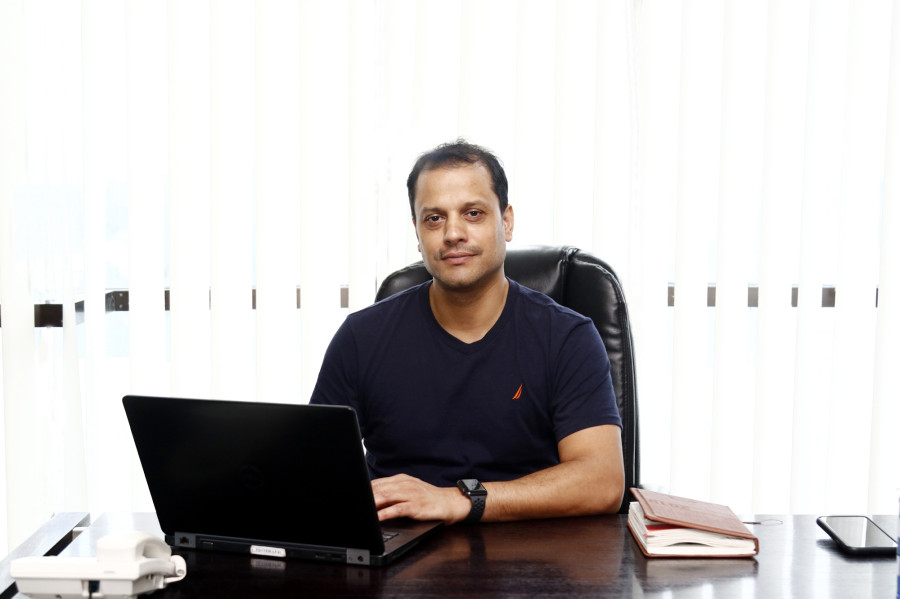 Post Photo: Keshav Thapa
bookmark
Published at : July 8, 2019
Kathmandu
QFX Cinemas is among the country's most prominent movie theatre companies. Over its 18 years of experience, TeamQuest, the company running the cinema chain, has lifted the benchmark of cinema halls in Nepal; it has changed the movie-going experience with its high standard service and high tech projection. It continues to build on its excellence with Roshan Adiga leading the company's managerial decisions and operations as the CEO. Before joining TeamQuest in 2013, Adiga worked in managerial positions for Soaltee Crowne Plaza and KFC. Adiga has amassed over 20 years of experience in food, beverage and facility operations in hotels and restaurants, and his passion for leading and managing his team is visible in his demeanour and personality. At his office, his bookshelf is filled with management books, including James C. Collins' Good to Great and David Novak's Taking People With You. In this interview with the Post's Srizu Bajracharya, Adiga shares what he has learnt during his time in the service industry, and delves into youth expectations. Excerpts:
How has QFX cinemas changed the movie-going experience for Nepalis?
QFX wants to give its customers a valued experience—going to the movies is not just about watching movies. It's as much about the ambience and comfort. All our new multiplexes have 4K screenings, and we have recently renovated screens and seats at the QFX Civil Mall. We are continually upgrading ourselves.
QFX Cinemas has some of the country's prominent movie theatres. What is your view on the new law being drafted which will restrict foreign film screenings in cinema halls to 185 days a year?
We have always supported Nepali movies; just recently, Jatrai Jatra celebrated 51 days in our multiplexes. Moreover, we understand that the government wants to promote and encourage Nepali films. However, it's a question for moviegoers, 'What do they want to watch?'
Also, it depends on the amount of money the movie is making. We always compare the occupancy of movie screenings before deciding if we should close projections of those films at our multiplexes. As a business, we would want to go with movies that are making more profit.
How do you decide what movies will be screened, and what will not?
We usually ask our distributors to send us trailers and short clips that can help our team decide on the screenings. Although we are not critics, with the experience we have had, we can sometimes tell what movies will work at the box office, and that's how we choose. Of course, there is a certain standard that we don't go below. However, most of the time, we have given space for Nepali movies. There is no bias, as such.
You have experience of over 20 years in hotels, restaurants and facility operations. How does that experience help you make corporate decisions and manage the overall operations and resources in QFX?
I have learned a lot in the service industry. It has helped me to become who I am today. Although QFX comes under the entertainment industry, it is still a service-oriented company that deals with defined standards, customers, their satisfaction, and their valued experience. At the core, I am still managing operations. My experiences in the industry have made me more perceptive of processes and systems. If we understand how things work within the system, it is easier to facilitate and manage operations and teams operating services, and that was what I put my focus on when I started six years ago.
What happens in TeamQuest's office setting?
We have different teams working in the corporate office; we have the human resource team, finance team, procurement and marketing team. Different groups have different agendas — the marketing team is usually the one communicating with film distributors, managing posters and our websites; the procurement team looks after food and beverage management in our multiplexes. We also have customer care, a team to handle customer queries such as bookings and loyalty cards. Then we have people at the multiplexes—at the front desk, ticket and food counters.
How many young people are currently working at the box office? What are the advantages and disadvantages of working with young people?
We have around 300 employees, and the ratio of men and women is 40:60. However, at our multiplexes, we mostly have young staff, and it's there that we frequently encounter staff turnover. However, I think that situation is evident—young people will want to move on. Most of them are in their early 20s, and are still exploring their interests, and they are here for the experience. So, once they have learned, they decide to move — sometimes for better opportunities and sometimes for higher studies. It's natural. However, it's different in our corporate office; we don't have high turnover here. Most of our employees have finished their degrees and are committed for the long term.
How do you talk about personal development and career goals with your team?
Our teams understand that TeamQuest, as a company, endeavours to keep working on the value it has generated for itself over the years. At work, and with my team, I emphasise discipline and work ethics a lot because I believe it is important, especially as a service-oriented company. I also believe in an open door policy, as I want to be approachable and available when my team needs me. I don't want them to feel awkward when they want to discuss matters with me. And I feel this is important if you want teams to learn from one another—the more open the office environment, the more employees will learn and be committed to work. As for personal development, our human resource team has different mechanisms to check in on how employees are doing and what growth opportunities they seek.
For a company like QFX, what do you look for in a potential employee? How do you help improve their skills?
We usually look for people who have good communication and leadership skills. We need assertive people at our multiplexes as they are crowded and employees at the box office have to handle customers with care. However, there is no training as such; most of them learn on the job. But, we allot about 15 days for new hirees to observe work processes at our multiplexes. For many this is their first job, so they can get overwhelmed quickly, especially when they have no idea how things work at QFX, as well as the everyday rush.
How is QFX looking to expand its business?
We are going to set up QFX in Biratnagar and a few other places. People have also approached us to invest in their cinema halls, but there are specific criteria we always consider like: space, the height of the ceilings, and even the number of restrooms. Renovation possibilities are always looked into, plus our team studies the cinema's market and infrastructure—-our business depends on several variables. It's not like inducting a cinema hall into the QFX chain's stables will guarantee success.
---
---