Along with Covid, swine flu and Hong Kong flu spreading in communities
At least 350 cases of swine flu and 329 cases of Hong Kong flu were recorded in 2022.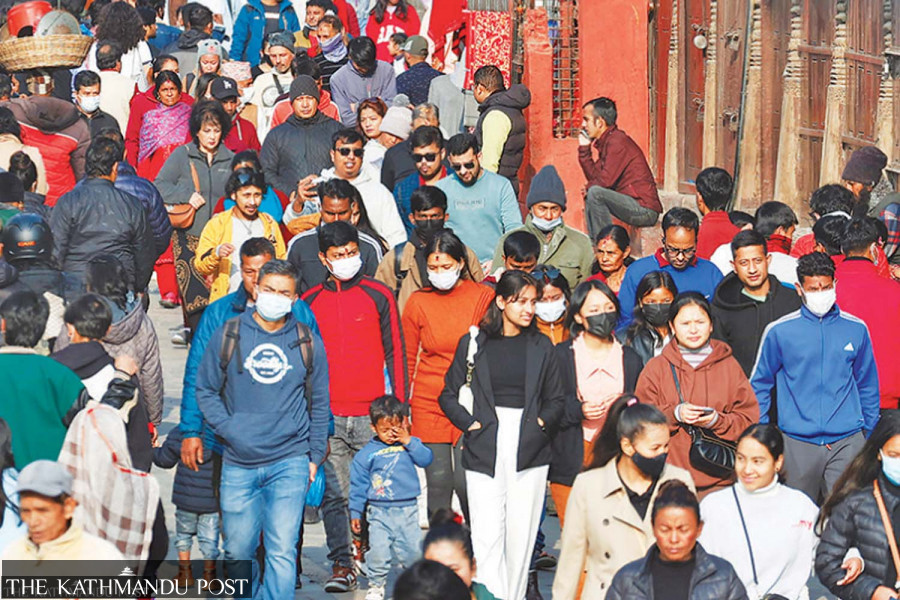 Doctors ask people to take flu shots, which protect patients from getting severe from infections. Post File Photo
bookmark
Published at : January 5, 2023
Updated at : January 5, 2023 07:59
Kathmandu
Last week, a 17-year-old boy from the Bhotebahal area of Kathmandu Metropolitan City tested positive for A(H3), also known as Hong Kong flu, and a 30-year-old woman tested positive for A(H1N1), also known as swine flu.

The health conditions of the two patients, who visited Sukraraj Tropical and Infectious Disease Hospital, are normal, but such viruses could worsen the health of small children, ailing patients and those having underlying conditions, doctors at the hospital said.
"These two viruses have been circulating in the communities continuously," said Dr Sher Bahadur Pun, chief of Clinical Research Unit at Sukraraj Tropical and Infectious Disease Hospital. "We do not carry out testing of respiratory syncytial virus here in the country but it could also have been spreading in the communities."
At least 350 cases of A (H1N1) or swine flu and 329 cases of A (H3) or Hong Kong flu have been recorded in 2022. Such cases of infections could be far more than what is recorded, as all cases do not reach hospitals and undergo testing. As a new surge of Covid-19 cases is being anticipated in the near future, doctors warn that the country may witness a surge in Covid-19 and other virus cases all at once.
"A lot of people get infected with swine flu and Hong Kong flu as the season changes," said Pun. "Our health facilities could be overwhelmed if an outbreak of seasonal viruses and coronavirus happens at the same time."
What concerns health experts is that most of the symptoms of Covid-19 and seasonal influenza overlap. Similar symptoms mean challenges in distinguishing between the two diseases, which further complicates the patients' health conditions.
Seasonal influenza and Covid-19 both cause respiratory complications which affect the lungs and spread quickly in communities. Both the diseases can cause fever, cough, body aches, occasional vomiting, diarrhoea and pneumonia.
"Chances of misdiagnosis will be high, if the viruses that cause seasonal flu and coronavirus spread at once," said Dr Prabhat Adhikari, an infectious disease and critical care expert. "In such cases, early diagnosis and start of treatment will be key to preventing severity and deaths."
Experts say early diagnosis is crucial in both Covid-19 and seasonal influenza cases, but the outcome of treatment will be high in seasonal influenza cases. Patients recover early if they are treated on time. The experts also said that both the severity of the disease and deaths increase if the seasonal influenza cases do not get diagnosed in time.
"In cases of both seasonal influenza and coronavirus, the preventive measures are the same," said Adhikari. "If we can enforce public health measures—mask wearing, handwashing, avoiding crowds, maintaining social distance, we can avoid not only the infection of coronavirus, but also the infection of viruses causing seasonal flu."
Doctors also ask people to take flu shots, which protects patients from getting severe from infections.
Infectious disease experts say that a new surge in Nepal is inevitable and it's only a matter of time. They say preventive measures could reduce the impact of a new surge.
Nepal has reported almost all variants and sub-variants of Covid-19 detected in the world. Due to the high mobility of Nepalis across the globe, the risk of any virus variant entering the country remains high, doctors say.
So far, 12,019 Covid-related deaths have been reported in Nepal, according to the official count. The Health Ministry said that 22,324,933 people, or 76.5 percent of the total population, have been fully vaccinated. The number of people who have taken booster shots stands at 7,972,791 as of Tuesday.
---
---