Too salty processed food blamed for rise in noncommunicable diseases
Health Ministry to launch nationwide campaign to slash salt intake in view of rising blood pressure and cardiovascular conditions and to make action plan for reducing salt iodine.

Shutterstock
bookmark
Published at : June 6, 2022
Updated at : June 6, 2022 12:28
Kathmandu
The Ministry of Health and Population is preparing to launch a nationwide campaign to lessen the daily intake of salt, officials have said.
Excessive salt intake is found responsible for the rise in several non-communicable diseases including high blood pressure and cardiovascular conditions, said Lila Bikram Thapa, chief of the Nutrition Section at the Family Welfare Division of the Department of Health Services. "We are working to launch an awareness campaign throughout the country to lessen the intake of salt and processed foods."
Studies have also shown a change in dietary patterns and increased consumption of processed foods (including packaged soups), which resulted in increased prevalence of non-communicable diseases such as hypertension, cardiovascular diseases and hyperthyroidism.
According to Non-communicable Disease Risk Factors: Steps Survey-2019, 5.6 percent of adults (6.5 percent of women and 4.6 percent of men) reported adding salt often or always to food right before or while eating.
Additionally, 19.5 percent of adults (18.1 percent of women and 21.1 percent of men) reported consuming processed foods that are high in salt often or always.
The study reported the perception of around 75 percent of the adult population that their salt intake is 'just right'.
Excessive salt intake is a major risk factor for hypertension, which is a major cause of premature deaths worldwide.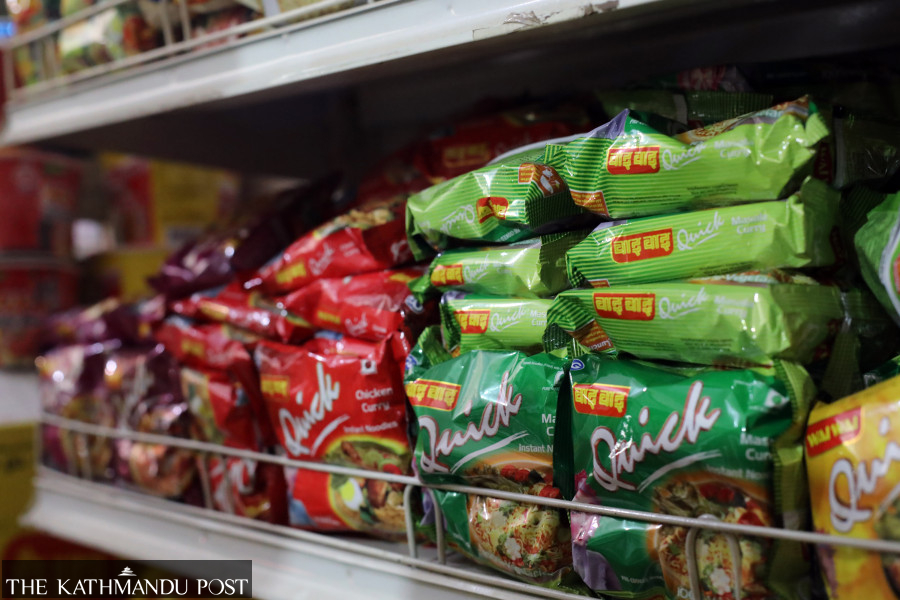 A survey found 19.5 percent of adults (18.1 percent of women and 21.1 percent of men) reported consuming processed foods that are high in salt often or always Post File Photo
Several other studies—including the 2016 Nepal National Micronutrient Status Survey jointly carried out by the World Health Organization, UNICEF, and the US-based Centres for Disease Control and Prevention, and the Ministry of Health and Population—have found that Nepalis are consuming an excessive amount of iodine, which resulted into high prevalence of hyperthyroidism.
Iodine is a mineral found naturally in seafood and plants that grow in areas near seas. In places where iodine is naturally rare, it needs to be artificially introduced into the diet via fortified food products. But consuming too much iodine can lead to hyperthyroidism where patients suffer from thyroid gland inflammation; burning of the mouth, throat, and stomach; fever; stomach pain; nausea; vomiting; diarrhoea; and a weak pulse.
"We are also working to make an action plan to reduce the level of iodine in the salt," said Thapa. "For that we are planning to hold a high-level meeting with officials from various government agencies including the representatives of the Department of Food Technology and Quality Control."
Officials at the Department of Food Technology and Quality Control under the Ministry of Agriculture and Livestock Development said that they have held discussion with representatives of the Health Ministry about the issue of excessive amounts of iodine in the salt being consumed by people throughout the country.
"We are open to reviewing the iodine concentration in salt," said Mohan Krishna Maharjan, spokesperson for the Department. "If the evidence suggests that the level of iodine is at a hazardous level, we will have to lessen it, but this should be done in consultation with all stakeholders."
In 1993, Nepal mandated that salt be fortified with iodine to prevent health problems caused by an iodine deficiency, as salt is used regularly throughout the year and is available at low cost. A lack of iodine in the diet can lead to hypothyroidism, where the thyroid glands produce too little thyroxine, leading to the development of goitres, among other symptoms. But 29 years since this fortification began, adverse effects are now being seen.
The Salt Trading Corporation, the agency that fortifies iodine at 50 ppm per kilo of salt, which is higher than the recommended dosage. The World Health Organization recommended dosage of 15 to 40 parts per million (ppm).
The higher level was mandated under the assumption that as transportation and storage times were longer in the 90s, some amount of iodine would dissipate by the time the salt reached markets. However, with the access of the roads in almost all corners of the country and transportation times have considerably lessened, there is no need for such a high level of iodine in the salt, according to doctors.
According to the survey, over two thirds—68 percent—of the population across the country is consuming iodine over the recommendation level.
The UN health agency recommends less than two grams of sodium or five grams of salt per day among adults to reduce blood pressure and the risk of cardiovascular diseases, stroke and coronary heart disease. It also recommends policies to reduce salt intake including food product reformation, establishing a supportive environment in public institutions, organising communications and mass media campaigns, and front-of-pack labelling, among other things, to prevent and control non communicable diseases.
---
---