Nepal vaccine uncertainty aggravated by political mishandling, say experts
Oli's focus is on politics rather than governance, as he has been shuffling ministers, including at Health Ministry, and there's a lack of will, not resources, to arrange for the jabs.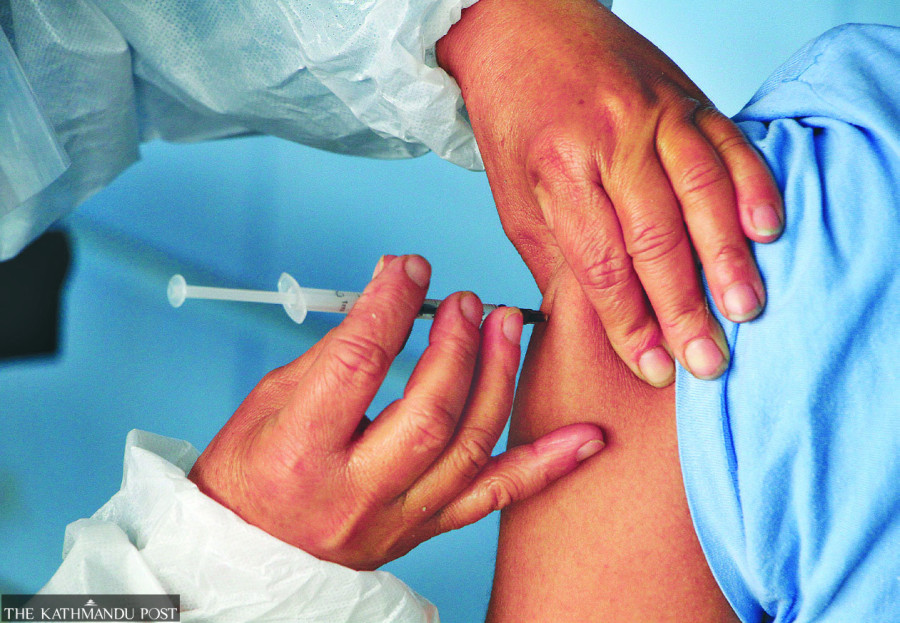 Nepal's vaccination scenario looked promising at start but vaccines aren't coming in of late. Post File Photo
bookmark
Published at : June 25, 2021
Updated at : June 25, 2021 00:31
Kathmandu
Of the several calls Dr Sarad Onta has been getting lately, around half a dozen or so every day are from those who want to know if he could help arrange the second dose of the Covishield vaccine.

"Their concerns are genuine. They think I can make some recommendations," said Onta, a public health expert. "But I am helpless. I apologise to them and say I can barely do anything."
Around 1.4 million Nepalis aged 65 and above took the first dose of Covishield some four months ago—between March 7 and March 15.
With no stock of doses, the government has not been able to inoculate them with the booster dose—a must for better efficacy.
Despite being one of the first countries to launch the vaccination drive against Covid-19, Nepal's inoculation campaign has become a fiasco now. Though government officials have been claiming that they are making "utmost efforts" to get vaccines, there has not been any substantial development.
When Nepal started its vaccination campaign on January 27 with the 1 million doses of Covishield provided by India under grant assistance, Prime Minister KP Sharma Oli had announced that all Nepalis would be inoculated within three months. It was seemingly a wild claim. But in February, when the government signed a deal with the Serum Institute of India, the manufacturer of Covishield, which is the AstraZeneca type vaccine, to buy 2 million doses, it raised hopes. The government said it would buy an additional 5 million doses "soon".
Given the fact that the Serum Institute is the largest vaccine manufacturer in the world, there was no room to doubt that Nepal would be able to vaccinate as many people within months, if not in three months.
With COVAX, the international vaccine-sharing scheme backed by the United Nations, making a commitment to provide around 13 million doses, enough to inoculate 20 percent of the 30 million population, Nepal looked confident in its fight against the coronavirus.
As per COVAX commitment, 1.9 million doses were to arrive in Nepal by March. After the shipment of 348,000 doses on March 7, there is no communication from COVAX, except that an additional 348,000 could come by July.
But as the coronavirus crisis deepened in India from March, it put a ban on exports of AstraZeneca vaccine. After supplying 1 million doses, the Serum Institute told the Nepal government about its inability to provide the remaining doses. Serum even suggested that Nepal could take the money back, if it wished so. There was no basis to believe Nepal could buy an additional 5 million doses.
"We are not in position to say anything about when the vaccines will arrive," said Dr Roshan Pokhrel, chief specialist at the Health Ministry.
Apart from Covishield, Nepal has so far received 1.8 million doses of Vero Cell, developed and manufactured by Sinopharm, a Chinese state-owned company, under grant assistance from the government of China.
About three weeks after the second wave hit India, the pandemic snowballed into a grave crisis in Nepal. Nearly 6,000 people have lost their lives to the virus over the past nine weeks, ever since the second wave made its way to the country. Infections rose exponentially. The realisation then deepened greatly among the authorities that the only way to fight the virus is a vaccine.
Though the number of new daily infections has declined over the past few weeks, experts are warning of a third wave. Amid this, the Health Ministry said on Monday that the highly infectious K417N, a sub-lineage of B.1.617.2, known as Delta variant, has been confirmed in swab samples of some infected people in Nepal. The new sub lineage has also been dubbed "Delta Plus" in India. Of the 48 swab samples of infected people, on which whole genome sequencing was performed earlier this month, the Delta variant was detected in 47 people. Among the 47, the new sub-lineage K417N also known as AY.1 has been identified in swab samples of nine people.
Nepal's coronavirus crisis at one point in recent months had become so grave that people were dying from a lack of oxygen and beds. Hospitals were turning away patients because they did not have beds, ventilators and oxygen supplies.
Prime Minister Oli then made an appeal to the world community to extend support. On May 10, through an opinion piece in the UK's Guardian newspaper, Oli said Nepal is overwhelmed by Covid-19 and called for supplying medical goods as well as vaccines. The world community turned its attention to Nepal and countries since have been airlifting medical goods, oxygen concentrators and other equipment. But none of the countries–the United States, the United Kingdom, China, Germany, the European Union and many others–have provided the vaccine, the commodity that Nepal needs the most.
Amid talks that some European Union member countries could provide vaccines, on June 18 at least two ambassadors ruled out any such possibility, saying whatever doses Nepal would get under their commitment would arrive through COVAX.
A scrambling government, which was initially over-reliant on India, turned to China. But Sinopharm's non-disclosure agreement proposal created some hurdles. A Cabinet meeting on June 14 approved the Health Ministry's proposal to buy 4 million doses of Vero Cell but after some officials disclosed the estimated price per dose, the Chinese expressed their displeasure.
Officials refused to divulge any further details on the development regarding the deal with China for buying vaccines.
"We have been told that the government is close to reaching a vaccine deal with China, but we do not know how close," said an official at the Department of Health Services, the government agency that carries out procurement of medical goods.
"The Health Ministry has not yet informed us about the deal. Nor have we been informed when the vaccines will arrive," the official, who spoke on condition of anonymity, told the Post.
Just when the coronavirus crisis deepened in Nepal, so did the political crisis.
Prime Minister Oli has thrown the country into uncertainty yet again by dissolving the House of Representatives for a second time.
Over the last six months, Oli has shuffled ministers at the Health Ministry, the line ministry to deal with the virus and do the groundwork for buying vaccines,
three times.
Dr Onta believes frequent changes in ministries and political turmoil in the country too have impacted Nepal's vaccine procurement plan.
"Several people from donor agencies in Nepal I have spoken with have communicated their frustration as to how difficult it becomes to work in Nepal due to frequent changes," Onta told the Post.
According to Onta, political uncertainty and instability in government mechanisms could be the main reason behind Nepal's failure to reach any deal on vaccine purchase.
Pokhrel, the director at the Family Welfare Division under the Health Ministry, does not deny.
"Frequent changes in bureaucracy do have an impact on long-term policy decisions and implementation," he admitted. He, however, was quick to add that the government is committed to inoculating all the eligible people free of cost and it has been pulling out all the stops to procure jabs.
While Prime Minister Oli, also the chairman of the CPN-UML, over the past few months remained busy in his political maneuverings, his government put President Bidya Devi Bhandari forward. In what is described by many as a bizarre move, President Bhandari wrote to her counterparts in different countries as well as the British queen, asking them to facilitate the process to ship vaccines to Nepal. None has responded, leave alone sending vaccines.
Nepal so far has been able to incolute just about 8.3 percent of the population. Only 2.4 percent of the population has received both doses.
"For the last eight months, the government has been distributing assurances," said GD Thakur, a former director of the Epidemiology and Disease Control Division. "Preparations for the third wave also include inoculating as many people at the earliest."
Experts say the government needs to take a two-pronged approach–get enough doses of AstraZeneca vaccine to give booster doses to 1.4 million people and procure any other vaccine from any country or manufacturer.
Some reports have surfaced over the last few days that India is planning to resume vaccine supplies to the neighbourhood as part of its "vaccine friendship".
ThePrint reported on Wednesday that New Delhi is aiming at July-end or August to at least release those vaccines that have been bought by Bangladesh, Sri Lanka and Nepal. But the paper caevated that with "depending on the scale of production of vaccines within the country".
But July-end or August is too late for those who have taken the first Covishield shots in mid-March. The 1.4 million people with their first Covishield shots must have taken their booster doses by May 29.
"Resumption of vaccine export by India in July-August does not help us address our ongoing crisis," said Pokhrel, the chief specialist of the Health Ministry.
"We are trying to get AstraZeneca vaccine to provide booster shots to those who took the first dose. We have appealed to and approached many countries, but to no avail."
There have also been talks in recent days in the ministry also about COVAX providing 600,000 doses of Johnson & Johnson vaccine.
The Post, however, could not verify the information.
"I don't want to talk about this [Johnson & Johnson] issue," Dr Jhalak Gautam, the chief of the National Immunisation Programme under the Health Ministry, told the Post.
In March, COVAX had communicated to Nepal about possible delays in supplying the vaccine [Covishield] in light of India facing a crisis of its own and asked Nepal to choose a jab other than AstraZeneca.
When American President Joe Biden on May 17 announced that his administration would share around 60 million doses of AstraZeneca vaccine with the world, it too had raised some hopes in Nepal.
On June 3, the White House announced that it would be sharing 7 million doses with 17 countries, including Nepal. There was no clarity on the number of doses and when they would arrive. Anyway, for a country like Nepal, which needs 44 million doses, 7 million doses divided among 17 countries would mean too little.
The United States recently announced sharing an additional 55 million doses, but it has said most of the doses would be distributed through COVAX.
The vaccine scarcity around the world, with the poor countries struggling the most, now has also raised a new debate whether it is a "global public good" or a simply yet another pharmaceutical commodity. The World Health Organisation has been constantly insisting that the vaccine is a global public good and the rich nations owe the doses to the poor.
Ever since the vaccines started to appear in the market, rich nations have been facing criticism for stockpiling doses multiple times more than they actually need.
Experts say while there was nothing wrong in waiting for the jabs to arrive under grant or through the global vaccine-sharing facility, the government should have continuously made efforts to get as many doses at the earliest possible.
According to doctors, the vaccine is as good as a commodity and it's about standing in line with money in hands, rather than holding out a begging bowl all the time.
"No one will raise questions even if the government takes a loan to buy vaccines, if in case it is short of money," said Onta. "If the government has not been able to buy vaccines, then it is not because of a shortage of money, but because of a lack of interest, failure to make it a priority and a bungling of diplomacy."
---
---