Vaccination rate dismal even as cases are surging with only 100,000 taking Chinese shots
Poor planning on accessibility, target groups, and awareness campaign; and vaccine hesitancy cited as reasons.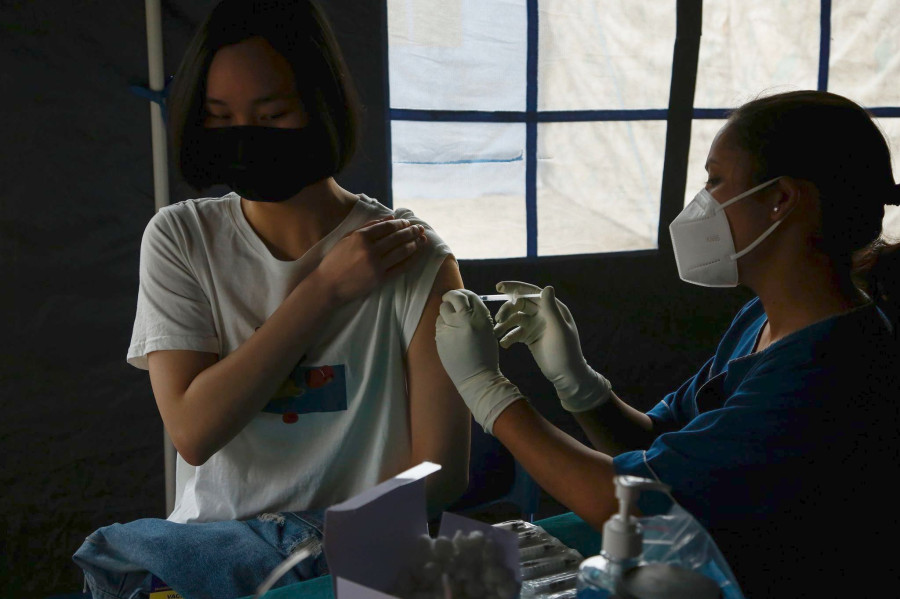 Prakash Chandra Timilsena/TKP
bookmark
Published at : April 18, 2021
Updated at : April 19, 2021 07:35
Kathmandu
On Sunday 57-year-old Dibya Devi Kshetri reached Nepal Police Hospital at Maharajgunj in Kathmandu to get vaccinated against Covid-19.

The line of people waiting to get inoculated was a long one. After she waited for several hours in the queue, staff at the hospital told her and the others not to wait, as the hospital did not have sufficient doses of the Chinese vaccine to inoculate them.
"I waited more than three hours for the vaccine and then they said that we should not wait for the jabs," Kshetri complained. "I would not have come and waited for hours had they informed me that they did not have sufficient doses."
And then the hospital administration asked over 300 people, who reached the hospital seeking immunisation, to wait. It sent hospital staff to the central vaccine storage site at Teku to bring more vaccines and finally inoculated them.
Kshetri was one of them but others elsewhere had to return home without getting immunised against Covid-19 from centers like Om Hospital, Kathmandu and Nepal Mediciti Hospital, Lalitpur because of lack of vaccines there unless they persisted and went around looking where they could get immunised.
"My husband and I waited hours at Nepal Mediciti Hospital to get a coupon to get inoculated," a woman in mid-30s, who is pursuing higher education in China, told the Post, asking not to be named.
But when they couldn't get a coupon, they tried their luck elsewhere.
"We came to Police Hospital, as we could not get a coupon at Mediciti since the queue was too long and people started to quarrel," she said. "But it was not easy to get shots here either."
It is not that Nepal has run out of vaccines.
Although Nepal began its vaccination campaign on January 27 with Covishield [AstraZeneca] vaccine manufactured in India, with its stock depleted and no certainty when the additional doses will be available again, it stopped vaccinating people with the AstraZeneca vaccine, and began using the 800,000 doses of Covid-19 vaccine provided by China under grant assistance from April 7.
But only around 100,000 of the Chinese vaccines had been used as of Sunday, according to Jhalak Gautam, chief of the National Immunisation Programme.
"Despite having thousands of doses of vaccine in stock, we have not been able to immunize our people," Dr GD Thakur, former director at the Epidemiology and Disease Control Division, told the Post. "What could be a shameful failure than this. It is not because we do not have vaccines, capacity and human resources but people in authority are not taking the risk seriously."
The reason for such a low intake although this phase of the vaccination campaign ended Sunday seems to be inadequate planning by authorities.
The government first targeted all essential workers, who the government defined as postal and telephone service providers, public transport workers; water supply and distribution staff; tourism sector—hotels and restaurants—employees, and workers engaged in production, sale and distribution of medicines, electricity supply, storage and transportation of consumer goods; businessmen and truck drivers who need to travel to China frequently; and Nepali students pursuing higher education in China but stuck in Nepal due to the pandemic.
It then included people between 40 and 59 years of age from March 12.
According to sources within the Ministry of Health, reasons included only 23 immunization centers operated to administer the Chinese vaccines. There was also confusion about who are essential workers and who are not, lack of awareness drive, and hesitation among the public about the efficacy and safety of the Chinese vaccine.
"Failure to immunise more people is a management issue and reasons behind it can be answered by Health Ministry officials only," Dr Shyam Raj Upreti, coordinator of Covid-19 Vaccine Advisory Committee, told the Post.
Upreti is a retired civil servant but is in the committee the ministry formed.
Experts have said that inactivated BBIBP-CorV vaccine, developed by
Sinopharm, an affiliate of the Chinese state-backed pharmaceutical giant Sinopharm, is safe and well tolerated as reported in The Lancet. Last December, Sinopharm announced the vaccine's efficacy is 79 percent. But Nepali authorities seem not to have publicised these facts.
According to Gautam, immunisation with Chinese Covid-19 vaccine was slow, as people did not seek immunisation in the initial days.
"In the beginning people did not come and waited for others to take the jab first and now when the programme is going to end, a lot of people are seeking the jabs," Gautam told the Post.
As for the reason why it was not administered from more centres, Gautam said that the vaccine could not be provided from many centers, as a decision was made to inoculate from hospitals only.
"We will continue the programme from some centers and resume after April 24," he said.
While the government has not been able to make use of the vaccines at its disposal, the number of Covid-19 cases has been rising.
The Ministry on Sunday said 1,096 cases were recorded in the last 24 hours, the first time since December 11 that the number crossed the 1,000 mark.
More worryingly, the case positivity rate was 19 percent on Sunday. Anything more than five percent is a cause for concern, according to doctors.
Of the total infected people, 435 are from the Kathmandu Valley. The number of active cases across the country stands at 6,290. According to data provided by the Ministry, of the total infected in the last 24 hours 112 are under 20 years of age.
Nepal has so far reported 284,673 cases of coronavirus infections and a death toll of 3,083.
Doctors say that a lot more people might have been infected and the virus has spread in society several fold more than the daily case count, as evidenced by the growing pressure on hospital beds and on intensive care units.
"We have only three intensive care unit beds vacant for additional patients," Dr Achyut Raj Karki, Covid-19 focal person at Bir Hospital, told the Post. "The remaining three beds will be occupied until the evening."
After that the hospital will have to turn back patients. It has a total of 10 intensive care unit beds allocated for Covid-19 patients.
According to Karki, even beds in the general wards are getting occupied by infected patients of late.
The story is similar at the Tribhuvan University Teaching Hospital, Maharajgunj. Of the 12 intensive care unit beds allocated for Covid-19 patients only four remain unoccupied.
"If the trend goes like this, all the beds will be occupied within the next couple of days," Dr Niraj Bam, an associate professor at the Institute of Medicine, told the Post.
He said that the hospital has allocated 60 general beds for Covid-19 patients and over half of them are currently occupied.
According to the data provided by the Ministry of Health, 116 infected people whose conditions are serious, are receiving treatment in intensive care units of various hospitals across the country and 46 others, whose conditions are critical, have been placed on ventilator support.
But those coming to hospitals could only be the tip of the iceberg.
"More people might have been infected in society and the infection might have been spreading more rapidly than we think," said Bam.
According to him, a lot of people, with cough, common cold, sore throat and fever are at home thinking that it is only a common cold they are suffering from.
"Both severity and death rate will rise in coming days if we fail to take preventive measures, increase hospital beds and make other preparations," Bam said.
---
---