Money should be no issue for government to procure Covid-19 vaccines, experts say
Public health experts react after government publishes a notice seeking contributions to vaccinate Nepalis saying saving lives is its legal and moral responsibility.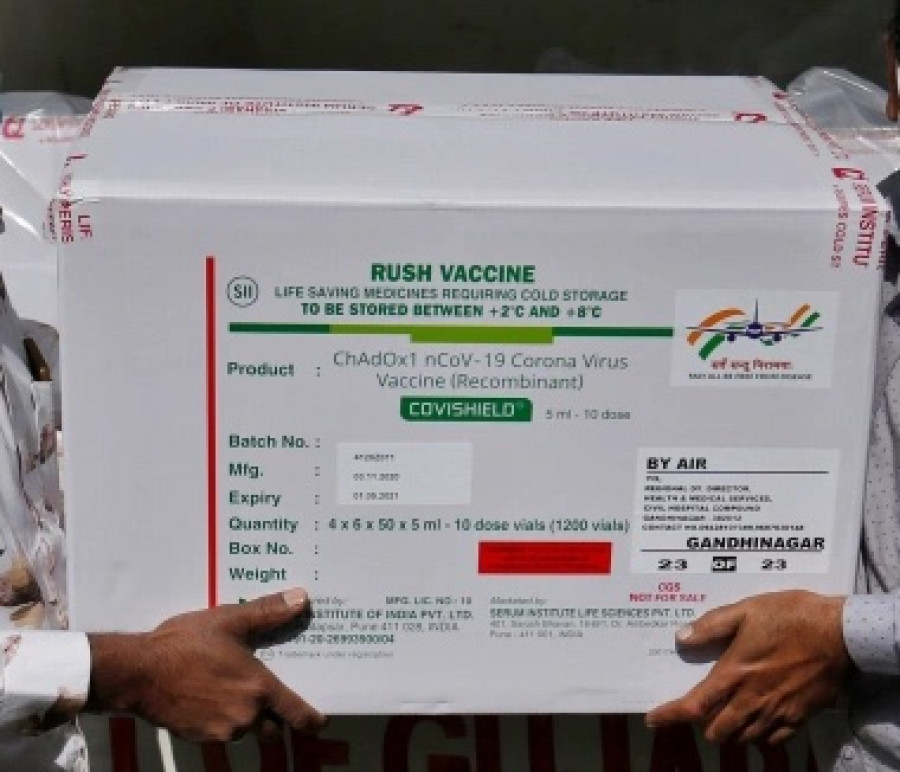 Covishield, one of the two vaccines made in India, is Nepal's choice against Covid-19. Reuters
bookmark
Published at : January 13, 2021
Updated at : January 14, 2021 08:21
Kathmandu
The government has money to hold parliamentary elections which costs billions. But apparently it does not have the resources to buy vaccines to protect its people from Covid-19 and save lives which would also rescue the economy.

The Ministry of Health and Population on Wednesday published a notice asking international aid agencies, businesses and social organisations and philanthropic organisations to contribute to the immunisation fund.
"As per the November 9 Cabinet decision, purchasing vaccines which will get emergency use approval and provide them free of cost for targeted groups on a priority basis will cost a huge amount," reads the notice. "The Nepal government requests foreign aid agencies, businesses and social organisations and philanthropic organisations to deposit amounts in the immunisation fund of which the bank account is provided."
Public health experts have lambasted the government for seeking funds to protect the lives of the people.
"Financial resources should not be an issue, while procuring the coronavirus vaccine," Dr Sudha Sharma, former health secretary, told the Post. "Saving lives of the people from the pandemic is the constitutional as well as primary moral responsibility of the government."
The call for contributions to fund the purchase of the vaccine could delay its procurement to the detriment of people's health, they said.
"The government can request aid agencies and other philanthropic organisations for financial help, but that should not be the cause for delay in vaccinating the people," Dr Sarad Onta, a public health expert, told the Post. "Authorities should be prepared to buy vaccines at the earliest even if they have to spend internal resources."
The Cabinet meeting on November 9 had decided to buy coronavirus vaccines, which have received emergency approval and administer them to people free of cost on the basis of priority with those at risk getting vaccinated first.
It has estimated that Rs48 billion would be required to inoculate 52 percent of the population.
As children under 15 years of age, who constitute 28 percent of the population, can't be immunised as vaccines haven't been tested on them, only 72 percent of the Nepalis will need to be vaccinated and the World Health Organisation's COVAX programme will provide vaccines for 20 percent of the population for free.
The Health Ministry has estimated that each dose of the vaccine will cost $10 including management costs which also involve transportation and storage. Each individual needs two doses of the coronavirus vaccine.
The Rs48 billion budget includes Rs2 billion as management cost of vaccines that Nepal will get through the COVAX programme, according to officials.
Government officials, however, do not see anything wrong with seeking funds for the procurement of vaccines.
"It is neither the first time nor is there anything unusual in seeking financial help for an immunisation programme from aid agencies." Dr Shyam Raj Upreti, coordinator of Covid-19 Vaccine Advisory Committee, told the Post. "The government can give businesses some tax concessions for contributing to the immunisation fund."
Doctors said that money would not and should not be an issue, after the government decided to purchase vaccines.
"Arrangement of financial resources should not be an issue and we should be ready to use our internal resources if we have to immunise our people at the earliest," Onta added.
The government is hoping for a breakthrough in talks with India to procure a coronavirus vaccine during Foreign Minister Pradeep Gyawali's Delhi visit which is set to begin on Thursday.
Nepal is looking to procure vaccines to inoculate 12 million in the first phase and India is the preferred source, according to Minister for Health and Population Hridayesh Tripathi.
Nepal's Ambassador to New Delhi Nilamber Acharya has held two rounds of talks with senior officials of the Pune-based Serum Institute of India and met senior officials of Bharat Biotech in order to speed up the vaccine procurement, according to officials.
India is the world's largest producer of different kinds of vaccines and the Serum Institute of India has started rolling out the production of Covishield of the pharmaceutical giant AstraZeneca which Oxford University developed.
Bharat Biotech is manufacturing Covaxin that has been developed in India but has not completed Phase III trials.
Nepali authorities prefer Covishield since the country's storage facilities support it.
"If the vaccines developed by Oxford University and AstraZeneca are not possible, we will look at another option—Covaxin, which is developed by Bharat Biotech," Dr Roshan Pokhrel, chief specialist at the Health Ministry, told the Post.
As India has restricted the sale of vaccines until its citizens are sufficiently inoculated, Nepal is looking to the Indian government to facilitate procurement, according to officials.
In November the government had sent separate diplomatic notes to China, India, United Kingdom, Russia and the United States of America, which are producing Covid-19 vaccines. In December it had also requested the Indian government for help to buy a vaccine sufficient for the 20 percent Nepali population while it is procuring for its population.
Meanwhile, the Ministry of Health and Population said that it is unaware of the supply of the Russian "Sputnik V' vaccine.
News agency Reuters on Tuesday reported, quoting RIA news agency, that Russia intends to supply 25 million doses of Sputnik V vaccine.
"For the vaccine to be brought to Nepal, it should first get a licence, and second the storage system of the country should support it," Dr Shyam Raj Upreti, coordinator of Covid-19 vaccine advisory committee, told the Post. "Neither has the [Russian] vaccine got a licence nor does our existing storage system support it."
Upreti said that the Health Ministry has not made any effort to buy Russian vaccines.
Doctors say that getting a coronavirus vaccine on time lies in successful diplomacy but not all doctors are very optimistic about the government's success in this regard.
"Expecting something good from the incumbent government is futile," Dr Kedar Nursing KC, former president of Nepal Medical Association, told the Post. "We hope the authorities will take the vaccine procurement issue seriously, as it is linked with the public's safety."
Doctors have said that will be a huge blunder, on part of the government if financial constraints are made an issue to procure vaccines, like in the case of conducting adequate polymerase chain reaction tests.
A Cabinet meeting on October 5 had decided to perform free tests and provide free treatment for only those who cannot afford to pay and to single women, disabled people, frontline health workers, security personnel and cleaning staff, saying it lacked the resources for free services for all.
The decision was enforced by the Health Ministry from October 17 but was reversed later after a Supreme Court ruling. However, contact tracing has stopped since then and as a result the number of tests has done down dramatically as has the number of people testing positive. From a high of 5,743 testing positive for the coronavirus on October 21, the number of positive reports lately is lower than 500 per day.
Public health experts have repeatedly said that the number of positive cases has gone down because the number of tests has decreased.
As of Wednesday, the total number of positive cases in the country stood at 266,143 with 1,937 deaths. On Wednesday, the Ministry of Health and Population reported that 445 had tested positive out of the 4,154 tests conducted and five had died within the last 24 hours.
---
---