Most Covid victims have died untested, with infections detected after death
Doctors are questioning why they weren't tested earlier since most of them had been living in quarantine, and why they didn't receive proper medical attention.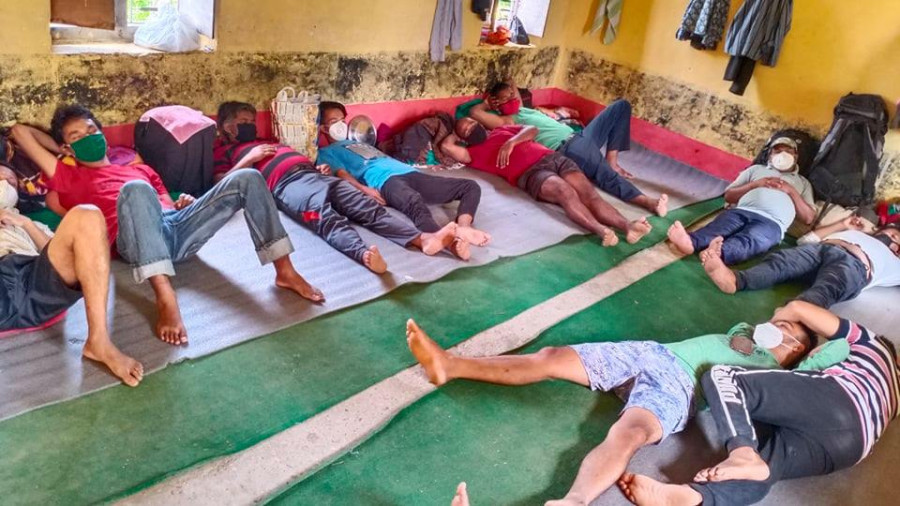 A quarantine facility set up at Narayan Campus in Narayan Municipality, Dailekh. Experts have pointed to the need to improve quarantine facilities. Post File Photo
bookmark
Published at : June 8, 2020
Updated at : June 8, 2020 07:28
Kathmandu
Of the 13 people who've died in Nepal of the coronavirus as of Sunday, a majority have tested positive for Covid-19 only after their deaths, raising questions behind their causes of death and why they were not tested earlier.

Some have even tested positive a week after their death, when their bodies had already been cremated by their families. Samples from a 70-year-old man who died on May 17 at the National Medical College's teaching hospital in Birgunj tested positive for Covid-19 on May 25.
Among the 13, a 29-year-old woman from Sindhupalchok tested positive three days after death; a 25-year-old man from Banke died in quarantine at Narainapur and tested positive after death; a 35-year-old man from Arghakhanchi died on May 23 but tested positive only on May 28; a 35-year-old man from Dailekh died in quarantine on May 30 and tested positive after death; a 28-year-old man from Surkhet, who died on June 4, tested positive for Covid-19 after death; a 45-year-old man from Palpa, who died on June 2, tested positive on June 4; and a 55-year-old woman from Dhangadhi tested positive after death.
Most of the 13 deaths have been attributed to respiratory ailments like pneumonia, tuberculosis and asthma, which the government believes is a result of Covid-19 complications.
According to Dr Roshan Pokhrel, chief specialist at the Health Ministry, most of the deceased had underlying conditions that the coronavirus infection could've made worse.
However, the cause of death cannot be firmly established without an autopsy and the government has not performed autopsies on any of the deceased. According to the Health Ministry's guidelines, it considers any death of a person with a coronavirus infection as a Covid-related death.
Without establishing the cause of death, it is impossible to know the Covid-19 actual mortality rate in the country, say doctors.
The government is also not conducting tests on all those in quarantine, which is where most people were living when they died. Had they been tested, perhaps their deaths could've been prevented, say doctors.
"If the authorities had performed tests earlier, most of the deceased would have been diagnosed before their deaths," Dr Anup Bastola, spokesperson for the Sukraraj Tropical and Infectious Disease Hospital, told the Post. "Due to failure to collect specimens and conduct tests, people are dying in quarantine."
According to officials, they don't have the capacity to test all of the thousands in quarantine. There aren't enough rapid testing kits and only 21 laboratories across the country can perform polymerase chain reaction tests, which can now take up to a week due to the backlog.
The Health Ministry's policy is to only conduct PCR tests on those who display symptoms of Covid-19.
Doctors say that the condition of quarantine facilities themselves is also partly to blame for the fatalities.
"People dying in quarantine and the cause of deaths being established after several days means clinical evaluation is not being done properly in quarantine," said Bastola. "If the condition of quarantine facilities is as portrayed in the media, there are huge problems that need to be addressed if casualties are to be prevented."
Most quarantine facilities across the country are makeshift and lack basic facilities—running water, separate toilets, separate rooms, and separate kitchens. Most facilities are also overcrowded with hundreds of individuals crammed into quarters meant for a few dozen.
The National Human Rights Commission said on Saturday that people dying in quarantine centers due to Covid-19 infections was a cause for concern.
The commission also drew the government's attention to the quarantine centers that don't meet the minimum standards.
"Currently, there are more than 167,000 people in quarantine," said the commission. "In view of the rising number of cases, the crisis could continue."
The commission also called on the government to properly manage the quarantine centers and expand polymerase chain reaction tests for those who are being quarantined.
"All those who died in quarantine might not have died had the authorities conducted proper screening," Dr Baburam Marasini, former director of the Epidemiology and Disease Control Division, told the Post. "Despite knowing that quarantine [centre]s are turning into virus breeding grounds, we haven't been able to improve them."
According to Marasini, people with underlying conditions should never be placed in quarantine facilities in the first place, as they run a bigger risk of contracting, and succumbing to, the virus. Such people could also need immediate medicare care.
"Those with underlying conditions, the elderly and pregnant women should be kept in isolation in hospital, and ambulances need to be on standby to take patients to hospital," said Marasini. "The authorities really need to take the management of quarantine seriously to ensure that there is no transmission of the coronavirus."
Although there is still debate on the risk of catching Covid-19 from a dead body, Marasini believes that care should be taken, as bodies can contain fluids like salvia. The Health Ministry has issued separate guidelines for handling an infected body, which can be done by trained persons with personal protective equipment. But due to delays in testing, health workers and family end up handling the body, putting them at risk of contracting the virus and spreading it further.
According to Health Ministry officials, they are cognizant of the rise in deaths in quarantine and are looking at improvement measures.
"We have discussed the need to improve the conditions of quarantine, conduct more tests and prevent the spread of infections," Pokhrel, the Health Ministry specialist, said. "We are also working to buy a polymerase chain reaction testing machine that can conduct more tests at one time."
---
---