Kagbeni flood displaces scores of people in Mustang
The disaster occurred after the Kag river, dammed by a landslide, burst, flooding the lower reaches on Sunday.

The flooding of the Kag river swept away 29 structures including homes and hotels and caused damage to 13 more in Kagbeni in Mustang on Sunday evening. Scores of people have been displaced. The mud debris brought by the river either buried homes or washed them away. Photo: Courtesy of Anup KC, chief district officer, Mustang
bookmark
Published at : August 14, 2023
Updated at : August 15, 2023 07:25
Myagdi
A flood in the Kagbeni River on Sunday washed away 29 houses and displaced more than 150 people.
The disaster occurred after the river, dammed upstream by a landslide, burst flooding the lower reaches.
As per the preliminary disaster report of the District Disaster Management Committee, the floods swept away 29 houses, a motorable bridge along the Jomsom-Korala road section; a suspension bridge, 12 vehicles—including an excavator at the bridge construction site—and three temporary bridges.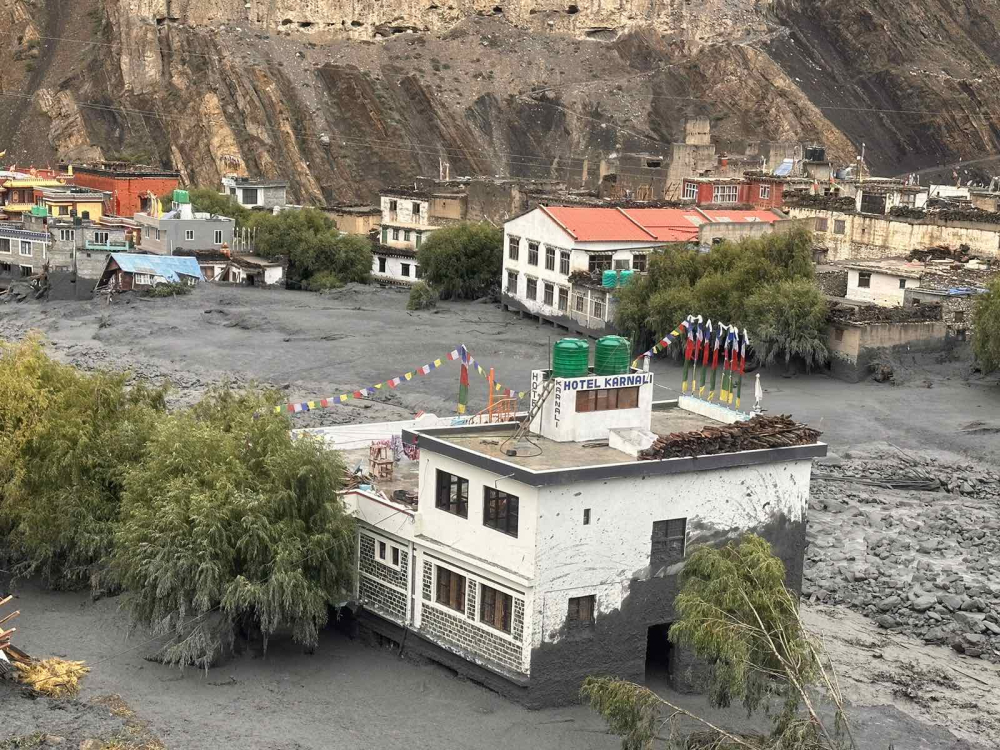 "The flooded river has caused widespread damage in Kagbeni settlements. We are travelling on foot to the flood-hit area as there are roadblocks in several places along the way," said Chief District Officer Anup KC.
The flood also buried an inn for travellers. Tourists and locals alike took shelter in safe places on Sunday night, informed KC.
The displaced locals have been seeking shelter at the rural municipality's office buildings and community halls while others have taken shelter with their relatives.
"People could escape the disaster since it occurred in the evening," KC added.
Hotel operators and workers have been displaced in the hundreds. According to KC, it will be a challenge to manage the seasonal workers.
"Although arranging food material for a few days will not be a problem, it will be tough to make arrangements to send them back home due to financial constraints," KC added.
---
---