Dalit students at a disadvantage in under-resourced community schools
Most villages in Kaski are emptying out due to outmigration with only impoverished Dalits left behind. With no other option, their children go to schools riddled with problems.

Children admitted to Janasewa Basic School in Phuliwang for elementary education. Photo courtesy: Anita BK
bookmark
Published at : August 10, 2023
Updated at : August 10, 2023 07:49
Pokhara
Phuliwang in Annapurna Rural Municipality-10 is a picturesque village around a three-hour bus ride and then an hour's walk from Pokhara. The village was originally inhabited mostly by the indigenous Gurung community and Dalit community.

Today, most of the Gurung families have moved away to the cities and if the Dalits had options they would too, for a better life elsewhere, says Ramshree BK, a local woman.
"Well-off families, mostly non-Dalits from the village, left for cities seeking a better future for their children. They have the resources to send their children to private schools in the cities so they left," said Ramshree. "But we don't have the same resources so we have to stay back and send our children to village schools hoping the education they are receiving will be useful."
Two of Ramshree's grandchildren attend the Janasewa Basic School in the village while one granddaughter goes to Uma Secondary School in the neighbouring Dangsing village.
Ramshree's worry for her grandchildren's future is not unfounded. In the last academic session, 12 students sat the Secondary School Examination (SEE) from Uma Secondary School. Their average GPA score was 2.41 while the maximum a student can get is 4.
"The children aren't doing very well academically," said Ramshree. "It could be because of the quality of education they are receiving at their school."
Of the total 29 students at Janasewa Basic School which runs classes from Early Childhood Development (ECD) to grade three, 26 are Dalits while three are from the Gurung community. The lack of teachers has affected the quality of education at the school, says Anita BK, the principal. The school has a total of three teachers with the ECD facilitator also being assigned to teach students in higher classes. "The ECD department is handled by an assistant. We need one more teacher, but haven't been able to hire one due to budget constraints," said Anita.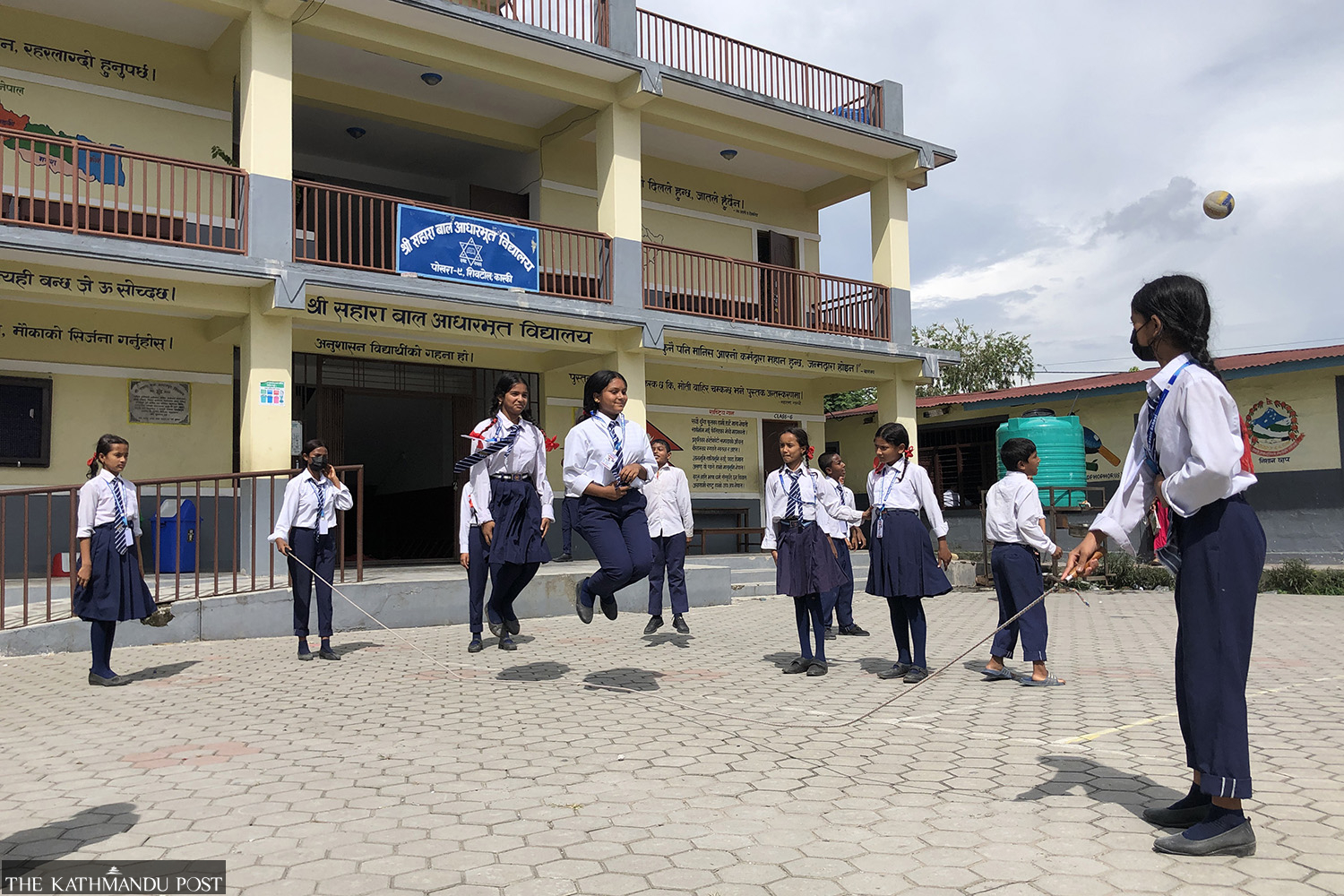 Children of Sahara Children's Basic School at Shivatole, Pokhara play during their tiffin break in this recent photo. Deepak Pariyar/TKP
Dangsing village, where Uma Secondary School is located, is another Gurung-dominated village interspersed with some Dalit households. The school has a total of 117 students—98 of them Dalit. The school has recruited two private teachers as they were short-staffed. Currently, the school has 14 teachers—two for ECD, 10 government-appointed and two hired privately. "We need to hire one more teacher to run classes smoothly. We depend on donations to give the privately hired teachers the minimum pay," said principal Buddhi Bahadur Gurung.
Like in Phuliwang, non-Dalit families who can afford have sent their children to schools in the cities while Dalit students attend the local schools. In Kimche village, which is an hour's walk from Phuliwang, 95 percent of students attending the village schools are Dalits.
There are a total of 51 community schools in Annapurna Rural Municipality, Kaski. According to the data of the Educational Management Information System, there are 4,033 students from child development centres to grade 10 in the rural municipality. Among them, 2,057 (around 51 percent) are Dalit students while around 28 percent of students are from the Khas-Arya cluster and 20 percent are indigenous Janajatis.
According to the Education Coordination Unit in Kaski, the student number is quite low in rural areas and Dalit students outnumber students from other communities in most of the settlements.
Tanchok Basic School in Majhgaun in ward 7 of the rural municipality has 27 students in the current academic year. Twenty-five students are from Dalit communities while there is one each from Khas-Arya and Janajati communities. At Vidya Jyoti Basic School in ward 8, there are just nine students and seven are Dalit.
According to the national census 2021, Annapurna Rural Municipality has a total population of 22,099—Khas-Arya 37 percent, Dalit 34 percent, Janajatis 28 percent and one percent others.
However, the demographic component is not the main reason behind the good number of Dalit students in community schools in rural areas. It has more to do with the economic condition of Dalit families.
"It is an economic issue. Well-to-do families are mostly non-Dalit in the villages. Most of them have houses in the cities as well and they prefer to keep their children there for better educational opportunities," said Karna Bahadur Nepal, a retired community school teacher. "It wouldn't have mattered which school you send your children to, but the quality of education in community schools is below par which raises questions about the future of Dalit children."
Community schools in rural areas are riddled with numerous problems that deprive the students of quality education.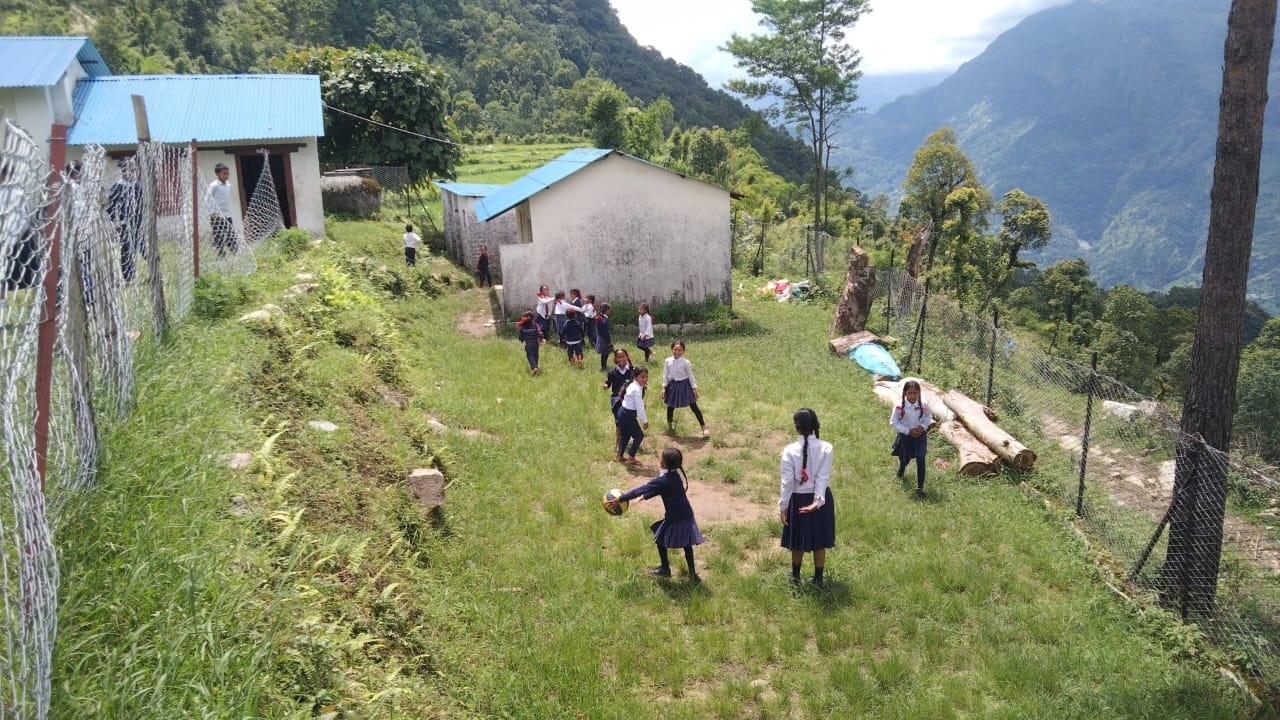 Children of Janajagrit Basic School at Luyara in Kaski district play during their tiffin break, recently. Most community schools in rural Nepal are understaffed and underfunded. Photo courtesy: Ramji Devkota
Ramji Devkota, the headmaster of Luyara-based Janajagrit Basic School in ward 5, admits that the school is unable to impart quality education due to the lack of resources. "The school does not even have a whiteboard. The only computer we have does not work. We have a shortage of teaching materials, printers and don't have a library," said Devkota. "We can't compete with city schools with the resources we have. We haven't been able to give the students the education they deserve."
The highest average GPA of community school students who sat the Secondary Education Examination (SEE) held in April was 3.17 while the lowest was 1.71, according to the result published in July.
Aavishkar BK, Thaman BK's son, is a grade 9 student at Prithvi Narayan Secondary School in Dhampus, a tourist destination in Machhapuchchhre Rural Municipality-7. In the last academic session, 25 students appeared for SEE from Prithvi Narayan Secondary School and the average GPA was 1.95.
"My son often complains that education is not good in his school. He wants to go to Pokhara and get enrolled in a private school. But I cannot afford to send him to a school in the city," said Thaman, a peasant.
Prithvi Narayan Secondary School has a total of 168 students out of which 128 are from the Dalit community.
According to the Education Coordination Unit in Kaski, there are a total of 51,804 students up to grade 10 in various community schools across the district. Among them 35 percent of students are from Dalit communities, 31 are Janajatis, 28 are from Khas-Arya and six percent are from other communities.
While Dalit settlements in Kaski are intact with only a small population moving out of the villages because of financial constraints, non-Dalit settlements are almost empty. This phenomenon has contributed to community schools being attended mostly by Dalit students.
"Six of every 10 houses of non-Dalit communities are empty now. The economic gap between Dalits and non-Dalits is ever-growing which leaves Dalits with fewer choices when it comes to their children's education," said Loknath Acharya, chief of the Education Coordination Unit in Kaski. "All parents wish to give their children the best education possible, but poor families don't have that luxury."
Dalits have always ended with the short end of the stick when it comes to education, social development and economic advantages, says sociologist Bishwa Kalyan Parajuli. Their only hope at breaking free from the societal chains which tie them to poverty is a chance at a good education and the poor quality of education in community schools is depriving them of a better future, he says.
The poor performance of community school students in Kaski in the SEE held in April is reflective of the quality of education students are receiving at community schools in Kaski, says Parajuli.
"Dalits did not have easy access to education until a few years ago. Since most of the students in community schools are Dalit, they are at a disadvantage because of the poor academic structure in those schools," said Parajuli. "Dalit students in the community schools affected by a shortage of means and resources are deprived of quality education. Some community schools have trained, skilled and competent teachers but most of the community schools fail to impart quality education due to weak regulatory bodies."
The class divide confines Dalit students to community schools but if the authorities are to take active responsibility to regulate community schools and provide them with more resources, the situation can be turned around, believes Parajuli. "Dalit children must have access to good education. Since their enrollment number is high in community schools, the onus now lies on the authorities to give them the best possible education in these schools."
Acharya, chief of the Education Coordination Unit in Kaski, says the unit plans to collaborate with the local bodies to improve education standards in community schools.
"We will formulate a proper programme, in collaboration with the local bodies, after holding discussions on which areas to pay attention to," Acharya told the Post. "We will hold meetings with the local bodies, officers of the social development and education department, and school principals and find ways to improve the quality of education in community schools in Kaski."
---
---