ICU facility in Pokhara's corona hospital lacks protective gears and proper management, health workers say
The hospital only has an eight-bed ICU, of which four beds are occupied.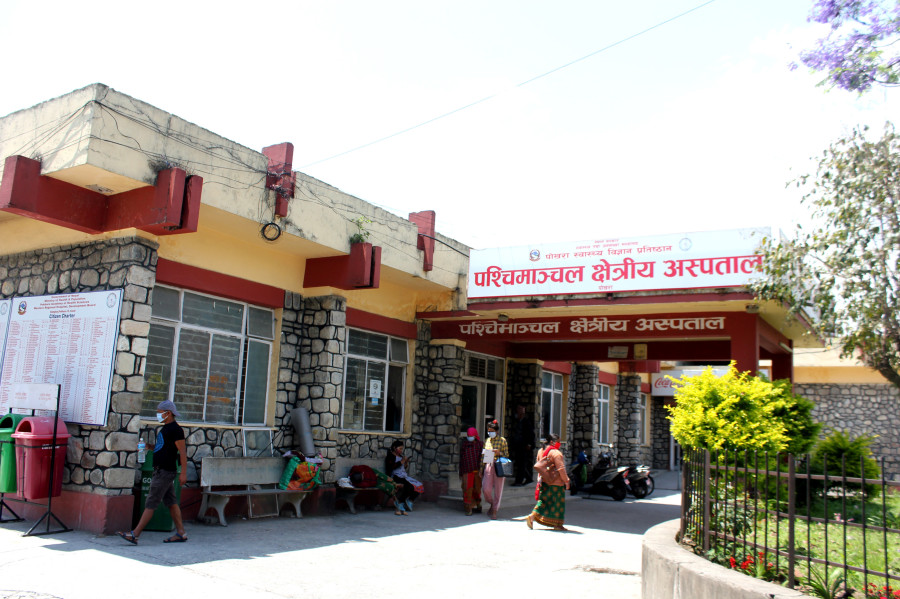 Post file photo
bookmark
Published at : June 22, 2020
Updated at : June 24, 2020 07:37
Kaski
Last week, a 63-year-old man from Syangja was taken to the emergency ward of Gandaki Hospital after he showed signs of fever and had difficulty breathing, two of the major symptoms of Covid-19.
As the man had recently returned from India, he was referred to the Intensive Care Unit, as the emergency ward does not treat possible Covid-19 patients. The ICU at the hospital already had three patients undergoing treatment of illnesses other than Covid-19 who were later transferred to other wards after the man was admitted. He later tested positive for the coronavirus. He is the first Covid-19-infected person receiving ICU care in Gandaki Hospital, which is designated as the Corona-specific hospital.
The ICU, however, is far from managed, and even health workers in the hospital decry the administration's lack of preparedness in handling the Covid-19 crisis. The hospital has pre-isolation and isolation wards, where the infected are placed. The patients are only admitted to the ICU when their health worsens. However, the hospital's ICU has only eight beds, of which four are occupied.
Health workers at the hospital point to the administration's negligence in preparing for the coronavirus crisis. Even those working at the ICU are without proper protective equipment, said a nurse, requesting to not be identified.
"We don't have N95 masks and face shields," she said. "We are making do with KN95 masks, which are different from N95. We are working under fear and uncertainty."
She added that the ICU lacks enough staff, as only three staff, including an incharge, a nurse and a health assistant, are handling the unit.
"Even those working at the ICU are not properly trained on handling coronavirus patients," she said.
Arjun Acharya, director of the hospital, said the hospital could not provide N95 masks to its staff because there's a shortage of it in the market. K95 and N95 masks work the same way, he said. Both KN95 and N95 are rated to capture 95 percent of 0.3 micron particles, though they have some differences.
---
---