Ajirkot Rural Municipality runs nutritious food programme for new mothers
Under the Maitiko Poshilo Kosheli Karyakram, women will receive a package consisting of a crate of eggs, one kg legumes, a nail cutter, soaps and a carry bag worth Rs 4,500 to 5,000.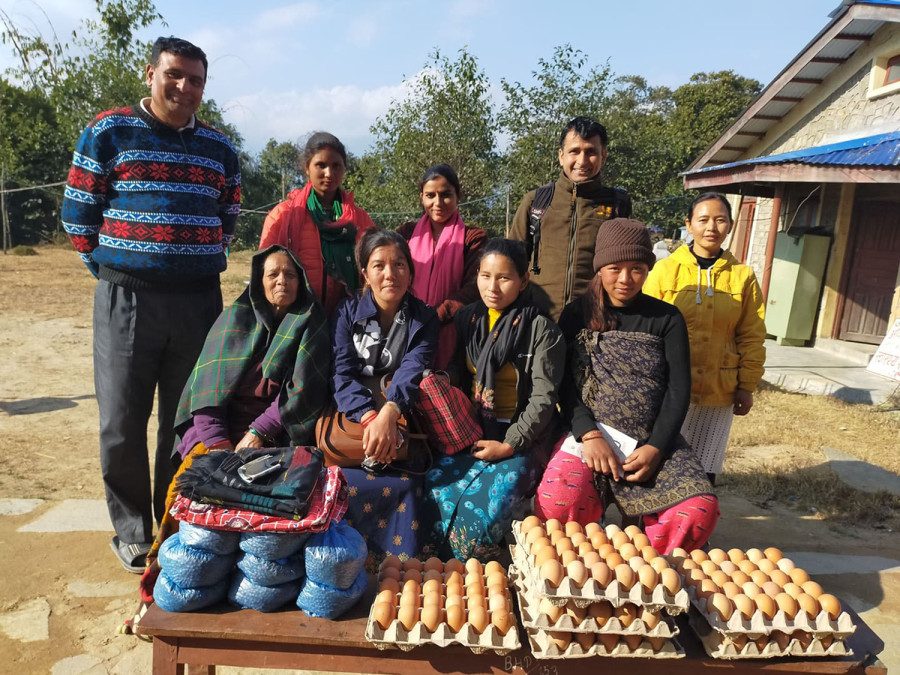 New mothers receive the nutritious food package that is worth nearly Rs 5,000 each in Gorkha. Photo courtesy: Sumana Shrestha
bookmark
Published at : February 8, 2020
Updated at : February 17, 2020 13:22
Gorkha
Nanuka Nepali, a resident of Gorkha, recently gave birth to her baby at Bhachchek Health Post. Earlier, the health post would conduct medical check-ups and provide counselling to postpartum mothers before they were discharged from the institution. But of late, the health post has started giving nutritious food to new mothers before they leave for their homes after delivery.
"I received one crate of eggs, a litre of cooking oil, 100 grams of thyme and 100 grams of fenugreek from the health post," said Nepali. "The health post also gave me a Dhaka shawl."
Ajirkot Rural Municipality launched the Maitiko Poshilo Kosheli Karyakram—a nutritious gift programme—about a month and a half back. New mothers like Nepali are happy with the municipality's new campaign.
In the last one and a half months, 56 postpartum mothers have received the nutritious food package from various health posts in the municipality.
"The programme hadn't started when I gave birth to my baby six months ago," said Bhanwana Devkota of Lapisbot. "But the health post called me and gave me the nutritious food package."
According to Devkota, the programme has encouraged pregnant women to undergo regular antenatal check-ups and give birth to their babies at health institutions.
Pregnant women who complete their third month of pregnancy and undergo antenatal check-ups at a health post in the rural municipality receive the package—which consists of a crate of eggs, one kg legumes, a nail cutter, soaps and a carry bag—worth Rs 4,500 to 5,000. "We also provide seeds of seasonable vegetables worth Rs 100 to pregnant women when they first visit the health post," said Sumana Shrestha, an auxiliary nurse midwife of Bhachchek Health Post. "Pregnant women should eat plenty of green leafy vegetables. We hope this will encourage them to grow vegetables in their fields."
According to health workers, the flow of pregnant women in the rural municipality's health posts has increased after the programme got launched.
"This programme has benefitted women, especially those from impoverished families," said Shrestha.
Suresh Duwadi, chief at the health section of the rural municipality, said the municipal office started the programme to prevent malnutrition in mothers and children.
"We don't have the exact number of malnourished children in the rural municipality, but we are now collecting data for future use," said Duwadi.
The rural municipality expects around 200 pregnant women to visit its health facilities to undergo antenatal check-ups in the current fiscal year.
"We have allocated Rs 1 million for the distribution of nutritious food for pregnant women," said Duwadi.
Pregnant women have to undergo antenatal checkups at certified birthing centres at Ghyachchok, Khairbot Bhachchek, Simjung Baluwa and Bhachchek in order to receive the package.
"The rural municipality will ensure safe pregnancy for all women," said Duwadi.
---
---