A Rajasthani culinary extravaganza
'Zing—World of Flavours' at Hyatt Place is serving authentic Rajasthani cuisine for a week.

Elite Joshi/TKP
bookmark
Published at : July 7, 2023
Updated at : July 7, 2023 11:00
Kathmandu
Housed in the premises of Hyatt Place, Soaltee Mode, Zing—World of Flavours is a restaurant that tantalises taste buds with its delectable fusion of regional and international ingredients. Drawing inspiration from roadside cafes and dive bars worldwide, they offer a menu brimming with specially crafted dishes. With a distinct South-East Asian influence and Italian-Mediterranean options, there's something for everyone.

Despite operating for just two years, the restaurant has gained a reputation for exceptional service and offers. Embracing the concept of a 'World of Flavours,' they showcase diverse tastes from around the globe. In an earlier campaign, 'Lost Cuisines of Nepal', they revived extinct Nepali dishes under the culinary expertise of their head chef, Baburam Sharma.
This time, they are highlighting Rajasthani cuisine with the special event, 'Padharo Sa,' featuring renowned chef Girish Singh Rajawat from Rajasthan, India. The promotion shines a spotlight on delicacies from the Northern Indian state.
Upon entering the restaurant, the staff warmly greeted me in the inviting ambience adjacent to the hotel lobby. The bustling kitchen area captured my attention, a stark contrast to how peaceful the rest of the space was. Chef Sharma, who has been working at the restaurant since its conception, supports and collaborates with guest chefs to ensure culinary excellence.
Rajasthani cuisine is known for its dry nature and minimal use of green ingredients, relying heavily on chickpeas and a curd base. Rajawat, who was brimming with enthusiasm for the event, remarks, "I find similarities between Nepali and Rajasthani food, and this is my first experience in Nepal."
Guests can expect an authentic taste of traditional Rajasthani fare through 'Padharo Sa' at the rooftop Zing Bar, which offers a panoramic view of the restaurant's swimming pool. The outdoor area of the bar accommodates smoking, while a serene indoor space is designated for non-smokers. The glass walls bathe the area in natural light, creating a pleasant ambience.
Thar Ke Papad
Price: Rs1,000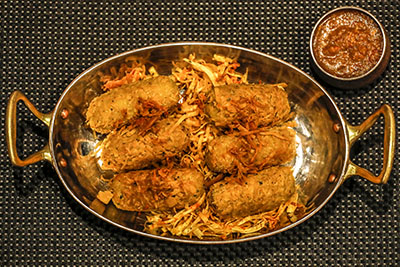 Elite Joshi/TKP
Thar Ke Papad combines dal crisps, sweet potatoes, ginger, and green chillies to create a unique snack. Its appearance initially confused me as it resembles vegetable rolls. However, upon tasting it, I discovered a delightful surprise. The crunchy exterior perfectly complemented the sweet potato filling, adding a touch of sweetness to each bite. Pairing it with chatni enhances the overall experience, as eating it alone can be somewhat bland.
Moreover, Thar Ke Papad is a good protein source and an excellent starter option.
Dhungari Laal Maans
Price: Rs1,805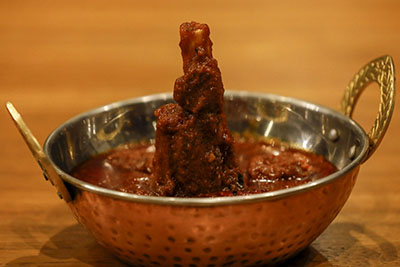 Elite Joshi/TKP
Dhungari Laal Maans stands out as one of Rajasthan's distinctive dishes. It is made with Mandava lamb, cloves, and the exclusive Maithaniya chilli (a unique kind of chilli that only grows in Rajasthan's arid climate). It is eaten with either rice, roti or parathas. We were served the Rajasthani Dupad Roti and plain rice alongside Dhungari Laal Maans.
I liked the harmony between the chillies and cloves in the dish. It paired well with the rice and roti. Chef Rajawat was very particular about using Maithaniya chillies for the dish, so he brought them from Rajasthan.
Those who can't digest spicy food well should opt out of ordering Dhungari Laal Maans.
Pitthod Ki Sabji
Price: Rs2,800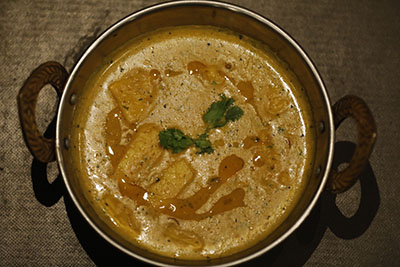 Elite Joshi/TKP
Pitthod Ki Sabji, a vegetarian dish prepared with chickpea flour, Bilona yoghurt, and other ingredients, provides a flavorful alternative to non-vegetarian options. Initially, I thought the dish was made from paneer as the texture is very similar. I only learned about its ingredients while conversing with the chef after my meal.
As someone who usually doesn't usually enjoy paneer or dairy-based dishes, I was pleasantly surprised by the creamy texture of Pitthod Ki Sabji and its excellent pairing with rice. The dish achieved a remarkable umami between sweetness and saltiness, with the sweetness pleasantly prevailing over the saltiness.
Chakki ka Saag
Price: Rs1,000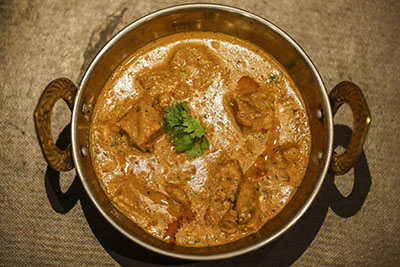 Elite Joshi/TKP
Pitthod Ki Sabji and Chakki Ka Saag may seem similar at first glance, but the latter incorporates additional ingredients such as wheat gluten, yoghurt, and chilli. It is made by washing wheat flour dough to create the 'Chakki.' This particular dish holds great significance for women in Rajasthan who follow a vegetarian diet for cultural and religious reasons.
With the first bite, I immediately noticed its resemblance to Pitthod Ki Sabji. However, Chakki Ka Saag stands out with its pronounced saltiness and subtle spicy kick, resulting in a unique flavour. While having it with rice, I couldn't help but draw parallels with another popular vegetarian dish—tofu curry.
Mussad Ka Daliya
Price: Rs930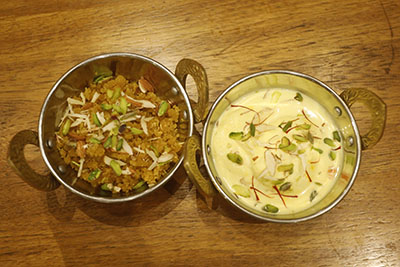 Elite Joshi/TKP
After the flavorful and heavily spiced meal (a trademark of Rajasthani cuisine), we were presented with a dessert to appease our appetite. Mussad Ka Daliya, a traditional Rajasthani mithai. Made with milk, yoghurt, ghee, and pearl millet, the Daliya resembles Gajar Halwa (carrot pudding) in its consistency.
Anyone with a sweet tooth—especially individuals who are fond of mithais—will probably like Mussad Ka Daliya.
Zing-World of Flavours
Location: Hyatt Place, Soaltee Mode, Kathmandu
Padharo Sa: July 7 to 15
Time: 6:30 pm onwards
Service options: Dine-in, Takeaway
Price: Inclusive of all taxes
Parking: Inside the hotel premises
---
---