A Mithila Thali by Santosh Shah
The winner of 'MasterChef: The Professionals Rematch' has opened a restaurant in Janakpur that serves an elaborate array of local dishes.

Ajit Tiwari/TKP
bookmark
Published at : June 29, 2023
Updated at : June 30, 2023 21:55
Janakpur
Upon turning slightly to the north from Janakpur's Ramnanda Dwar, one feels like they have entered a Mithila art gallery with all the beautiful paintings that deck the walls. Spicy and appetising 'achars' are stored in four clay mugs in the room. The space is a good representation of many Mithila houses in the country. A hay mat covers the floor. This is the setting of chef Santosh Shah's newly opened restaurant, Mithila Thali.

In 2021—right after he won Masterchef: The Professionals Rematch—Shah was greeted with huge fanfare at the airport when he returned to Nepal. He was even honoured with a garland that weighed 54 kilograms. Born in Karjanha municipality in Siraha District, he recalls his frequent visits to the Janaki temple to receive Sita's blessings. After his big victory, the chef wanted to visit the temple once again to express his gratitude towards the goddess and the city in general. "I have a huge soft spot for Janakpur," says Shah.
Last year when the chef was in Janakpur, his friend took him to a food joint. As he wanted to have something light, Shah ordered 'Jeera' (cumin) rice, but he was disappointed with what was served. It was stale and bland.
A few months after that, another event in Janakpur made him realise how the city doesn't have eateries that serve clean, fresh and tasty food.
Shah was taking a rickshaw and asked the driver to recommend a good place to eat. The rickshaw driver was taken aback by the question and responded after a few minutes of thinking, "There was a place that served great food. I'm not sure if they've maintained the quality till today." The chef was surprised that the man couldn't name any other restaurants known for good food.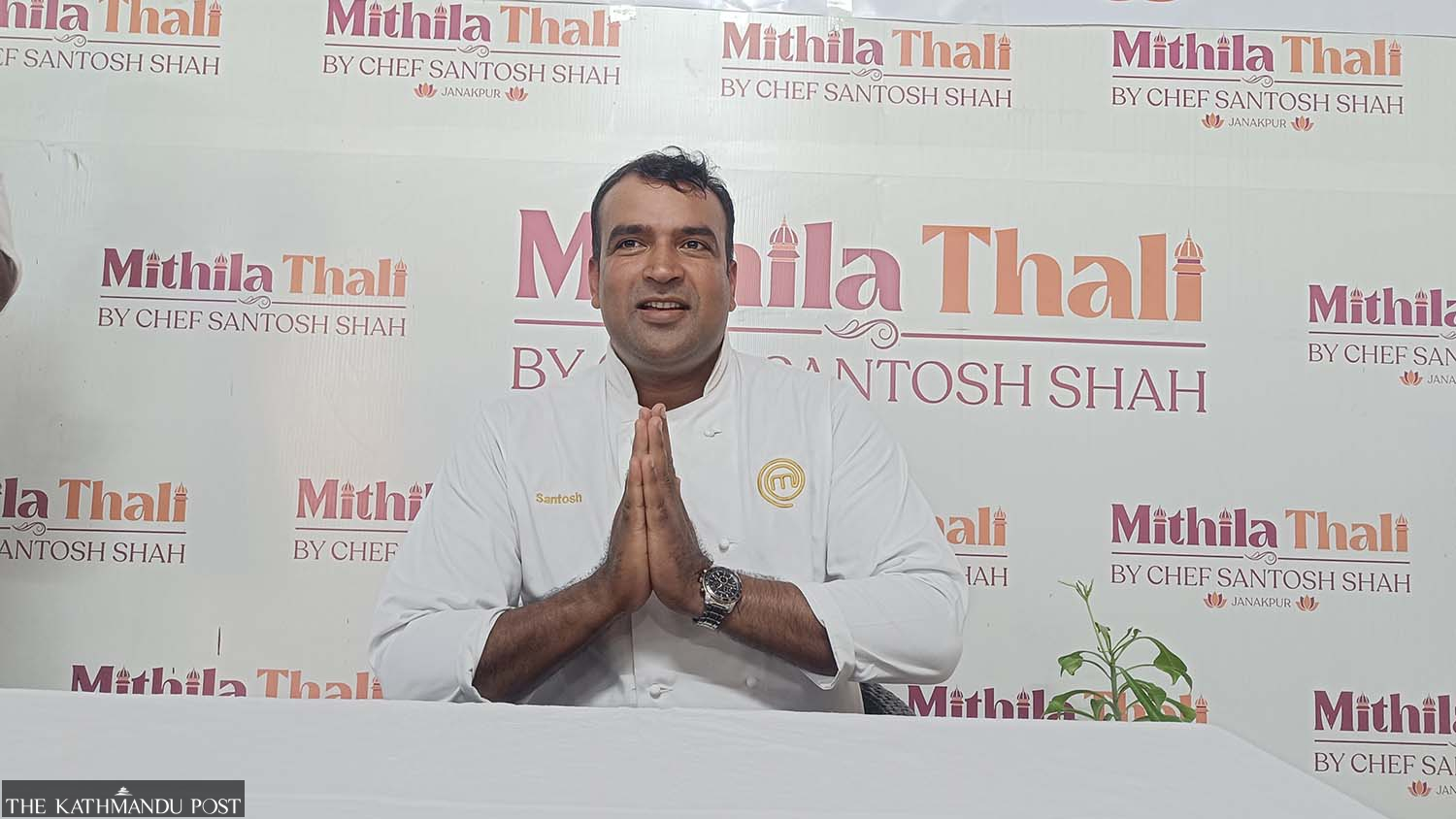 Chef Santosh Shah Ajit Tiwari/TKP
These events compelled Shah to open his own restaurant in the city. He believes Janakpur has delicious food, but because the eateries don't maintain the quality of their restaurant, the city's delicacies remain underrated. He also points out how varied the food items and flavours are and how everything is quite healthy. So, he got to work and has now launched his own restaurant.
The food item that everyone should try out at Shah's eatery is the 'Mithila Thali' itself—which offers fifteen items—including 'Biriya' (dried greens also called 'Gundruk' of Madhesh), 'Kadhi Bari', 'Alu Chokha', 'Alu Bhujiya', four types of 'Taruwa' (fritters made from vegetables), 'Tilauri-Fulauri', fish, locally grown rice, vegetables and peas. All of this is topped with hot ghee straight off of the fire.
"We do not compromise on food," says Shah, "There are eight chefs in the kitchen who ensure the food is up to the standard." The restaurant has two kitchens—one of which is designed like traditional kitchens from Mithila. Food is cooked in a traditional mud stove, and the spices are ground on a 'silauta' (mortar and pestle).
A team of five women prepare the food. Shah mentions that he prioritised hiring single mothers from the community to help them sustain their families better. He further revealed that Rs3 from every sale at the restaurant is donated to a local orphanage.
Shah is confident that within five years, he will have opened several outlets in places like Pokhara, Mugling, Kathmandu, Birgunj, and Biratnagar. As of now, he is preparing to open the second branch of Mithila Thali in Doha, Qatar.
"Many people approach me with restaurant ideas," says Shah. "If I wanted to, I could have opened a restaurant anywhere. But I wanted delicious options at Janakpur, so the first branch opened here. With time, many outlets of Mithila Thali will be available elsewhere."
---
---