A charming multi-cuisine cafe
Masala Beads Cafe feels like it came straight out of a Korean drama. So it is guaranteed to appeal to young people, particularly Gen Z.

Sarah Shamim/TKP
bookmark
Published at : March 24, 2023
Updated at : March 24, 2023 08:29
If you have been shopping for accessories and other trinkets from the popular Masala Beads store, you will be elated to know that the store has branched out to Masala Beads Cafe at Thamel, Jyatha. The appealing cafe is atop the new Masala Beads Thamel shop, opposite Hotel Holy Himalaya. You can explore Thamel's lively streets and easily find the cafe for a pleasant day out with your friends.

The cafe has a charming atmosphere and is themed after Studio Ghibli, a very popular Tokyo-based Japanese animation studio. Plushies of the beloved character Totoro from Studio Ghibli's 1988 Japanese animated fantasy film, 'My Neighbour Totoro' are placed in the cafe. The relaxing songs playing in the background, the interesting decor, neon lights, cool mirrors and other creative ceiling hangings are instant mood lifters. Even the bathroom area is beautifully embellished with postcards and shining mirrors.
The cafe's decor, ambience, and menu are a brand-new aesthetic for Kathmandu. It is located in a very tranquil setting with tons of greenery and frequent gushes of wind. The capacious environment gives you enough space where you can read a book, have a conversation or just devour your food. You can go to the cafe for a break after a long day, or it can also be your go-to spot for a weekend outing.
As the cafe feels like it could have come straight out of a K-drama, the cafe is guaranteed to appeal to young people, especially Gen Z, who are well-versed in Korean and Japanese shows. Masala Beads Cafe has a plethora of items on its menu. From Asian flavours to tasty snacks, fulfilling main course to delicious desserts and drinks, you are sure to return from the cafe carrying a food baby.
Iced Matcha Latte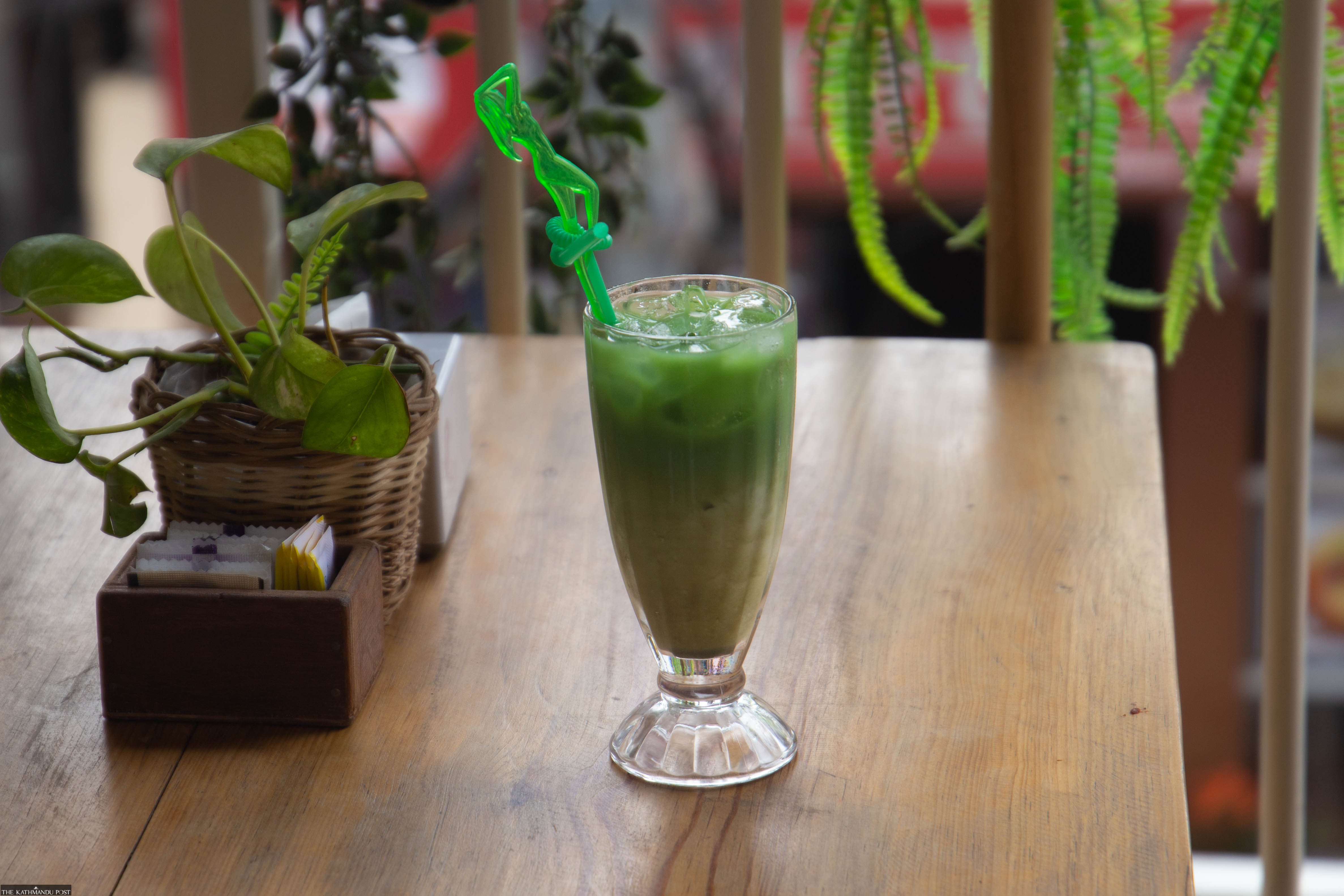 Sarah Shamim/TKP
Price: Rs330
The cafe offers an extensive drinks menu. After giving it some thought, I decided to start with a healthy option. Matcha is high in antioxidants and has a lot of health benefits. So, I went with the cafe's matcha latte. I was excited to try it because matcha-flavoured beverages and desserts are trending. The cafe provided both hot and iced lattes. I chose the latter. The matcha's emerald colour went well with the cafe's green decor. It was akin to a conventional cafe latte, but instead of espresso, matcha was used.
For someone who is not familiar with the matcha's taste, the drink might taste a tad bit bitter. But if you love matcha, this is the drink for you.
Thai Green Curry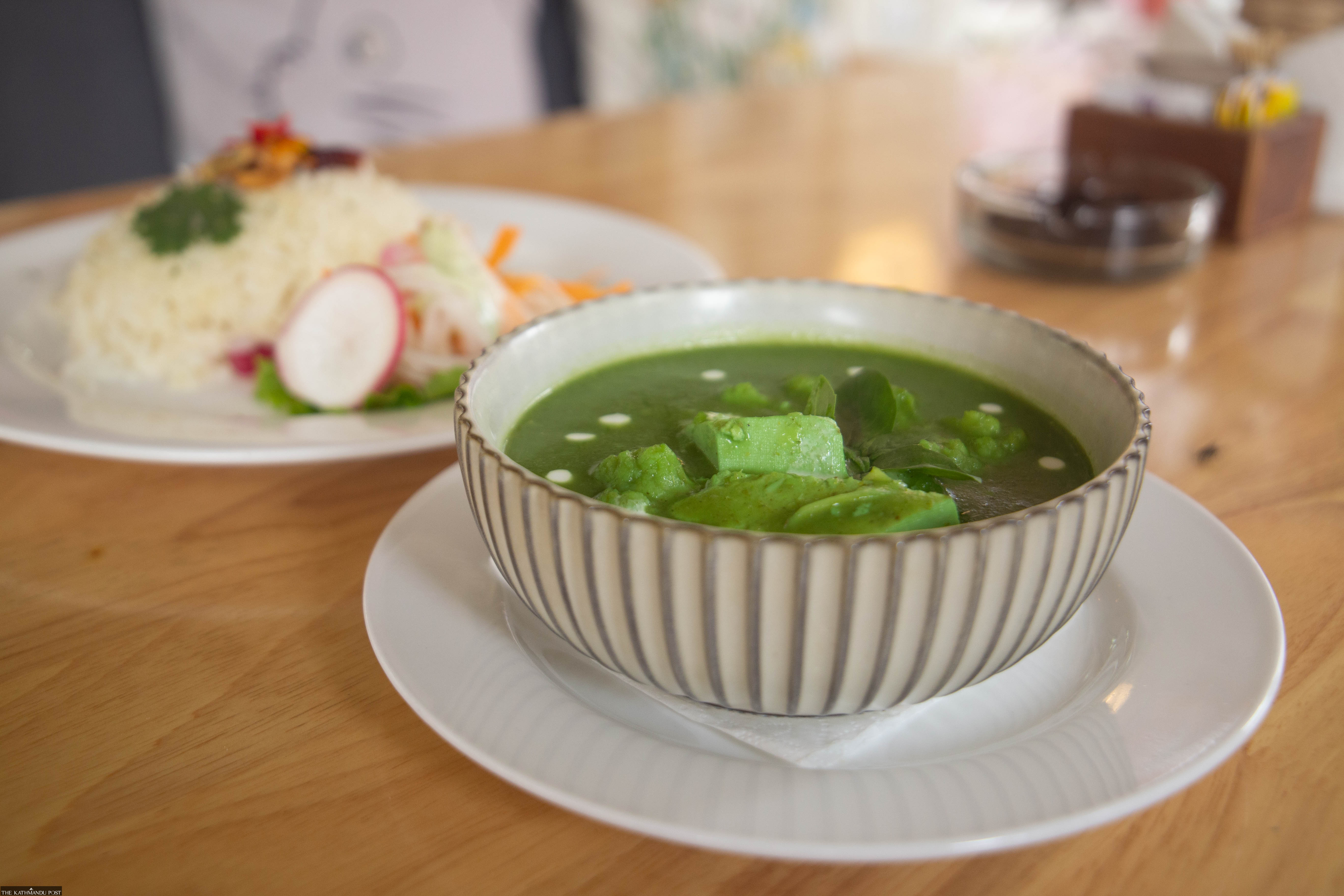 Sarah Shamim/TKP
Price: Rs480
The cafe's menu has a dedicated section called Asian Corner that features Asian delicacies. I had their Thai Green Curry with Tofu and plain rice. The curry was made with green curry paste using lemongrass, ginger, and green chillies. The coconut milk gave the curry a creamy texture. To go with the gingery sauce, it also had tofu (bean curd) and cauliflower. If you are not a big fan of ginger, the taste might not appeal to you. The ginger's tanginess might be something new compared to the Nepali palate.
This curry was more flavorful than most Thai curries I've tried. The Thai Green Curry, unlike our usual dal-bhat-tarkari, had different flavours and spices that left me wanting more. The rice that came with the curry was perfectly cooked and topped with fried aromatics. It's was a new flavour for me, but I highly recommend trying it.
Parsley Chicken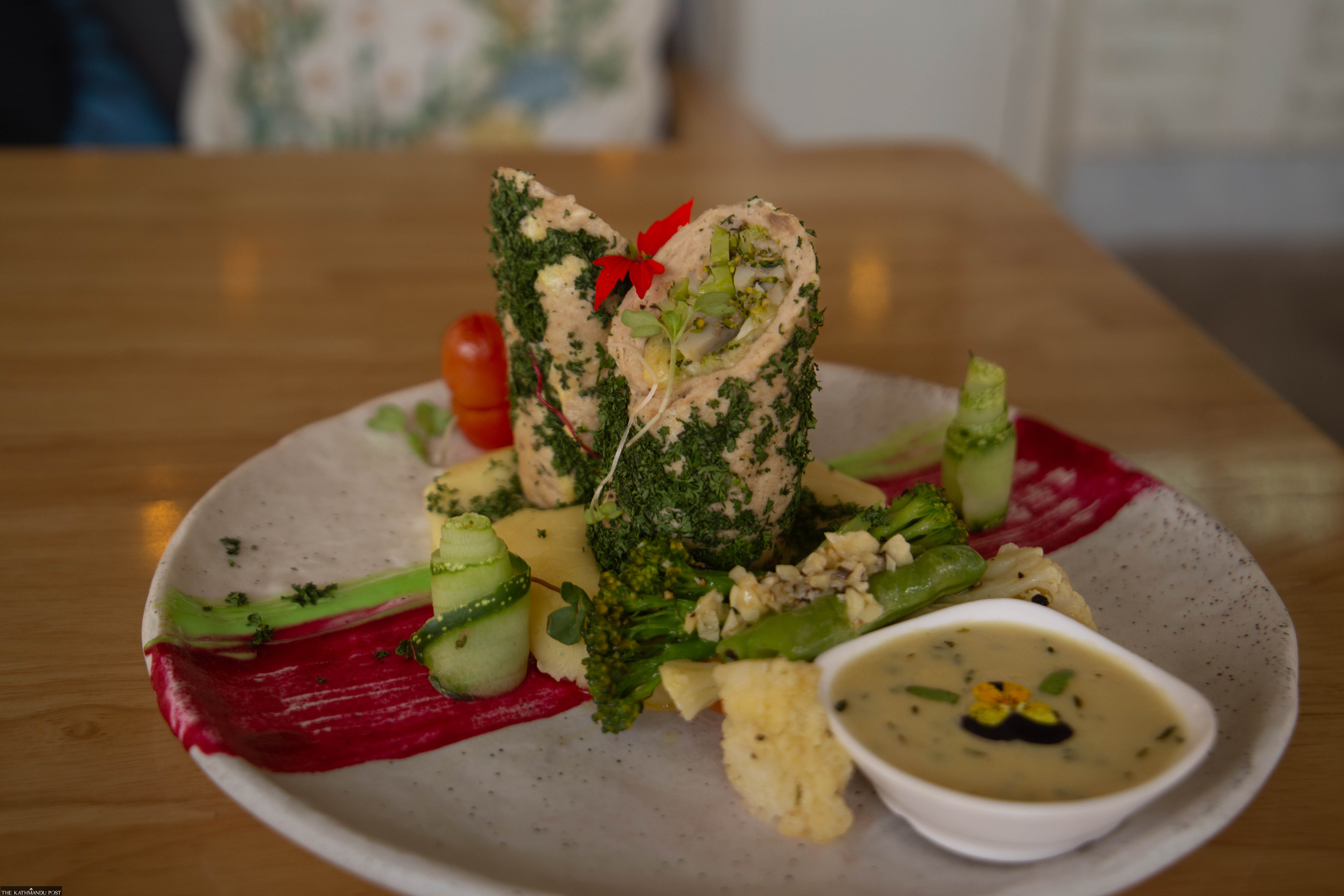 Sarah Shamim/TKP
Price: Rs680
The food presentation at Masala Beads Cafe deserves special mention. The plating of the parsley chicken impressed me. The day I tried the dish, I was told that it was a new addition to the menu—only three days old. The Parsley Chicken set had two chicken leg pieces stuffed with cheese, broccoli, mushroom, and thyme. The chicken was brushed with parsley and served with mashed potatoes. It had a good mix of protein and sautéed vegetables.
You will also get a mustard cheese sauce to complement your chicken. Blanched broccoli, tomato and carrot were added to the creatively decorated plate. The portion served is enough for two people. The texture of the chicken was a little rubbery and dry. Even the mashed potatoes lacked the creamy consistency I would usually prefer. Aside from that, the dish was pleasant.
Spaghetti Bolognese
Sarah Shamim/TKP
Price: Rs580
This was the showstopper for me. The dish had spaghetti noodles with creamy tomato sauce and minced chicken. What is pasta without cheese on top? I loved that there was a generous amount of cheese on the spaghetti. The thick and creamy texture of the tomato sauce went really well with the noodles and the herbs like oregano and basil. With the sweet and savoury burst of flavours pleasing your tastebuds, every bite of the Spaghetti Bolognese was scrumptious.
Bento Cake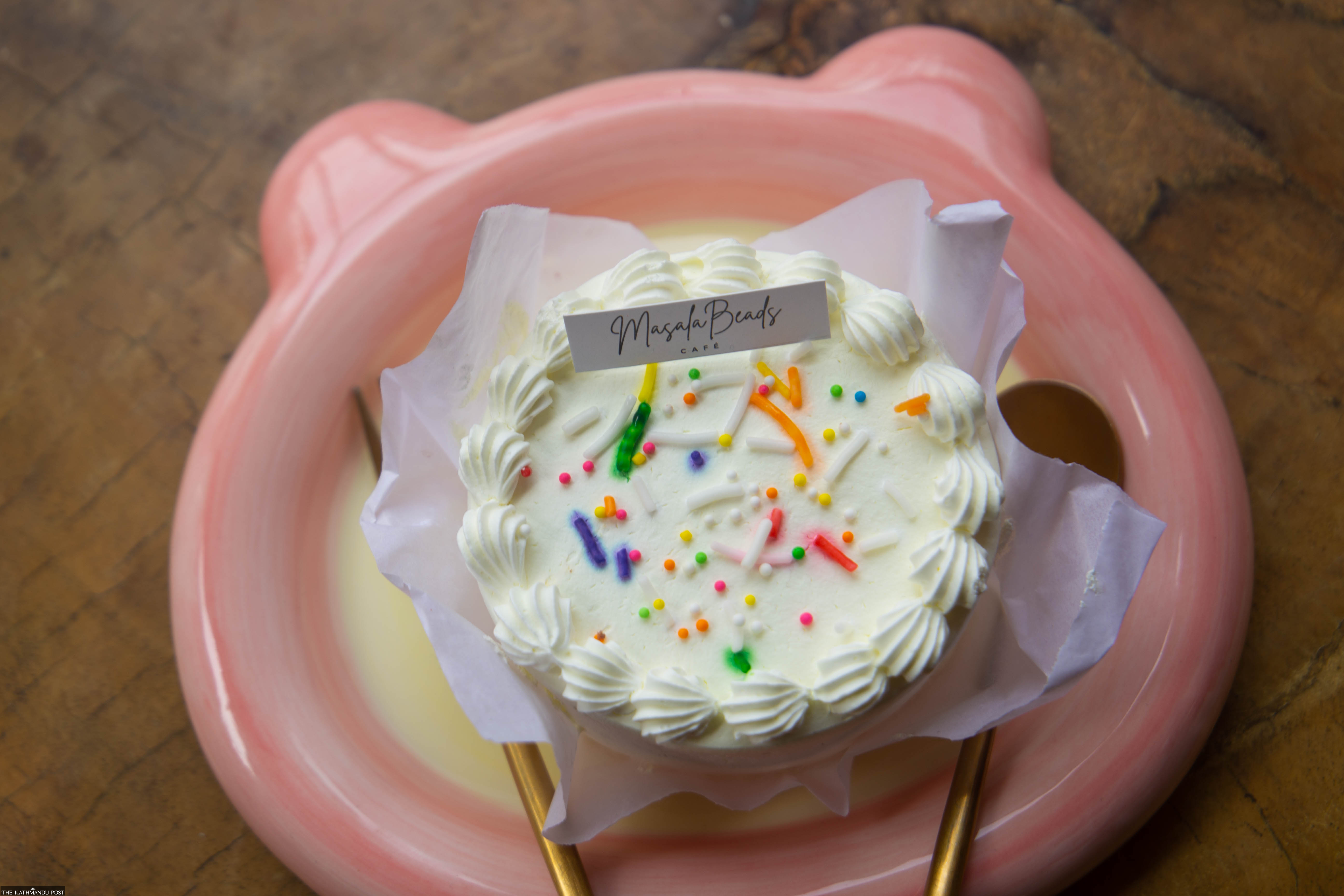 Sarah Shamim/TKP
Price: Rs500
Bento boxes are cute lunch boxes used to transport a single serving of food for lunch. Cakes based on the Bento concept were first introduced in Japan in the 12th century. Bento cakes are not widely available in Nepal. Masala Beads Cafe's red-velvet bento cake took my breath away. It looked adorable and lovely on the plate and was a delight to taste as well. The cake was rich, fluffy, and moist. As I have a huge sweet tooth, I went all in on the cake, and each bite gave me foodgasms. You should not miss their bento cakes at all costs.
Masala Beads Cafe
Location: Thamel, Jyatha, Kathmandu
Opening hours: 9am to 10pm
Delivery: Not available
Price: Inclusive of all taxes
Parking: Available for two-wheelers
Payment options: Cash, Fonepay, Card
---
---