Choila on a pizza? At Bricks Cafe, a decent experiment, with some risks
Bricks Cafe certainly attracts its fair share of tourists, and an equally decent portion of locals—but breaching the sub-continental cordon will leave you feeling blue.

Post Photo
bookmark
Published at : December 6, 2019
Updated at : December 6, 2019 07:54
One of the first mid-end restaurants you will come across when entering Lalitpur district via Thapathali is Bricks Cafe. For the unaware, it is located on Kupondole road, on a stretch dominated by boutique stores that sell saris and lehengas—all of which cost a fortune. It's an odd location for a restaurant, given that many restaurants that fall in the same category as Bricks do have opted either Sanepa and Jhamsikhel as their base.
On a recent afternoon, sitting at a table in the restaurant's fantastic outdoor seating area, I see a group of boisterous tourists arrive at the restaurant to dine. The group had just returned after trekking Everest Base Camp, and come to dine during their stay at the nearby Hotel Himalaya—the restaurant's odd location started making sense at that point. Even the restaurant's design, which resembles that of a traditional Nepali house with its bare brick exterior, traditional doors and windows, helps the restaurant stand out and might provide some interest to foreigners.
But what is not visible from the outside is the restaurant's great outdoor seating area. It is not only spacious but also generously sprinkled with greenery, and is great for al-fresco dining on winter afternoons.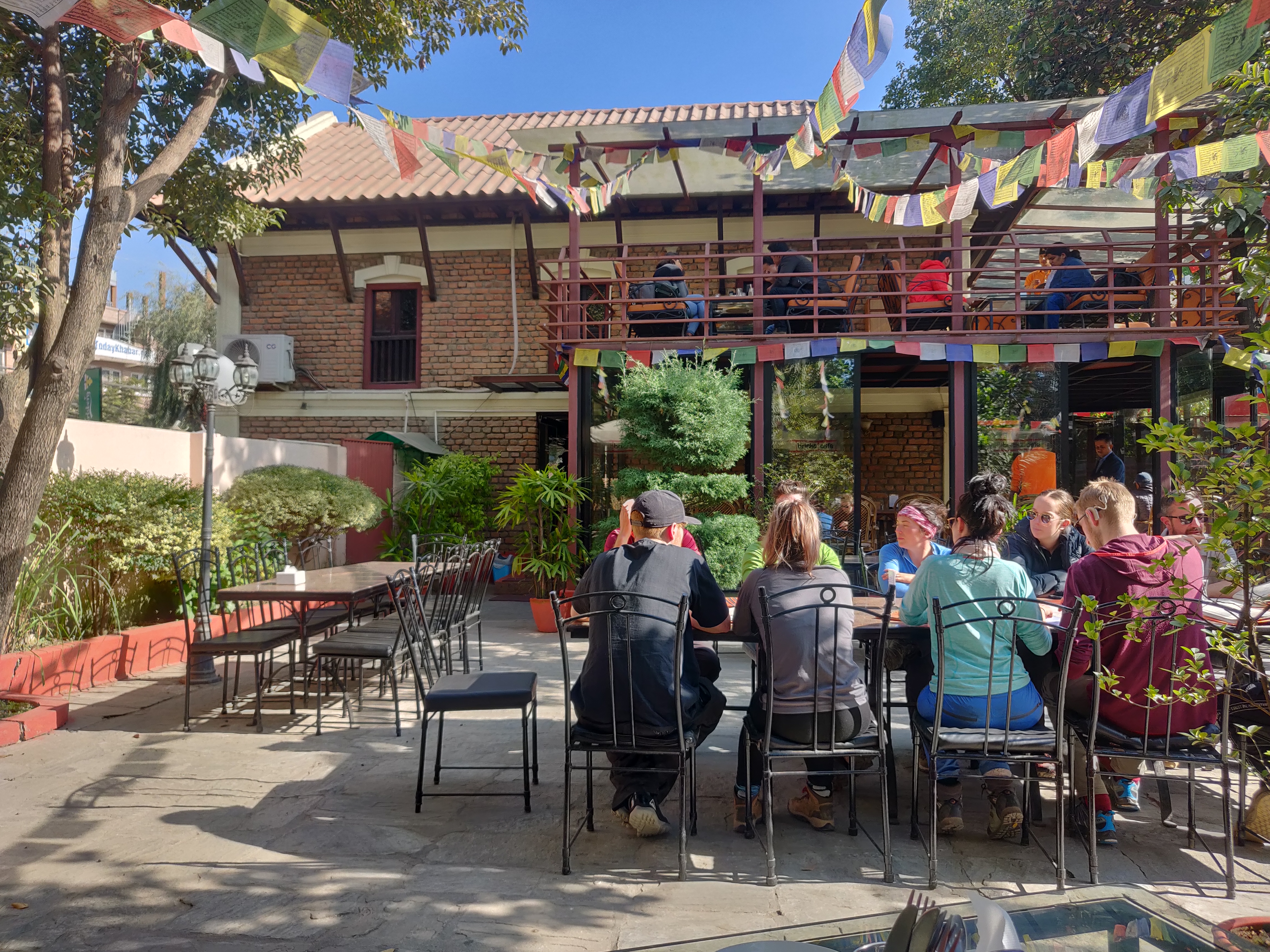 The restaurant's menu is one of those accommodating ones. From Nepali, to Indian and continental, whatever your leanings, you will most likely find something you want here. Since the menu begins with pizza, the first thing that I order is the chicken majesty pizza, which is listed under a section in the menu titled 'Our Pizza Recommendation'. It's also got chicken choila, a pizza topping that you don't see very often in restaurant menus.
The pizza's crust is of a doughier variety, and it very well shoulders the responsibility of carrying all the weight of the toppings, which include onions, tomatoes, green onions, an odd addition of glossy sliced green olives, and huge chunks of chicken choila. The pizza is not pretending to be anything like the Italians would entertain, which means they can afford themselves a little leeway. The chicken choila is well cooked, but the pizzaiolo seem to have overdone with the spices and comes across a bit spicy and salty. But the overall combination works together. In a previous visit, I was able to try their "chicken gala", which substitutes sahdeko for choila and the rest of their toppings for pineapple and black olives—Kathmandu meets Hawaii, meets Italy? Slightly confusing, somewhat tasty, but a sin for the pineapple haters. Their pizza is consistent— it's not going to blow your mind, but it's a decent delivery of something different.
Things seemingly going well, it's when the chicken cordon bleu arrives at the table that I am appalled. How unappetising can a slab of poultry look? On the plate sits a sorry-looking block of chicken cordon bleu, cut in two, a few stale-looking chips, and limp boiled and sauteed veggies, and two dips make up the plate. The dish's dismal appearance wouldn't have mattered if it tasted good, but there too it manages to disappoint. The cordon bleu is of the roulade style—spiralled sadness, both dry and tepid, that isn't much helped by an ample amount of melted cheese—but isn't deep-fried or battered, and seems to be pan-seared. The ham in the stuffing too, does little to keep the meat moist.
But none of that matters, really because the cordon bleu's accompanying sauce distracts from the meat entirely. The menu says apple sauce is the accompaniment, but what comes is closer to a light brown gravy. The gravy is rich and fatty and thick—a stock cube melted down, if you will—and apple is soft and sweet and cut into a mince. The fries are crunchy, verging on stale; the only thing that's decent in the plate is the veggies.
But where the restaurant truly specialises is evident: India and Nepal. The mutton sekuwa is very well spiced and is cooked to the point where its texture achieves softness that makes it chewable, even for my grandfather. The radish pickle that is served along with it is really nice too, its funky and fermented acidity cuts through the fatty meat's richness. The furandana does its job as a filler, and the salad is refreshing. This dish is a good indicator of the quality of the rest of the Nepali dishes, which I had already tried before. The fish tawa that I tried earlier was a succulent display of how to properly treat fish—it wasn't overly spiced, the fish did itself justice, and the cook was nigh on perfect. It was served in a similar fashion, and would be best consumed as sitan, between sips of beer or wine, or whatever poison takes your fancy.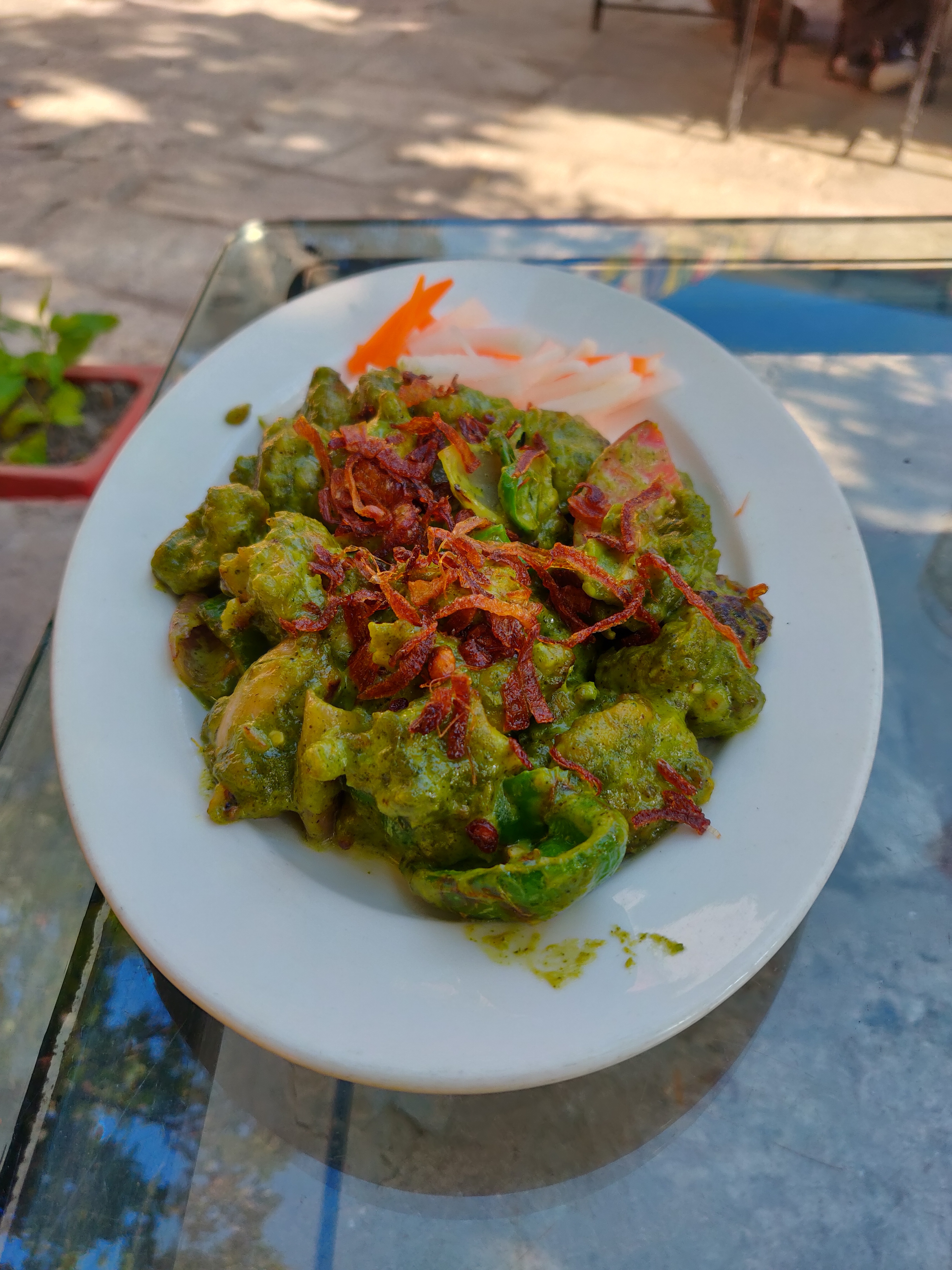 The final dish is chicken hariyali kebab. The dish deviates slightly from it's more common caricature, where a mint tincture is conservatively applied to the meat. Brick's version completely drowns the chicken in a gluey, viscous mint sauce, which seems to be thickened with cornflour. Drowning in the sauce are also chopped chillies and large chunks of capsicum, and on top of everything is a confetti of deeply-fried thin onion ribbons. As it should be with kebabs, the star of the dish is the buttery smooth chicken, a texture so silky smooth that leaves you wondering if they'd just melt in your mouth. The sauce that coats everything is rather claggy, however, but that doesn't compromise the flavour. The star of the dish is certainly chicken.
Is it fair to dislike a restaurant on the basis of one bad dish? Probably not. What they have done to cordon bleu is beyond forgiveness but the other dishes don't really disappoint. The service is quite good, and it also has great outdoor seating space. Would I recommend it to my friends? Yes, but stay away from cordon bleu.
Bricks Cafe: Rs 310-1000 pp (Prices exclusive of taxes)
Food: ★★
Ambience: ★★★★
Value: ★★
---
---