Singing its own tune in a sea of pan-Asian cuisine
Sing Ma Food Court does Malaysian and Singaporean food well, but it does its European cheesecake even better.

bookmark
Published at : October 25, 2019
Updated at : October 25, 2019 08:31
Kathmandu
There's Asian cuisine galore in Kathmandu, from Chinese, Japanese and Korean to Thai, Vietnamese, Tibetan and Indian. Numerous restaurants even opt for it all under a pan-Asian guise, but there is one South-East Asian corner that is under-represented, except for one old local favourite.

Sing Ma Food Court sits on Jawalakhel's restaurant row, but placed unassumingly betwixt Jhamel Beats and a tiny vegetable shop, it could be rather easy to miss.
Inside, there's either nothing to miss or everything is missing. The spartan set-up is about as interesting as a sterile squash court, but Sing Ma doesn't seem bothered with its raiment; it's all about the food.
That's what we tell ourselves as we sit down, reconciling ourselves to the fact that eatery defines itself as a food court. And luckily enough, unlike depressing food courts filled with McDonald's, KFC and Panda Express, this place takes after the more celebrated version—the Singaporean food court.
Singapore and Malaysia have been influenced by cultures from around the globe—through both colonisation and migration. The result is a cuisine that draws from across the world. Sifting through the menu, favourites from the Malay Peninsula are all there—char kuey teow, nasi lemak, mee goreng, nasi goreng, rendang, roti. There's even roast chicken and rice, which is perhaps a tip of the hat to Hainanese chicken rice, which is ensconced in both Singapore and Malaysia as a staple. There's also roti, another signifier of Malaysia and Singapore's diversity. It could be confused for Kerala paratha or lachha paratha at a glance, and those are in fact its influences. There just happens to be a big Indian population in those two countries.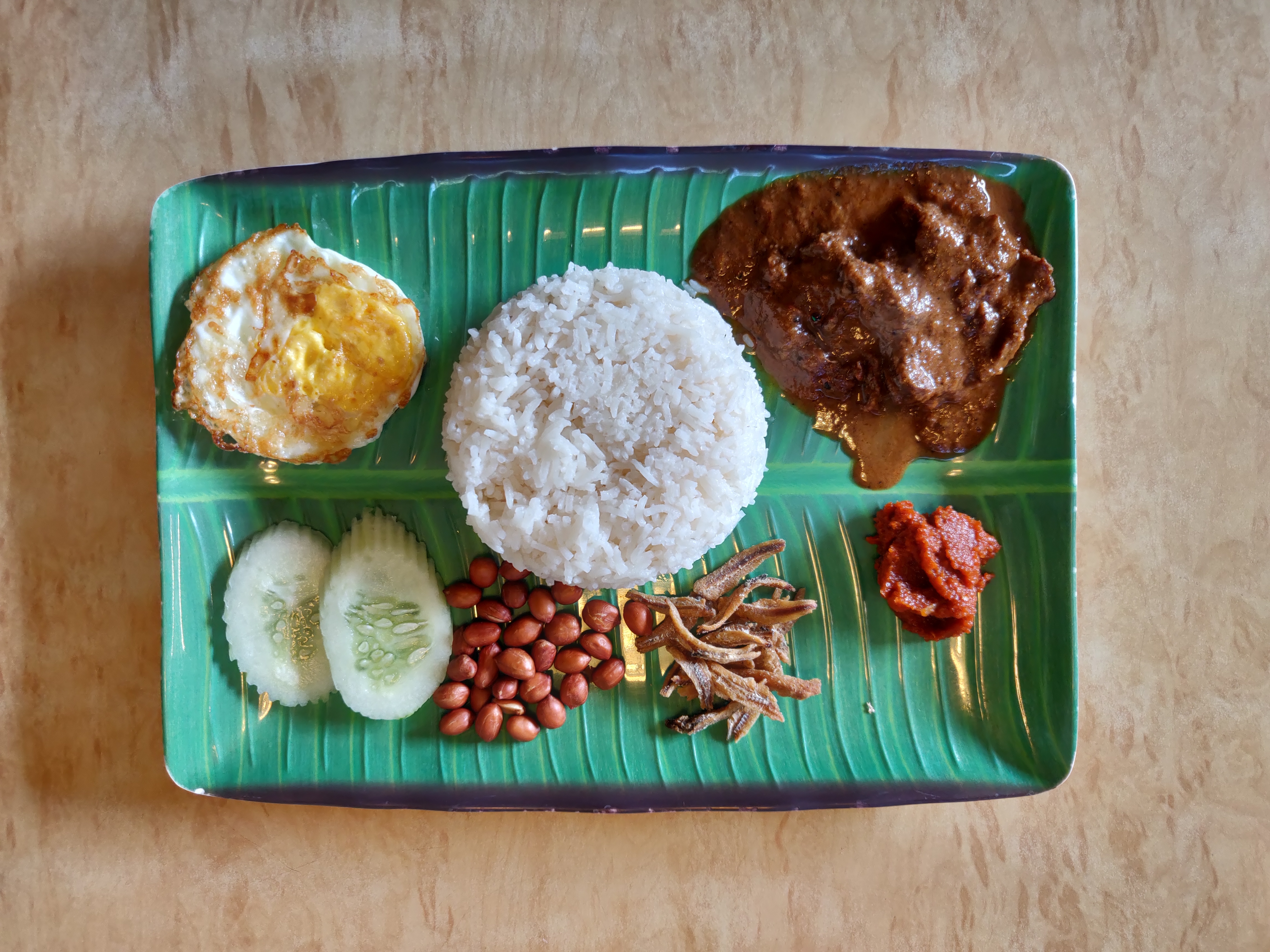 The char kway teow, stir-fried rice noodles with a variety of meat and seafood, might be another favourite in Malaysia and Singapore, but at Sing Ma, it's a letdown. The oleaginous flat noodles have an acrid taste of singed soy and chicken, which even spindles of leafy greens are unable to abate. Because the flavour is rather singular, there's nothing to hide behind. The morsels of chicken squeak in protest because of overcooking and thus require a strong maw. It must be acknowledged, however, that this noodle dish has many variations, but this restrained version verges on monotonously insipid. But throat be assured, if there's anything spicy following the noodles, everything is well-salved in soy and oil.
The ethnic Chinese population of the two states are represented in several dishes. The aforementioned chicken rice and char siu pao act as mascots, but one's a caricature, the other is a rather nice portrayal. The former is the imposter, but it's close to being right. The chicken-flavoured rice, cooked in chicken stock until it gains a shade of beige, hugs the soul, while the fermented chilli sauce whispers spicy nothings when added. For the most traditional Hainanese chicken, the meat is poached and the result is succulent and bouncy with glistening pale skin. But this chicken is roasted, unfortunately to a drier than desirable state with slightly crispy skin. The chilli sauce, however, trumps all the flavours on the plate, with a funky fermented freshness that consistently hits the right sour and spicy notes.
The char siu pao, or pork buns, however, are a delicious display of Cantonese pork barbecue, sweet with hoisin and unctuous with chunks of fat. The interior is chunky, not minced, so each bite provides something slightly different. While many might find the idea of sweet and meat slightly off, this mixture is worth trying. There are small green sprinkles of scallion, but they are more symbolic than of any actual merit.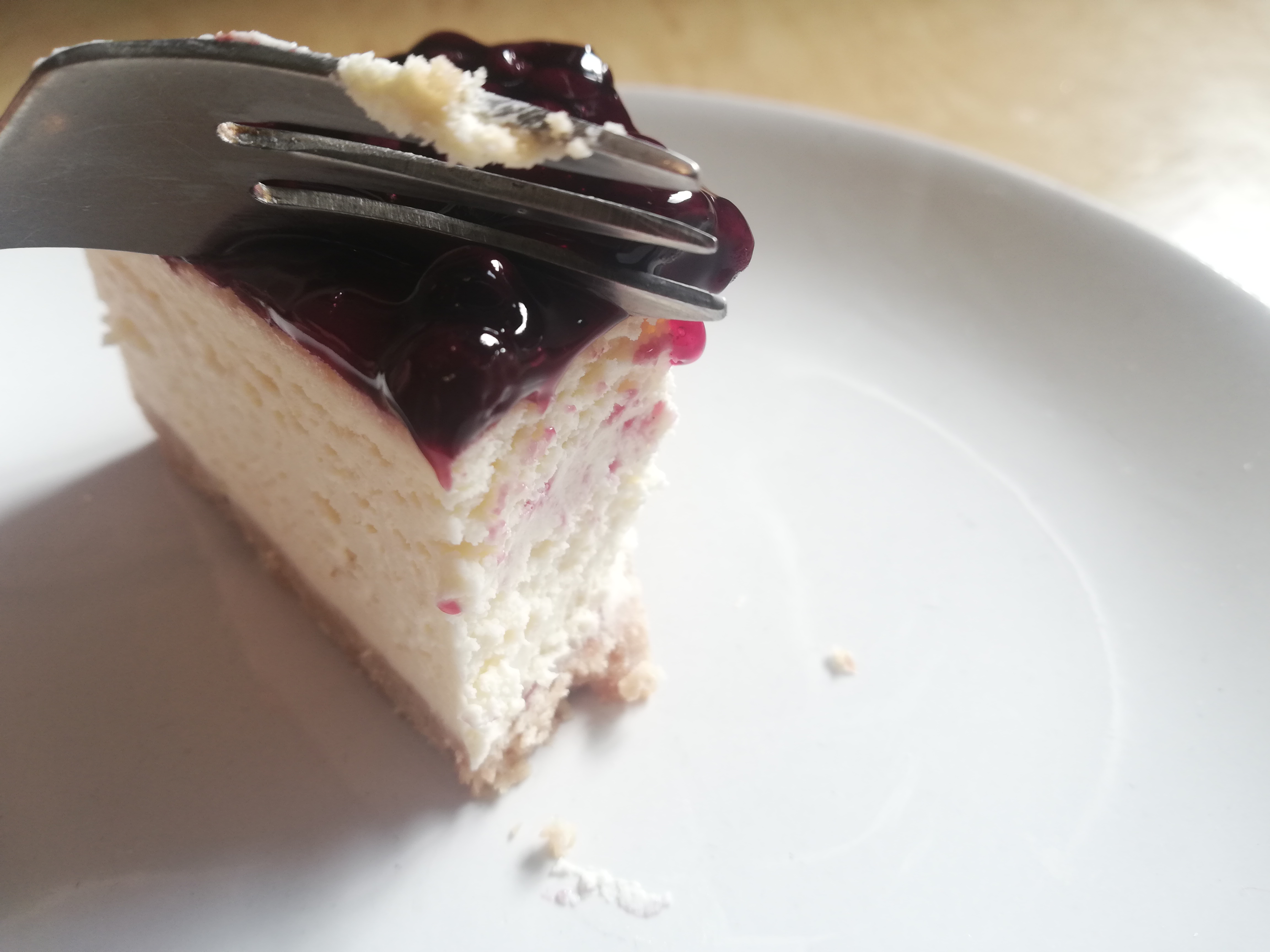 A hint of South Asian influence can be glimpsed in the roti. Like laccha or Kerala parathas, this bread offers reams of sheer dough, varying in texture from its extremities to its core. Cooked to shades of spotted giraffe print, steam erupts from the doughy disc's layers. The curry sauce is a luxury as the bread is buttery enough to eat on its own. The coconut-based sauce, however, packs a punch. It slaps the back of the throat and sticks like peppery napalm, but it's not going to burn a hole in the oesophagus.
While everything at the restaurant is served on utilitarian white plates, the nasi lemak arrives on a plate designed as a green leaf. A mound of rice in the middle, with crispy fried anchovies, peanuts, cucumber, sambal, a puck of hard-fried egg and fillet rendang placed around it. While it might look a little like a thali set gone wrong, this dish has many things going for it.
The sweet fried anchovies are crunchy while the sambal, which is a sweet and sticky mash of what is likely chilis and fermented fish among other things, is impossible to stop sampling. But, the best part of the dish is the rendang of fillet, which is of course code for beef. Non-eaters, don't fret, there's chicken too.
The rendang is sweet and complex, the connective tissue in the meat has obliterated and the fat has mingled into the curry sauce. This could certainly be classified as wet rendang, with the beef marinating in a muddy bath of spices and reduced coconut milk. It's apt, however, as it soaks into the rice to add flavour. It's hard to put a finger on one specific flavour in the mix, as it could come from a litany of places, but one would suspect it's the citrussy potential of galangal—where they find that in Kathmandu is another question entirely. Once again, it's a slightly sweet dish because of the coconut milk.
The only let down is the rice, unfortunately. There's not any real coconutty flavour and it pales in comparison to the chicken rice.
While the entire menu speaks to the two Malay states, the finale comes in the form of cheesecake—perhaps representative of the European influence? Who cares though, because the brunt of them are of the baked variety and they're good. If the blueberry is anything to go by, this could easily be the best cheesecake in Kathmandu. It's plain but the texture is somewhere between velvet and suede. The base is on the mushy side while the goopy blueberry compote is strong enough to combat the rich cheesecake. It's certainly more 'very' and more 'berry' than Vivanta's poor attempt.
There must be less than a handful of restaurants serving food from this region in Kathmandu, and it's understandable that there might not be many around. Singaporean and Malaysian cuisines don't have the immediate recognition that others do, but it takes the best from all of them.
Sing Ma Food Court: Rs 141-475pp
Food: ★★★
Ambience: ★
Value: ★★★
---
---