Welcome to Kathmandu. Have you tried our pizza?
A handful of eateries have become synonyms for pizza in Nepal, but where else should people venture for the perfect slice?

Thomas Heaton/TKP
bookmark
Published at : August 29, 2019
Updated at : August 30, 2019 13:50
Kathmandu
Pizza is the perfect canvas for a meal, offering a blank slate to paint with a wide-ranging palette of colourful flavours and ingredients—but what exactly makes Nepalis love it so much?
The dish is a mainstay on most restaurant menus around the country, found alongside the likes of chow mein, momos and fried rice, and it certainly varies in quality and style. At Annapurna Base Camp one might find a bready pie with an ungodly amount of yak cheese, but in Kathmandu, there's a bit more choice.
It's hard to pinpoint when exactly pizza became so popular in Nepal. There are many names when it comes to pizza in Kathmandu, and many different styles, with many throwing in everything—but the kitchen sink in the pizza—perhaps informed by The Bakery Cafe and its contemporaries. While Pizza Hut loafed into Nepal alongside KFC in 2009, bringing its terrible brand of pizza with it, there are plenty of places where palates can be better pleased for less. .
While that is the case, there are some that try to keep their pizza close to the Italian styles, such as Napoletana or Romana. At La Dolce Vita, owners Chandan and Ranjan Kayastha have hosted several Italian chefs since they took over the restaurant in 1996. Employing Italian chefs provided them with a chance to try and perfect their pizza—a never ending pursuit—using simple combinations on their pizza with the best ingredients they could find, whether imported or local.
"We wanted to focus on Italian because there weren't many restaurants like there are today. We wanted to create an Italian space in Nepal," says Chandan Kayastha.
The pizza's current popularity in Kathmandu is easily attributable to how social it is to eat and how versatile it is, says Kayastha. But while pizzas made with many ingredients are popular, La Dolce Vita's focus is firmly on simplicity.
"It's close to Romano-style, but we have our own recipe," he says.
Romano-style pizza, something the restaurant aims to provide its customers, is divided into two realms: one could be by the slice, or—like La Dolce Vita—round pies with a paper-thin crust.
That recipe, Kayastha says, which includes their sauce and dough, is a closely guarded secret.
The result is a simple pizza, pronounced only with milky cheese, a slightly sweet and acidic tomato sauce base, and a slightly chewy crust flecked with blistered and black leopard spots on its border. Above the cheese and tomato base, the ingredients are generally restrained in both choice and variety.
Thomas Heaton
The Kayastha brothers also run the Roadhouse cafes, the first of which opened in 1991, where they experiment more with non-traditional flavours in wood-fired ovens. Wood-fired is the most traditional means of cooking pizza, which lends a smokiness to the base, and is becoming more and more popular by the day.
Fire and Ice came after La Dolce Vita, opened by Italian Annamaria Forgione in 1995. While the restaurant does not use wood-fired ovens to cook its pies, they have brought a taste of Naples to Nepal, says Forgione. "I try to be as authentic as I can," she says.
That means she imports her pizza-based mainstays from around the Mediterranean, such as olive oil and cured meats, while other ingredients abide by the seasons and her admittedly "strict" standards—including mozzarella made especially for her restaurant.
There is a variety of different pizzas in Fire and Ice, from the spicy rompipalle, translating to "a pain in the backside", to its namesake pizza, a herb-rich pie topped with fried potato and pesto, this joint mostly specialises in simplicity. The mellanzane is a classic Italian pie topped with eggplant, olives and garlic, on a bed of locally-made cow's mozzarella.
With a nice char—or leopard spotting as some call it—on the slightly chewy crust, the base of the pizza is crisp thanks to being cooked directly on bricks. With 30 varieties of pizza, there is plenty to choose from at this relatively peaceful Thamel spot.
Another thing that sets Fire and Ice apart is they don't use pans, rather they cook their pizzas directly on the brick floor of their electric ovens. The restaurant cooks some 400 pizzas per day, and has become a hot spot for tourists and locals alike, and has paved the way for Fire and Ice to open in several locations outside Nepal.
The pizza obsession is a global phenomenon, but for Nepal it's all about communal eating.
"It's easy to eat with your hands, it's casual and it's social too. Then, there's the taste," she says, adding that there seems to be no sign of the trend waning.
Kayastha agrees, and believes the versatility of the pizza is what people truly love—whether it's a Mexican or Greek-Italian fusion pie, or the most traditional Margherita, there's a pizza for everyone.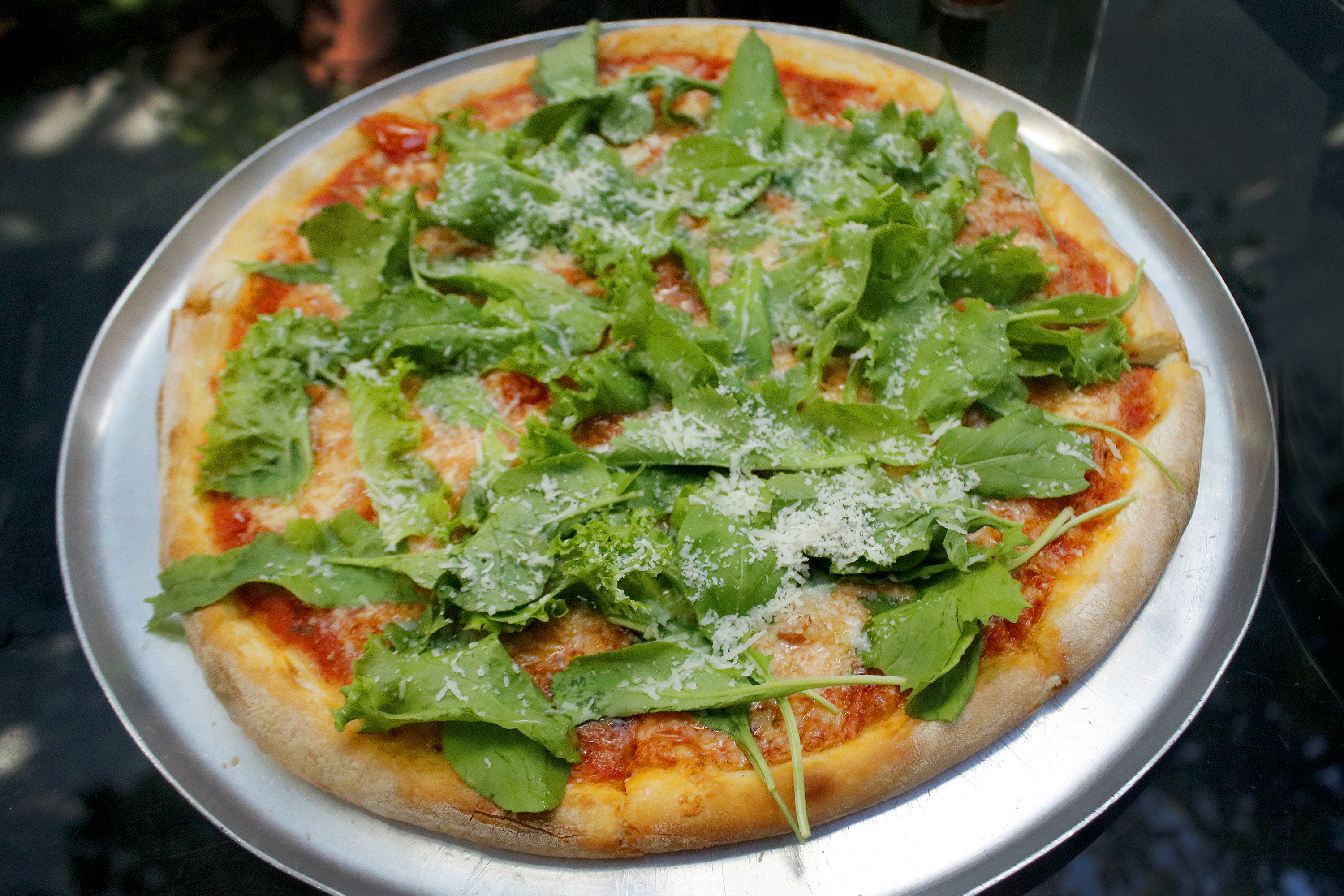 Thomas Heaton
Five pizza spots to try:
Fire and Ice
Where: Tridevi Sadak, Thamel
Price: from Rs 570
Hours: 8am-10.30pm
The all-Italian menu has various unique tastes interspersed, like the rompipalle—an ode from its italian owner to Nepal. The restaurant also has plenty of other Italian specialties, such as pastas, antipasti, panini, and baked dishes such as lasagna, and salads. The recipes speak for themselves and show just why it's such a popular spot in Kathmandu, which has become a stalwart in the city's restaurant scene.
La Dolce Vita
Where: Chaksibari Marg, Thamel
Price: from Rs 520
Hours: 11am-10pm
Margherita, quattro formaggio, ortolana—La Dolce Vita's menu is as Italian as its name. This country-style trattoria was one of the first dedicated Italian joints to grace Kathmandu Valley. While it specialises in traditionally restrained pizza pies, the restaurant uses an electric oven, similar to Fire and Ice.
Roadhouse Cafe
Where: Chaksibari Marg, Thamel; Jhamsikhel Road, Jawalakhel; Labim Mall, Pulchowk; Boudha; Baidam Road, Pokhara
Price: from Rs 550
Hours: 11am-10pm
Roadhouse cafes can be found sprawled across Kathmandu—as far as Pokhara, in fact—and it's the wood-fired pizza that found it its fame. While the folded pizza, known as a calzone, might provide something novel for the masses, the Mexicana is their most popular pizza. Topped with corn, smoked chicken, olives, onions, pickled jalapeños and bell peppers, it's a firm favourite among Roadhouse revellers.
Cafe Jireh
Where: Bhaisepati, Lalitpur
Price: from Rs 560
Hours: 11am-8pm
This restaurant is a little farther flung than others, sitting outside the ring road in Bhaisepati. But with a mix of both traditionally inspired and newer styles of pizza, there is plenty of choice for everyone at the place. Cooked in a wood fire oven, the crusts are thick and crispy, with a nice yeasty chew, and the tomato sauce is balanced. The singed, smoky, crusts on their pizza make a world of difference, providing a crisp base for the mostly restrained combinations.
Bricks Cafe
Where: Kupondole Road, Kupondole
Price: from Rs 489
Hours: 12pm-10pm
Here, the pizza-cooking method is as traditional as it gets, but the toppings are not for the orthodox pizza evangelists. Dropping a taste of Nepal onto its Italian pizza canvas, Bricks looks to satisfy its patrons with flavour and fullness. Two of the pizzas are distinctly Nepali: chicken gala, topped with chicken sadeko, and chicken magesty (sic), topped with chicken choila. Although the Bricks Supreme is generously topped, it is luckily supported by a robust and crisp dough thanks to the wood oven. There are just a couple of options for the pizza traditionalist, so it is best to go with a taste for something different.
---
---