Ghanashyam Bista and Omicron
In the midst of a pandemic, Bista wants to throw a reunion party but his close friend dissuades him from doing so.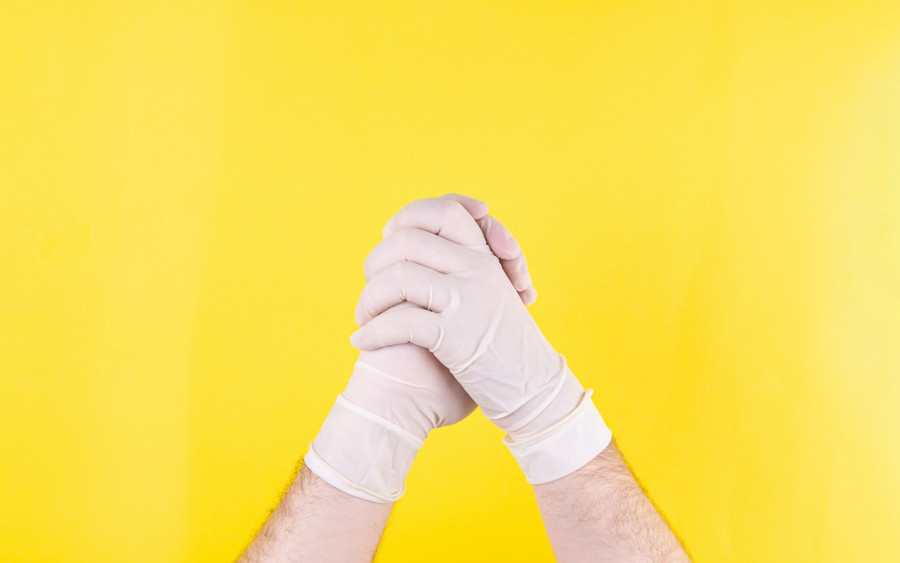 Unsplash
bookmark
Published at : December 11, 2021
Updated at : December 12, 2021 08:12
It was a pleasant morning. The sun hovering over the hills shot a shaft of divine sunlight into the Naxal Park. The park gleamed with happy enthusiasm. The birds twittered; a butterfly sat gently upon a flower; trees waved softly to the morning breeze; the sunlight scattered over the puddles; droplets of dew trembled upon the leaves; a quiet peace lingered over the land.
The blue gate of the park swung open and a loud squeak rang over the holy land. The figure of Ghanashyam Bista sailed into the park with the air of suave geniality. As Bista looked around the park, his eyes gleamed with gladness. He looked at the green field in the middle of the park; he looked at the cobbled pavement painted in gold and then at the glittering puddles, dew-soaked grass, blue railings, and beamed with giddy joy.
Everywhere, it seemed to him, was sweetness and light.
His eyes fell upon a strange shape emerging in the distance. For a fleeting moment, he thought he was seeing a ghost. Then as the figure came closer and became more distinct, Bista breathed a sigh of relief. This wasn't a formless ghost drifting across the park, but instead was his dear friend and acquaintance, Samrat Sijapati.
"I didn't recognise you there. I thought you were a shapeless ghost haunting over Naxal. Say, a jolly good day, eh?"
Samrat felt his heart leap to his throat as the voice rang out of nowhere, but realising that it was only his dear old friend Ghanashyam, his heart returned to its normal pace.
"My dear chap, you scared me," he looked around at the scenery and exclaimed, "it is indeed a pleasant day."
"You know, I was wondering if it would be possible to organise a reunion for our friends here, probably next week."
A spasm of sorrow passed over the noble face of Sijapati. He winced and then looked at Bista.
"Bista," he spoke with a rather booming and disapproving voice, " are you out of your mind?"
Bista looked at Sijapati like any man with a wounded pride would. "I say, I thought it was a good idea. What makes you think otherwise, Sijapati?"
Bista folded his arms and slowly built a strong and stern expression on his face.
"Bista, old boy, you seriously haven't heard about the Omicron variant?"
For a fleeting moment, a smile spread over Bista's face, but it quickly dissapeared.
"I know what an Omnicon, Mini-con, Megatron, Unicron is, you know how big a fan I was of Transformers. But don't try to veer away from the subject, Sijapati. Get to the point. What the dickens is it a bad idea to hold a gathering at Naxal Park?"
Sijapati's brow was now furrowed. He put his palm on his forehead and took a long and painful breath.
"I don't mean that Omnicon, Bista. I am talking about the new variant of coronavirus called the Omicron. This variant has particularly left millions in a state of panic and has led to travel restrictions worldwide. And as it has been discovered in our neighboring country India, this variant will likely cause a lot of trouble in the near future in Nepal."
"I say, dash all this nonsense. I've already had two doses of vaccine, so have most of us. Nothing's going to happen to us, eh! Stay positive, Sijapati. Don't be so boneheaded."
Sijapati took a longer and more painful breath. He looked at Bista with a pained expression on his face.
"Bista, it looks like you don't understand the gravity of the situation. Omicron is a dangerous new variant whose concern has wrinkled the smooth foreheads of some of the most advanced countries in the world. We cannot take this lightly."
"Now look here, Sijapati, how bad can it be? We've had this virus for more than two years now with little to no chance of it abating yet." Bista said rather feelingly and passionately
"Bista, do not despair. Things will change for the better. I promise, old boy, we will do a gathering in this very park. But I'm afraid not anytime soon."
"Omicron, eh?" Bista winced, "I guess it is what it is. Can't put anyone's life in danger, can we?"
"Certainly not, Bista. It surprises me how such noble thoughts spring from your decent mind."
Upon hearing his thoughts being described as noble, Bista couldn't conceal a smile. The pleasure of flattery was slowly taking over his frustration. The thought of postponing the gathering didn't sound so bad after all.
"Well," said Bista, "If you say so. Now that I think about it, it doesn't seem like a bad idea at all. We have to place safety ahead of everything else. I understand that."
"Glad you do, Bista. See you later, Bista, Toodle-oo."
"Toodle-oo."
Uttering these friendly words, the two genial friends parted ways.
Naxal Park gleamed in the morning sunshine. The trees stirred awake, the birds twittered, and the park throbbed with pulsing life.
---
---