FATHER AND THE THREE NIGHTINGALES
The man raised his head and looked at them. These are strange nightingales, he thought. I have seen this species of birds but never like them. Then what are they? Nightingales, I'm sure they are not. Perhaps they are the messengers from god, or maybe they are the lost fragments of my past. Or maybe they are just birds, a new species of them. "Whatever," he whispered to himself and abandoned the thought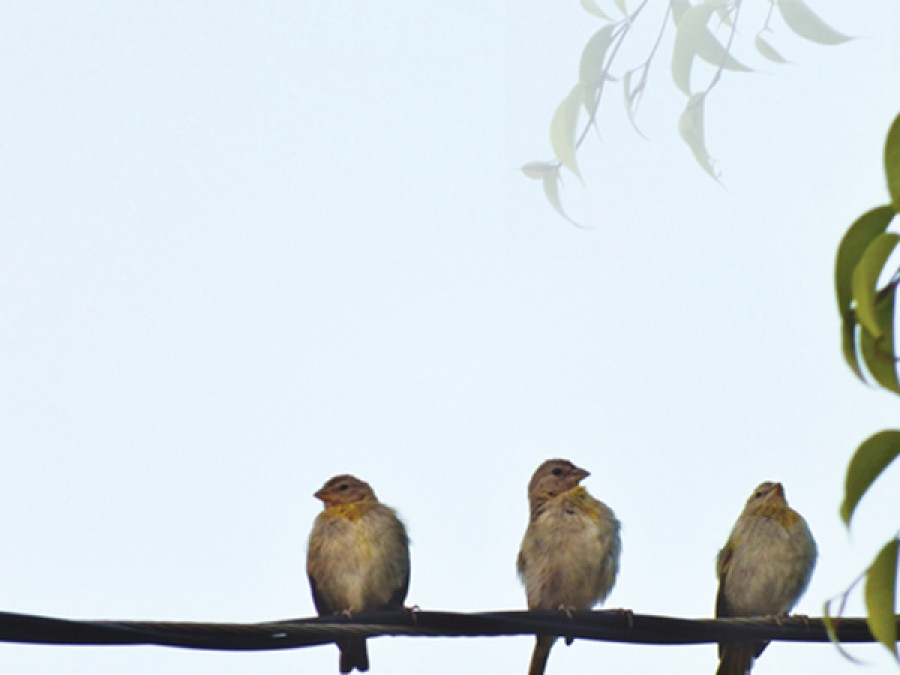 bookmark
Published at : November 29, 2015
Updated at : December 2, 2015 00:00
The most painful thing about life is that we can't change our past," he said, his eyes heavy with tears. "That's where, you know dear, our sorrows come from."
"From our inability to melt our past and reshape it?" she asked, still unsure.
"Yes," he replied. "Time, you know, is a very musical thing. It has its own rhythm, its own pace. It is a grand ruler but at the same time a very cruel one. I hate time, and I hate myself."
A lazy, uncomfortable silence soared towards them from nowhere and adjusted itself between them. A solid, near iron-hard silence and Carl didn't seem to like it much. He shunned this sheer absence of noise because it created emptiness in him. A huge hollow emptiness.
"My little angel, come close to me," he held her slender hands in his and hooked his fingers with hers. Then he broke into a terrible, heart-rending sob.
The bench the man and his wife sat on was in the cool shade of a mimosa tree and as she looked out past the shade into the wide plain, there were three little nightingales darting from one place to another in sudden, small jumps.
"Look at them," the wife said. "Don't they have sorrows like us, these little winged creatures? Do they ever cry like us?"
The man raised his head and looked at them. These are strange nightingales, he thought. I have seen this species of birds but never like these. Then what are they? Nightingales, I'm sure they are not. Perhaps they are messengers from god, or maybe they are the lost fragments of my past. Or maybe they are just birds. A new species of them. "Whatever," he whispered to himself and abandoned the thought.
"Sophie, dear," he said. "We should go now."
It was Carl's father's sixtieth birthday and they were not sure what present they should get him. Desire he had none. Man-made objects no longer enticed him. Therefore, after eliminating a number of choices that might enrage him, they decided to gift him the watch he had gifted Carl's mother while first proposing to her and then had gifted it to Carl on his ninth birthday.
And it was a very special watch.
Back then I was a very rude child, an extremely impolite animal, he thought. An animal, yes, an animal I was. How I spoke bitter words to him, how I blamed him of murdering mother. O, my poor dad. How he endured all these and still continued to love me as though I were the most precious thing he will ever have. Whatever I asked for he simply gave without questioning. He never said "no". Yes, never. That's it. And sometimes I wondered if my poor dad knew that the word called 'no' existed. But I was wrong. In fact, he had mastered that word. He had enslaved it. And you know it's the words that choose our tongue, not we. So when the word 'no' comes out from our mouth, it's not we who are choosing it but it's the word that is choosing us. When we speak; the mouth is ours but the words are not. And it took me a long time to understand this. Foolish me! And how I hated him and I don't know why. I want to know this. And I want to know so many things. Above all, o rotten me, I want to love my father. I want to give back what he gave to me. I want to change my past. But I can't. Oh my god, oh poor me, I just can't. Tears stole on his cheeks.
When Sophie came from her room with the golden watch, her husband was again crying. His eyes were red and there were deep marks of tears on his smooth cheeks. "Ah! I could have saved him, but I didn't," he was muttering to himself when she placed her right arm on his shoulder and with her left began to wipe his tears off.
"No dear, no, no my dear," she tried to comfort him.
"Are you ready dear?" he asked suddenly, balancing himself on reality.
"Yes. I think we should leave now."
—-
His father was in a dimly lit golden room, lying flat on rectangular bed as though dead. And he was almost dead now as he was since the day he slipped from staircase twenty years ago. Just a breathing corpse on whose trembling lips shadows of death hung deep and strong. His eyes vacant, his cheeks sunken and his lips pale blue and dead dry. He was a skeleton now.
And I killed him, he said to himself. I'm a terrible monster, a human-shaped monster. It was a fine night: large moon shone metallic on the earth and his companions, stars, were flashing bright twinkles when my father fell off and broke his spine. He cried in great agony, almost wept. Yes, he almost wept but the monster in me wanted to see him weep. So, I didn't summon the neighbours to help and waited alone to watch the feeble drops of tears leak from his eyes. Oh lord, what a terrible monster I was. He watched me through his deep eyes, dim lights of hope flickering in them. His face had the aura of an animal waiting to be slaughtered while watching other animals being butchered. It was the look that comes to everyone when death forces its icy claws on them. But he didn't cry. He never cried, my great father.
Then Carl staggered out of the room and began to cry again.
I could have saved him by taking him to hospital on time, he thought. I, yes it was me who killed his own father. My father was my mother too. He loved me double. And maybe because he had to love me double he never said "no". And now I regret everything. This is why I want to change my past. But past is no football game where when the opponent scores one goal, you beat him by scoring two and be happy. One wrong deed and no matter how many right deeds you do, it can't be undone.
"Carl, dear," his wife called him, "see."
There was a note which his father had taken twenty years to write and it read:
"My son is the best child any father can ever dream of having. And I love him. He is my miracle."
Carl didn't show much emotion because he knew he was not and that his father was simply exaggerating. He kissed his great father's forehead and tied the watch on his left wrist. Then he said to Sophie, "My father gave this watch to my mother when he proposed to her. And I know his last wish would be to have this watch on his wrist. My father was a passionate lover, you know." And he smiled for the first time in so many years.
When they returned home at dusk, the nightingales were not there. They were not nightingales, I'm pretty sure of that, Carl thought. Then what they were?
That night's supper was silent, as it usually was. Sophie didn't want to bother her husband by her unnecessary sweetness and sympathetic words, while Carl still strained his brain by pondering over those little nightingales. His appearance was grim and serene. And his eyes were deep red. In the yellow light of the bulb, the wrinkles on his face were like ripples in seas. It made him look wiser than he actually was.
At about midnight when Carl was again about to cry, his phone rang. Carl usually cried alone at midnight while Sophie slept but this was not the right time for his phone to ring. Surprised, he picked the phone and said softly, "Hello?"
"Carl," a female voice answered, "I'm sorry to tell that your father is no more."
For a brief moment, time almost froze. He let the phone fall and it dropped very lazily; meanwhile his wife was already sitting by his side. He threw himself in her arms and broke into a sudden, cracking sob. And still he was thinking about those three birds. "They were not nightingales," he cried out loud. "They were the servants of death."
They never saw those three little winged creatures again.
---
---